ASIA'S events community has seen examples aplenty of Covid exacting an economic as well health toll. Few stories, however, have surfaced of people abruptly finding themselves without a job, yet bouncing back in a classic crisis-to-opportunity mode.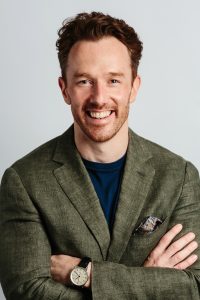 Until May this year Simon Wilson had been on a roll – working in the exciting and even glamorous spheres of events, media and sponsorship. From launching food festivals and taking TV shows like MasterChef and Top Gear Live on the road, to managing sponsorship operations at each of the stadia used for the 2019 Rugby World Cup in Japan.
Then along came the slowdown induced by the pandemic, and almost before he realised, the sports and entertainment giant Simon worked with across Asia Pacific wielded the cost-cutting axe and there he was… out of a job.
"It'll come as no surprise to anyone that we had the perfect Venn diagram of Covid problems right there: plane travel and live sports," Simon jokes of his circumstances at the time when he was also aligning sponsors with inflight entertainment.
As is often the case in these days of social media, he sought refuge in LinkedIn, joining that parade of executives "seeking new challenges".
Cathartic moments on the conversation threads proved useful. They helped lay the basis for Simon's new role as co-founder and managing director of The Grounds at AIA Vitality Park, a venue concept arising from the urgency to find a "new normal" in Hong Kong events spaces.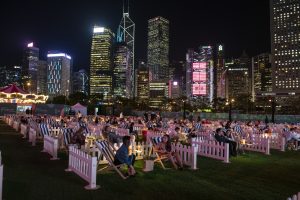 "I was scratching my head as to what to do and where to go. There's no shame in that game in my opinion as a lot of people are affected by Covid-19 and I was inspired by contacts and colleagues who worked in the same space… who were very open about their story," Simon told MIX over an internet call in between preparations for another evening at The Grounds.
It was through an initial LinkedIn post, in which Simon bade farewell to the company he spent more than nine years with, that he was approached with an idea about a new project to take up one of the government-owned plots below the Ferris Wheel and alongside the AIA Carnival funfair. The plots have Hong Kong's harbourfront, city lights, modern architecture and The Peak as backdrops.
"That [conversation] ultimately led to me opening The Grounds," he says of what has been a whirlwind year for him personally as well as professionally.
Before Covid scuppered travel plans, he and his partner were originally planning a wedding in Ireland. "So, we got hitched in Hong Kong… and we're now expecting our first child!"
A quick call around to event organisers in town before MIX spoke with Simon yielded several "who's-he" responses. But a glance at his background in launching food and wine events shows he has the recipe: notably with Taste of Sydney, before replicating the brand in Melbourne and Perth; all the while marinating it with sponsorship. That goes a long way in an F&B bastion like Hong Kong, where he launched the city's own "Taste of" in 2016.
More on HK harbourfront… CEO's journey to AIA Great European Carnival
Timing, space, food and entertainment are all of the essence with The Grounds, which is designed for social distancing and arrives as Hongkongers yearn for safe and comfortable outdoor experiences.
Corporate packages are being prepared, but Simon's team are first evaluating how the two- and four-seat deck-chaired pod configurations fare as guests view entertainment ranging from cinema and local bands to partaking in yoga and brand experiences.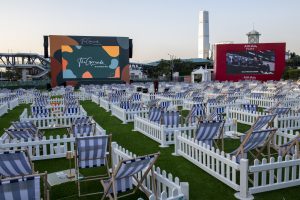 The Grounds has partnered with BaseHall, which offers menus from several Hong Kong restaurants. F&B is delivered to pods enclosed by white-picket fencing adding to a gardens-in-the city set up. Every pod is exclusive to whoever buys tickets for it and is unlikely to get swooped on by passers-by if guests head to the bar or bathroom.
"I think anybody who's been to an outdoor cinema or any outside event like a concert or festival [knows] it's always a bit of a bunfight and jostle to find a good spot. You're not exactly scrambling around but you're always in a bit of a challenge.
More… Meet Maureen Earls, from Handover ceremonies to Central Harbourfront
"We thought: 'could we make every seat in the house – in The Grounds – a VIP seat?' That is what we've sort of tried to do: it's a very intimate space – spacious enough for four people but feels cosy. You don't have to scrabble around to find a spot; every seat in the house has a good view of the screen or entertainment."
As Hong Kong dips in and out of table-seating restrictions at restaurants, The Grounds has settled on a maximum of four per pod with a total of 400 across the venue.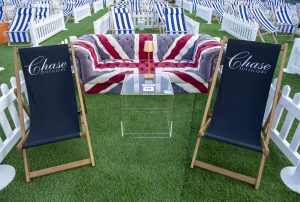 "To put into context, it's 400 seats in a space that would normally take 4,000; so it's not without commercial challenges. It's hard to create a product where you can make those economics work, but so far we've had a great response from people, and we've got there."
Other areas of the harbourfront have seen brand experiences from the likes of Adidas, Audi and Mercedes-Benz, but the Clockenflap rock festival cancelled in 2019 due to political unrest, while Covid hampered outdoor gatherings this year.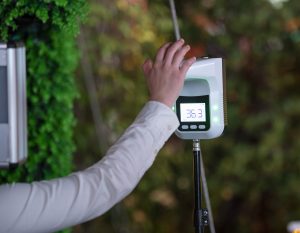 This has led to those relying on the local events and entertainment industry for their income being hit hard. There is, however, grounds for hope.
"The restrictions of Covid-19 have allowed us to create an environment that's probably preferable to the normal event type," says Simon of the type of venue that may prove viable while the pandemic prevails.
"Everything's served to you; you don't have to queue anywhere. Drinks are brought to you; food is brought to your private space. It's roped off. No one is going to take your seat; you don't have to queue…
"It's all a bit nicer and that is what we tried to create. It's what people need at the moment after a challenging year."
That might be a new normal the events industry can work with.