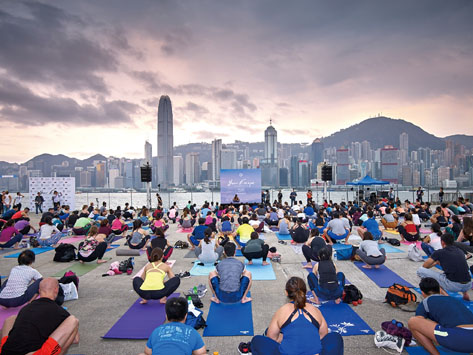 MIX: Organising the Hong Kong Handover ceremony, and later Central Harbour Event Space made you well known in government circles. But your first gig in Hong Kong was more transient – how come you stayed?
Maureen Earls: I was a corporate event producer in New York City and was lucky enough to get the opportunity to come to Hong Kong to do an incentive for Avon. Avon – the cosmetics company holds a Golden Circle for the top selling ladies from all over the world. It was a three-day celebration with an awards ceremony in Hong Kong at the then Regent Hotel in Tsim Sha Tsui in May of '92.
I visited once to do the recce and loved it – I thought this is a great city and I couldn't wait to get back. Though I had a nice life in New York with a really good job, I just felt such a sense of comfort here in Hong Kong. I felt like I belonged here, I felt that I had to be part of it.
I met the Rule brothers (David and John) who wanted a producer to join their company  – so by August '92 I was back here.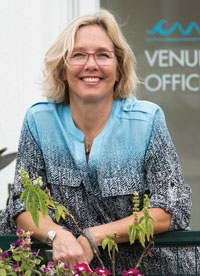 MIX: This was in the run-up to the handover of sovereignty in 1997. For many people it was a period of uncertainty, but for you it seemed the other way around.  Why was that?
Maureen: When I arrived I had no real plan. I wasn't 25, I was in the middle of my career. I thought maybe I'll stay a year or two, but I loved producing events here. What a breath of fresh air from producing events in the US where your work life was in a lot of angst. In Asia it was different. The quality was still very high but there seemed to be more balance in what was important. In the States it was like living in fear as we worked like crazy … I was hitting the clock at 110 hours a week on a regular basis.
When I got to work in Asia, clients were understanding: "You seem tired, why were you working until 11 o'clock? You'd better go home." There was caring to treat suppliers as more human, not as a machine. I fell in love with that sense of "let's do our work, but in a gentler way".
Leaving America led to this key role in the Farewell Ceremony when Britain returned its sovereignty over Hong Kong to China.
All my work philosophy came from my training at Caribiner and the company was going international. So I said: 'Why don't I set up your office in Hong Kong?' So I did and in '96 I started writing to the Hong Kong Government saying: "What are your going to do about the Handover?"
I wrote to every department I could think of and usually received responses saying: "Thank you for your interest, there's no information yet". That went on for months until I read in the newspaper that Stephen Lam [Sui-lung] was to head the HK handover coordination office, so I started writing to him.
Eventually a tender came out. Caribiner was on the list and we won the HK Farewell Ceremony to take place on Tamar, Admiralty.
Share with us how the ceremonies – historic events – went for you
I became executive producer of the Farewell Ceremony, meaning I had a London team working on the design and the content while my HK production team pulled all the school groups together and different local organisations for the event at Tamar. I managed these teams and was the liaison with the HK government team.
We had hundreds of performers: school kids, bands, and the Hong Kong Philharmonic Orchestra and the Hong Kong Chinese Orchestra both playing together at the event, which hadn't been done before.
It chucked down with rain, and the plan always was that if it rained we would end the event. We had grandstands, but they weren't covered. It wasn't raining when the event started, but towards the end everybody was drenched, even though we had umbrellas for all.
Someone asked me whether we should end the ceremony after all the official parts … but we had all these school children waiting to perform the finale. There were concerns about the audience being so wet. When I got on the radio and told the stage manager we weren't going ahead, she said: "Repeat that" and I did … there was silence. We felt sad not finishing the show  – but the call came back from the stage manager saying: "The audience can do what they want, we're still doing it!"
This was such a sign of Hong Kong's spirit. All the kids, adults and performers felt the importance of being part of this ceremony and were not concerned about being drenched.
When [Britain's outgoing governor of Hong Kong] Chris Patten, got the message that the cast was going to continue, he said: "Well, then I'm not leaving." Once he stood up it would have signalled that the event was over, but he stayed, so everyone stayed.
Eventually I began working on the official midnight Handover Ceremony being held at the new section of the Convention & Exhibition Centre. This was the technical transition but also an emotional ceremony, so you want to feel the pride Britain has handing over such a great city and China's pride coming in by being reunited. You have to include the emotions of it. The important thing about the ceremony is that it's an official, historical event – but it had to have the right emotion behind it because if it's too cold then it doesn't convey the right feeling. So we rehearsed it for a long time and worked on the details.
Did that naturally segue into the handover event in Macau?
The liaison officer for Macau, Joao Manuel Costa Antunes, contacted the HK government and they advised him to give me a call.
I had left Caribiner at the time as it had bought a few local companies so the team quickly grew from 10 people to 65. I'm not the type of person  to run a production company with 65 people, so I went out on my own and then the call came in from Macau.
Instead of being an outsider I thought it would be easier for me to be part of the Macau team so I could guide the process from their perspective as opposed to a production company's perspective. So I joined as part of the government team working with Mr Antunes and Bruno Simoes.
How different were the challenges?
It was in December, so could be a little cold and rainy. That's why they held the ceremony indoors and didn't take the chance on weather. The challenges were different because I don't speak Portuguese – the English of the officials was brilliant, though there were times when I felt lost.
The nicest moment was when the doors of the purpose-built handover building opened for the first rehearsal. The Chinese military came in marching perfectly – and it was nearly all the same guys – with the PLA general who walked in and greeted me with open arms: "Maureen!"
The whole rehearsal process was a lot easier as we had done it all before. There was a longer lead-in time, as I started working with the Macau government about 10 months before. They did their research and wanted to put all their ducks in a row. It was a smaller event due to fewer guests but production-wise just as complicated as the Hong Kong handover. After this I joined Serious Staging and had to get back quickly for a New Year's Eve 2000 event.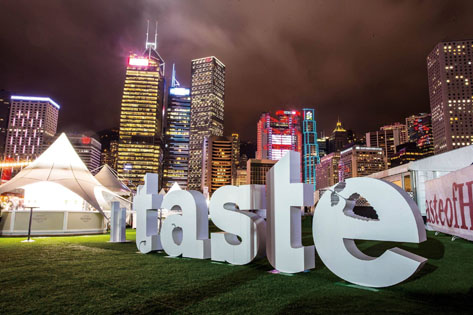 How has the events industry changed since you came here?
When I came in 1992 for the Avon event, I couldn't find a dedicated corporate event production company. I talked to the tourism board, to the venues, but I couldn't find anyone doing full corporate production in the way I was used to.
Caribiner was the first international corporate event company in Hong Kong. When Caribiner closed in the US, Jack Morton chose to buy certain offices and bought Hong Kong so that's how Jack Morton came to be here.
The biggest change in Hong Kong's events landscape is the Central Harbourfront. How did you get involved?
We used to do a lot of special events at Serious Staging like the carnival, Symphony Under the Stars and Cirque de Soleil, which all required large outdoor space. We also produced events that required large customised tents for luxury brands like Louis Vuitton, Chanel. But as the existing spaces became developed, we were losing that work to other cities.
There was infield work being done at Happy Valley where "Symphony Under the Stars" was annually held, so it was losing a home. David Rule asked: "What about that piece of land by the Star Ferry?" So that was first time this piece of land was used for an event, based on our recommendation that it should be an events space.
Is there a temptation to let developers build on the space?
My general feeling is that the Hong Kong government really understands what a space like this is providing for the people of Hong Kong, while also keeping the city on the tourist map and in the international press. Also, the events here, like Formula E, Clockenflap and Arts Central, are essential. They're getting reported worldwide and everyone is so impressed with the photos of these events with the Hong Kong skyline as backdrop.
Every international group that asks to use this space tells us: "There's nowhere like this in the world, it really is a gem." But life is not that simple. It is a fabulous space. If you could find other large event spaces that would be great. If they can't be in Central, they should be somewhere else.
---
Maureen Earls is managing director of Central Venue Management, which operates Central Harbour Event Space. She was speaking to Martin Donovan