VENUE and entertainment giants AEG Ogden were among experts consulted by Macau resort operators on a masterplan to create Asia's "most advanced and iconic MICE destination".
Scott Kreeger, the former president and COO of SLS Las Vegas brought in by Galaxy Entertainment Group to spearhead its new developments in Macau, said some of the best live-events expertise in Asia was tapped into before plans for Galaxy International Convention Centre (GICC) were announced.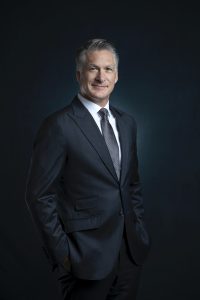 Speaking exclusively to MIX on the fringes of ITB Asia, Kreeger also revealed that Suntec, one of Singapore's largest convention and exhibition venues, also worked with Galaxy executives on business planning and MICE-market strategy.
GICC is expected to open in 2021 and provide 40,000 sqm of meetings, convention and exhibition space alongside a 16,000-seat Galaxy Arena. A main feature will be an Andaz hotel with 700 guest rooms and suites, which will be integrated with GICC.
The facility is set to compete with neighbouring resorts in the Cotai area of Macau for conferences and business events including exhibitions. Galaxy Entertainment Group is also heralding the project as strengthening Macau's role as business events destination serving delegates from across Asia and globally.
"Right out of the gates we worked with AEG Ogden to create the masterplan of the facility, then from a business planning standpoint we worked with Suntec Singapore… to make sure we have the right target marketing that suited our ways of doing business and the products that we offer. We designed the services, products and amenities to suit that target market," said Kreeger.
Alongside high service standards, event and conference technology is also foremost with a commitment to elevate Macau's role as a tourism destination in the Greater Bay Area, a new economic region that encompasses southern China's Pearl River Delta.
GICC will have more than 40 digital displays and LED walls, which Kreeger describes as the "most comprehensive digital portfolio of any international conference centre I've seen".
He said planners would be able to create "inexpensively themed environments that are unique… We made a large committed investment to do that. So, when a planner or MICE delegate is creating a theme, we can help them.
"Not only will we have templated themes available, but we can do customised themes that can transport a delegate to whatever locale or themed environment they want. Technology is a really important piece of what we are going to do."
More… Drumming up change in Macau
Kreeger believes the time is ripe for the former Portuguese colony not only to increase its role in the Greater Bay Area, but also raise its profile as an international MICE destination with the Hong Kong-Zhuhai-Macau Bridge playing a key role in attracting delegates.
"We're in the MICE game for the long haul. We looked at the plans of the Macau and PRC governments to grow Macau as a destination and world centre for tourism and broaden that tourism base," said Kreeger, who is director of operations development, new resorts, with Galaxy Entertainment Group.
"We think it's the right time to grow the MICE footprint in Macau… you're going to [need] great infrastructure in order to do that.
"Although we're in the infancy of the bridge, we see the bridge as a key piece [in] connecting the three regions into one economic service platform, and we think that is going to drive MICE visitation."
More… Let's Meet in Greater Bay Area
He said around half of MICE delegates in Hong Kong come from mainland China, and this would also help spur business events in Macau with groups using the bridge. But international and regional groups would also be attracted to the Greater Bay Area, with a market of more than 70 million people, nine municipalities and the special administrative regions of Hong Kong and Macau, served by international airports and the bridge.
"We think Macau is that great place where western business and eastern business can come together, and the bridge facilitates that. It connects the three major airports so now you have direct fight destinations from well over 200 major cities."