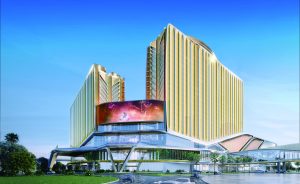 BIG changes are again on the cards for Macau as two rival resorts unveil new projects that will increase the choices available to conference and incentive planners while lifting the region's profile as a business events and leisure destination.
The centrepiece of Galaxy Macau's third phase will be a 40,000 sqm convention centre with exhibition space, ballroom and a 16,000-seat arena set to be completed in 2021.
On the other side of Cotai – the name given to the area formed when Coloane and Taipa islands were joined by land reclamation – Sands China is preparing to debut The Londoner, which is planned to open in stages between 2020 and 2021.
Galaxy International Convention Centre is set to be yet another game changer for Macau by challenging the dominance of Sands' conference and exhibition facilities located through the Venetian and Cotai Arena.
Organisers in Macau are already anticipating the new spin on the enclave's ongoing story that The Londoner and GICC will bring and the creative ways business events are organised.
"Galaxy's upcoming international convention centre is good news for Macau," says Bruno Simöes, executive director of local event managers Small World Experience, and president of MISE, an association for the region's events and incentive organisers.
"It adds diversity and competition to the destination. This is particularly important in the segment of mega events where Macau has a unique selling proposition. Besides, having Galaxy as an integrated resort would be healthy competition for Sands Resorts Macau," Simoes said.
GREAT SPORTS
MACAU planners not only see the coming changes as raising the former Portuguese enclave's profile for corporate meetings, they are also anticipating a role on the international sports-event circuit

DOC-DMC was tasked with handling the event logistics surrounding the visit of European soccer giants Paris St Germain and Inter Milan in Macau recently.

 The Macau agency was approached by a Shanghai event management agency with a request to handle plan and deliver events and logistics surrounding the match in July.

Bruno Simöes, DOC-DMC executive director, who also runs Small World Experience, said although Macau had a reputation for occasional hassles with transport and traffic, the biggest challenge was dealing with fans overeager to meet their heroes, and liaising with security teams.

The DMC also worked with organisers of the East Asia Super League to bring 12 basketball teams to Macau and handle transport for VIPs, media, officials and the players.
The most symbolic development in the region has been the opening of the Hong Kong-Zhuhai-Macau Bridge. This strings together three of the main cities either side of the Pearl Delta in what is rapidly developing into the Greater Bay Area, but planners currently see limited scope for dual events at this stage due to costs and issues such as work visas.
"The bridge linking Hong Kong Airport to Macau is already having a huge impact on the image of Macau as a MICE destination," Simöes adds. "However, in practice there is still a very limited offer in terms of transportation over the bridge – with buses and private transfers – and therefore prices are still expensive."
Transport and infrastructure remain a long-term vision in Macau as privately run projects surge ahead, while works such as the monorail linking the peninsula with resorts in Cotai edge more gradually to completion.
The resorts, meanwhile, continue their push for expansion and innovation as their conference and event venues compete by highlighting unique advantages.
These projects will join the properties of four other major players on Cotai: City of Dreams and Studio City Melco, operated by Melco; Vegas players in the form of MGM Cotai and Wynn Palace, and Grand Lisboa Palace, owned by longstanding Macau casino owners SJM Holdings. When opened they will herald another new era for Macau and added choice for international event planners.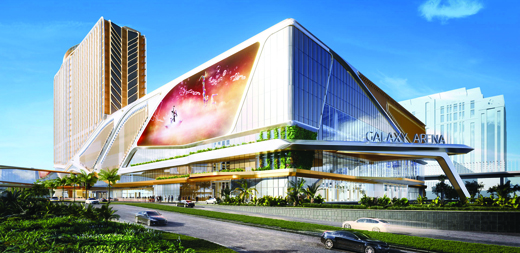 GALAXY INTERNATIONAL CONVENTION CENTRE
When expected to open in the first half of 2021, GICC (above) will feature 40,000 sqm of conference and exhibition space. It will also provide Event Studio, which will work with planners to create "bespoke experiences" for attendees.
Event Studio services will extend to teambuilding and banquets with options available at other facilities and venues at the resort such as the 120 restaurants and leisure beach-style leisure facilities on the Grand Resort Deck, which includes wave pool and white-sand beach.
Galaxy, as with other resorts, also encourages international planers to avail of the Macau government's subsidies and support for large events.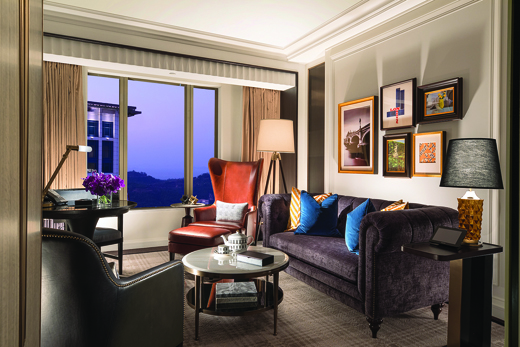 THE LONDONER MACAO
WITH soccer legend David Beckham a design consultant on two floors of suites at The Londoner named after him, Sands is serious about evoking the sense of another city to join its takes on Paris and Venice.
For events there will be access to 34,300 square metres of meeting and convention space; 13 ballrooms and six meeting rooms. The GGRAsia gaming-news website also reported that a 6,000-seat arena for The Londoner is also on the cards, but other sources say this could yet be a theatre.
There will also be 20 dining outlets ranging from a Thai restaurant and bar called The Mews, the Gordon Ramsay Pub & Grill and Churchill's Table, to Chinese restaurants specialising in Dongbei and Sichuan cuisine.
Streetmosphere entertainment will include a "Changing of the Guards" at the lobby, which will be styled after the Victorian-era Crystal Palace, and parades around the Shoppes at Londoner featuring Shakespearian characters and themes such as Britain's renowned sporting events.
The all-suite 594-key Londoner will be located on the site of the former Holiday Inn while a façade modelled on the British capital's Palace of Westminster and Houses of Parliament with a 96-metre replica of the iconic Big Ben facing across sights derived from landmarks in Paris and Venice on the other side of the Cotai Strip.
The Londoner Macao will front more than 6,000 luxury and mid-scale hotel rooms in one location. The all-suite Londoner Hotel (with 594 keys) and The Londoner apart-hotel (368 apartments) will join The St Regis Macao (400 rooms); Conrad Macao (654) and the 4,001-room Sheraton Grand Macao Hotel. The Sheraton Grand has 14,000 sqm of meeting space, including the pillarless Kashgar Grand Ballroom that can hold up to 5,000 guests. Groups also have access to open-air venues for banquets and cocktails.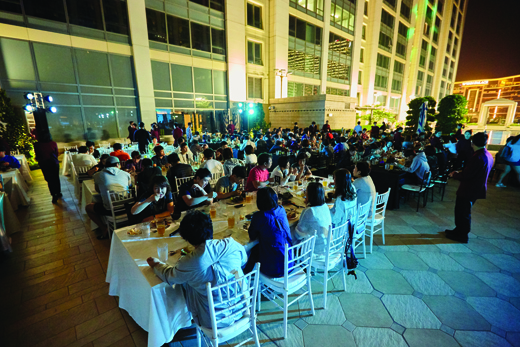 CORPORATE GROUPS GO AL FRESCO
MEETINGS and event organisers will have more than just the impressive backdrop of a new property that endeavours to capture London's various eras: from Victorian and Churchillian, to Swinging Sixties and the Britpop edge to football highs and lows, epitomised by Sands Macao brand ambassador David Beckham.
Groups can go beyond the ballroom with al fresco events at new venues at the Cotai Strip such as The Lawn.
Among the corporate events hosted this year at Sheraton Grand's 14,000 sqm of meeting space, was the Entrepreneurs' Organisation Global Leadership Conference 2019 and Metlife Korea Annual Team Challenge.
Delegates at the Entrepreneurs' Organisation event in April were encouraged to enjoy the sights and culture outside the hotel-resort with tours that took in Macau's Unesco-listed heritage quarter and Coloane village.
Metlife Korea also gathered 240 delegates for a banquet at The St Regis Macao's Astor Ballroom (below) where the Team Recognition Awards were held. The celebrations continued with a poolside dance party with DJ, live entertainment and Portuguese-style entertainment.
One of Sands' main drawcards for large-scale events is a practically seamless link from The Venetian and The Parisian across to Cotai Strip where it operates The St Regis, Conrad and Sheraton Grand. Groups can navigate Sands' properties on either side of Cotai Strip via covered walkways, venturing outside for the events lawn and a visit to The Parisian's replica Eiffel Tower.