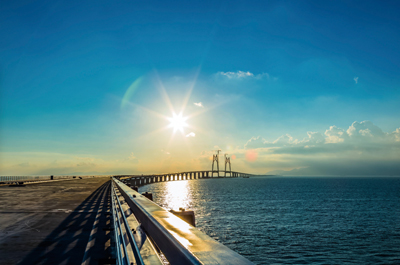 LIKE the Suez Canal in the 19th century, and the Panama Canal and the Channel Tunnel in the 20th century, the bridge linking Hong Kong with Zhuhai and Macau isn't going to be so much a 21st century game-changer as the author of an whole new set of rules.
Stretching 50 kilometres, costing more than RMB15 billion (US$2.1bn), and with a prospective opening date of December 2017, HZMB – as the bridge is usually abbreviated – is set to become a transportation fulcrum that will energise the entire Pearl River Delta, whose cashed-up population of around 80 million enjoy a per-capita GDP of RMB107,000, more than double China's national average.
The revolutionised access that will suddenly be at the disposal of meeting organisers right the way across the delta has galvanised planners into rethinking the way they stage events in the region.
Provided that cross-boundary procedures remain relatively unproblematic, there is no reason why a conference in Macau couldn't conclude with an evening's fine dining in Hong Kong, or delegates at an expo like Art Basel couldn't head west at the end of the day to take advantage of Macau's entertainment options.
Cross-city events
One planner who has been doing more than a little forward thinking is Stephane de Montgros, co-founder and director of Riviera Events, which has worked with clients like Net-A-Porter, St Regis and the Macau Arts Festival.
"The completion of the HZMB is a highly anticipated milestone in the South China region – both travel specialists and event professionals are excited with the range of cross-city events the bridge will help facilitate," says de Montgros.
"Leveraging the resources that the three areas have in terms of quality accommodation, creative food and beverage, entertaining activities and world-class event spaces, will contribute to establishing South China as the leading destination for MICE events in Asia.
"We have no doubt the governments of the different areas will continue to upgrade the border crossing experience, which will be key in offering delegates a pleasant and smooth experience, when travelling between the three areas. The roll-out of the e-gate system last year for both locals and foreigners has been a fantastic improvement, and it's one which both travel and MICE professionals have started to promote."
Following Riviera's Guangzhou office opening in 2012 and Shenzhen last year, the company is gearing up for its sixth office, expanding its footprint into Macau.
"We firmly believe HZMB will be a solid addition to the panel of attractions and solutions that South China is already offering, and we are looking forward to bidding for its opening celebration event," de Montgros adds.
In parallel with HZMB, other upcoming PRD infrastructure projects will also boost the region's attraction to MICE, not least because they should cut travel times significantly.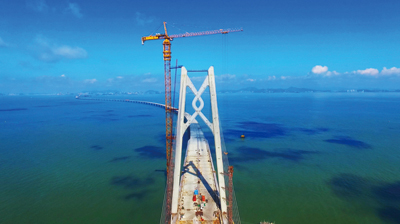 Express
The express rail link running between Guangzhou and Hong Kong via Shenzhen – forecast to open next year – will halve the overall journey time from 100 minutes to 50.
Plans have been mooted to link the Hong Kong terminus with the Airport Express by walkway, enabling groups swifter access to and from the PRD. And Macau's long-awaited new ferry terminal on Taipa is set to provide a smoother and rather more sophisticated traveller experience once operational. Both projects are expected to complement, rather than rival HZMB.
The prospect of HZMB comes at a time when Macau's economic fortunes – and with them, the prospect of increased MICE business – are seen as looking healthier.
A report released earlier this year by Nomura analysts Richard Huang and Joyce Yang pointed to a 3 per cent rise in gaming revenue in January, the sixth in six months, and a 7.8 per cent rise in tourist arrivals from mainland China.
Huang says HZMB will bring in visitors from further away by making it easier to travel to Macau and Zhuhai from Hong Kong International Airport.
"It will certainly attract more conference and exhibition clients, too," Huang says. "Once HZMB is open, it will take the same time to travel from Hong Kong airport to Macau as it does to get to Central."
At the eastern end of HZMB, stakeholders in Hong Kong realised the potential of the new bridge some time ago, and laid their plans accordingly.
Last March Regal Hotels International, which already operates Chek Lap Kok's main hotel, announced that Hong Kong's Airport Authority had awarded it the contract to develop another property at the upcoming SkyCity integrated development.
Spread over 6,650 sqm the new Regal hotel will consist of more than 1,000 guest rooms and suites, with state-of-the-art meeting facilities specifically aimed at attracting the delta's cross-boundary
MICE market.
Describing the new hotel – which is due to open in 2020 – as a potential "iconic landmark for Hong Kong", Poman Lo, Regal Hotels' vice-chairman and managing director, said: "We have a reputation for first-class MICE facilities and impeccable service, and this will be a flagship property for our portfolio.
"Once HZMB is finished, together with the Tuen Mun-Lantau link, this is going to become a MICE destination in itself."
SkyCity, which will be located between Terminal 2 and AsiaWorld-Expo, will include shopping, dining, entertainment and offices. While primarily aimed at leisure travellers, its appeal to MICE organisers – in a part of Hong Kong not overburdened with facilities – is undeniable.
While an exact date for HZMB's official opening has yet to be set, once the bridge and its surrounding facilities become operational, it is going to change the PRD for ever.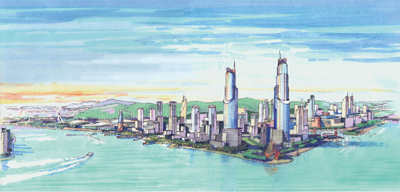 Hengqin Island
A mainland free-trade zone between Zhuhai and Macau is increasingly coming to the attention of analysts and investors.
Hengqin Island's ongoing developments are also set to be a boon as the former Portuguese enclave seeks more space for the development of job-creating industries.
On one side of Hengqin are casino-free resorts, including Chimelong's aqua- and circus-themed hotels, near an international tennis centre. At the other side, companies specialising in biotech and finance and a large University of Macau extension can be found.
Hengqin, at 100 sqkm three times the size of Macau, is linked to Cotai by Lotus Bridge, and is seen by many MICE insiders as the key to unlocking the city's future potential.
Muhammad Cohen, a long-time commentator on the Asian gaming industry, noted: "Hengqin has the space to expand Macau's appeal as a business and leisure destination, widen its economic horizons, take the pressure off its housing shortage, and connect Macau more closely with its neighbours and the broader world."
Greater Bay vision
What's not to like about the Pearl River Delta? By some measures, it's China's biggest consumer market, and has been ranked as one of the world's foremost economic dynamos.
High wages and a thirst for consumer goods are constants and official figures rate the region's per-capita GDP at RMB107,011, which is 2.2 times the national average.
Some 4.3 per cent of China's total population live in the Delta, and it accounts for 7.5 per cent of the nation's total retail sales of consumer goods – around RMB2.2 trillion annually.
CY Leung, the Hong Kong SAR's outgoing chief executive, recently led an official tour to promote the "Greater Bay Area" – a vision of a more integrated economic area that will join a network of similar zones across China, such as metropolises expanding out of Beijing and Shanghai.
While Guangzhou and Shenzhen are still the Delta's major markets, other parts like Nansha, Foshan and of course Zhuhai are rapidly catching up.
In the past 20 years, the Pearl River Delta's economy has undergone a sea-change with service industries – notably exhibitions and other business events – taking an increasing share. And the pace of foreign investment in services has speeded up, hand-in-hand with China's continuing liberalisation.
Transportation has improved markedly, with metro systems rapidly expanding in Guangzhou and Shenzhen and thus relieving the burden of traffic-clogged roads. Super highways link the main cities, and – at the other end of the scale – eco-friendly bicycle hire schemes in cities such as Zhongshan have proved as popular with visitors as residents.