USPs
As leaders in China and across the world struggle to make sense of the headline-grabbing disturbances in Hong Kong, many have already looked to a new region practically on the doorstep of the financial hub. This comes in the form of the Greater Bay Area, and its most physical feature is the Hong Kong-Zhuhai-Macau Bridge, an engineering feat that helps string together a potential market of around 70 million people across nine municipalities and the two special administrative regions of China: Hong Kong and Macau.
Under the GBA plan, each city will have its own specialism, with Macau being a leisure and cultural destination; Hong Kong continuing its role as banking, finance and logistics hub; neighbouring Shenzhen increasing its profile as China's Silicon Valley; Zhuhai adopting the mantle of aviation hub, while Macau also building on its role as a resort destination and as China's conduit to the Portuguese-speaking world.
For international planners, GBA represents a whole new destination in which dual or multiple events can be held across different cities.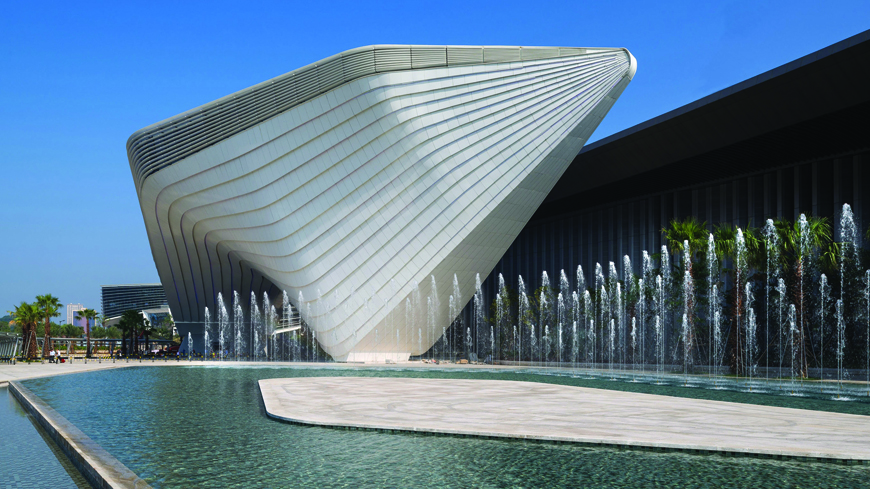 VENUES
ZHICEC – Zhuhai International Convention and Exhibition Centre (above) is adding a second phase of event and retail space. With views across to Macau, ZHICEC also boasts a European-style classical opera house and forms part of precinct featuring a Sheraton and The St Regis.
AsiaWorld-Expo – While HKCEC benefits from a downtown location, AWE stands alongside Hong Kong's airport and routes onto the HZMB. AWE is the home of the city's mega events and larger trade shows.
GICC – Galaxy International Convention Centre is set to open in 2021 and will feature a 16,000-seat arena as part of the latest phase of Galaxy Macau resort. GICC is set to compete with other Cotai venues such as The Venetian, Melco's Studio City and MGM Cotai.
Shenzhen World – This is set to be the world's largest exhibition and conference venue, and the inaugural Greater Bay Industrial Expo in late November will be among its first events. Shenzhen World is next to Shenzhen International Airport in Bao'an District in the east of the GBA, north of Hong Kong.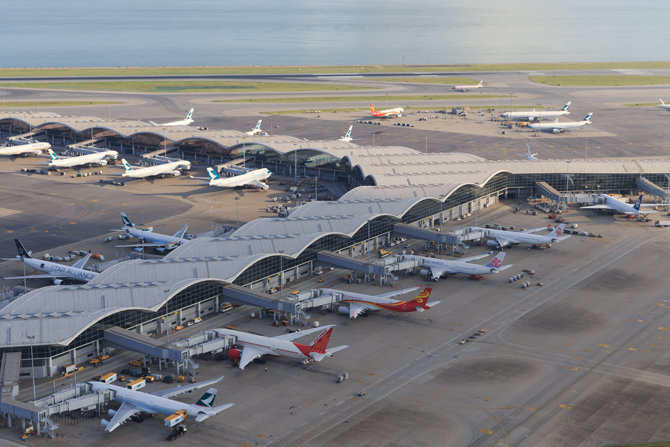 CONNECTIONS
Airports – Macau, Zhuhai and Hong Kong (above) have airports in proximity to the HZMB. International airports in other parts of the GBA are in Guangzhou and Shenzhen.
HZMB – Whether flying into Hong Kong or Macau, the 55km seabridge that leads into a tunnel near the Zhuhai section is a sight to behold on a clear day. There are customs and immigration procedures at ports either side of the bridge and regular coach services serve routes across the bridge from Hong Kong.
HST – A terminal linking Hong Kong to China's high-speed national rail network opened in 2018 with Chinese immigration facilities located on a separate level within the West Kowloon terminus. The journey time from the high-speed station in West Kowloon to Guangzhou South is 47 minutes compared with two hours or more on trains departing from Hong Kong's Hung Hom terminus.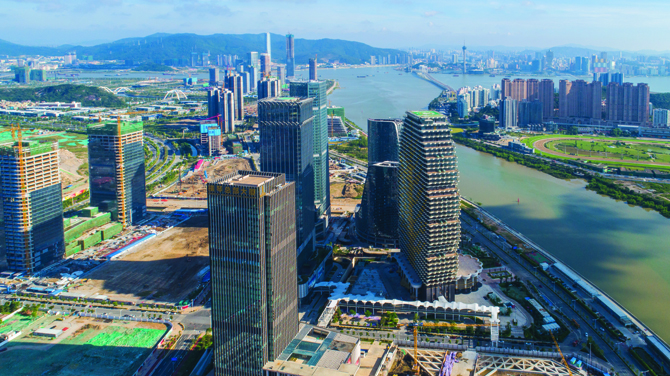 EXCURSIONS
Hengqin – Other projects coming to fruition are the resort and new industries designated for this island between Zhuhai and Macau. Resorts such as Chimelong have convention and non-gaming leisure attractions, while Hengqin is also home to an elite international tennis centre.
Guangdong – North of Zhuhai are areas considered cradles of Cantonese culture and cuisine, such as Shunde and Foshan, the ancestral home of kung fu legend Bruce Lee. Fast trains link Zhuhai to the provincial capital Guangzhou, the home of the twice-yearly Canton Fair, while along the way is Zhongshan which, with Dongguan, Nanhai and Shunde, are known as the little tigers of southern China's manufacturing economy.
Lantau – Hong Kong's largest island is home to the city's Disneyland resort, the Big Buddha statue and Tung Chung, the nearest town to the international airport. Lantau is renowned for its mountains and sites such as Tai O, a traditional fishing village featuring stilt homes and restaurants.
More on this… Bridging the gaps in China's Greater Bay Area