PICO has a strong track record in bringing business events to life by executing memorable immersive experiences. Earlier this year, the company applied this same inspiration to create a theme park attraction.
Owned by Wanda Group, Wanda Movie Park (above) is a huge interactive entertainment complex within Wanda Cultural Tourism City – a 200-hectare cultural and entertainment site that opened in Nanchang, southeast China, in May. Wanda Group operates the biggest film company in China and owns Hoyts cinema, AMC Entertainment and Winda Cinema Line. AMC recently acquired Europe's Odeon and UCI Cinemas.
Pico applied the same techniques and experience showcased at live business events to creating an interactive film zone.
Winning Pitch
Pico was chosen to design and launch the park because of its award-winning reputation in the Asia-Pacific region and vast experience working across multiple activation platforms – from exhibitions and events to museums and retail environments.
As project manager, Pico oversaw the work of Simtec – a company that specialises in customised simulator systems – contracted to provide the ride systems.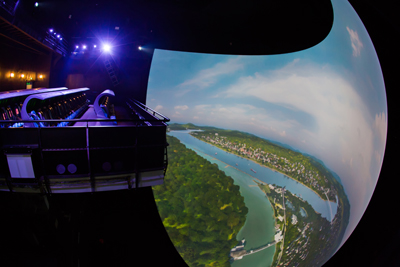 Highlights
Wanda Movie Park's design was centred on two major interactive attractions – the 3D monster zone and flight simulator zone (above).
The former required installation of 96 projectors and 48 perforated screens in the main hall alone. Pico had the difficult task of designing a visually interesting interior, with bright colours and sloped ceilings, which could still support the advanced technology in place.
In one public area, the team designed the roof to look like a large porcelain vase with a changing pattern. Its designers achieved this by installing 10 projectors using advanced visual and audio effects.
Where possible, Pico ensured that it used environmentally friendly technology. Energy efficient lighting – consisting of dimmable LED lamps with an intelligent central control system – was installed in line with the National Design Standards for Green Buildings.
LED-based technology was used elsewhere in the park to create a multimedia 3D floor painting and a waterfall video (below). Projected as a backdrop, the waterfall was designed to look as lifelike as possible.
Safety was prioritised throughout the process. At all times, the team adhered to strict, on-site fire control practices.
To ensure that the project ran smoothly and to deadline, Pico trial-assembled many of the more complicated design features at a factory prior to installation.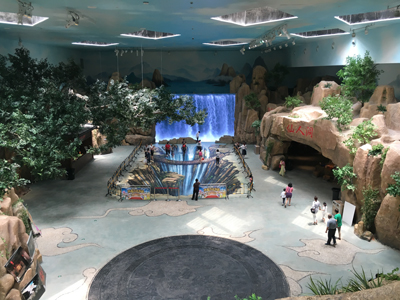 Upshot
On reflection, Pico found overseeing the project as complicated as designing and building the installations. Its management team was forced to liaise with more than 10 departments within Wanda to juggle the project's many elements.
The project was a huge success. The attractions and overall design were completed on time for a spectacular opening in May. λ