INTERCONTINENTAL Hong Kong is offering a Chinese Tea Discovery Lunch at its two-Michelin star Yan Toh Heen restaurant. During the event on October 28, tea sommelier Kelvin Ng (below) will share his knowledge of Limited Reserve Aged Pu'er tea that comes from the leaves of a treasured 3,200-year-old tree, known as the Jinxiu Tea King in Yunnan Province.
The rare tea will be brewed with premium "Tibet 5100" mineral water that comes from an altitude of 5,100 metres, and will be paired with a six-course Cantonese menu by executive chef Lau Yiu.
The menu will include simmered French blue lobster with morchella in supreme broth, steamed garoupa fillet with morels and ginger, braised whole abalone, wok-fried Kagoshima wagyu beef with duck liver and black truffle, fried rice with crabmeat, mixed vegetables and crabmeat roe, chilled milk pudding with Tokachi red beans and tofu.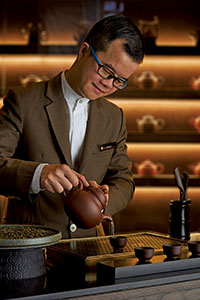 • Singaporean boutique buffet catering company Purple Sage is launching a new "farm-to-plate" range of products.
The company's new Secret Garden selection comprises "handpicked live ingredients", including cress coriander and cress red veined sorrel, as well as non-GMO chicken and fresh fish from sustainable sources.
Alan Tan, Purple Sage co-owner and managing director, said: "More and more consumers, particularly millennials, want to know where their food products come from. We have brought the farm-to-plate concept in a sustainable way into the catering service so as to stay ahead in the industry while supporting local farmers."
• Small Luxury Hotels of the World is launch-ing a cookbook based on recipes from more than 520 member hotels in 80 countries.
The Small Luxury Cookbook features 142 main dishes from local tastemakers to globally renowned chefs, "who champion regional produce and unique gourmet experiences designed to tempt the taste buds of discerning travellers around the world".
The cookbook features many recipes that have been passed down through generations or are inspired by world-class fine dining curated by internationally recognised chefs. Recipes include Maldivian tuna with tropical fruit salsa, slow-cooked Greek octopus with aubergine miso, Swiss chard ravioli with scallops and Valencian paella with crayfish and mussels.