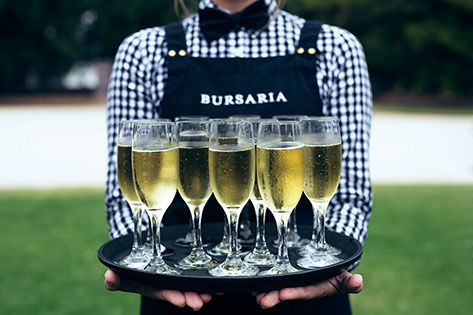 Food for thought at Abbotsford
Strolling the grounds of Abbotsford Convent in the suburbs of Melbourne, it is hard to believe you are just 4km from the hustle and bustle of the city's thriving central business district.
It is also hard to imagine that for more than 100 years, Sisters of the Good Shepherd, a Catholic order, provided food, shelter and education for tens of thousands of disadvantaged women and children at the convent.
The modern contrast could not be greater. For the convent, in a bend on the Yarra River, is now a vibrant arts, educational and cultural centre, with a bakery, bar, cafe and organic restaurant, and with artists working in the grounds.
Event catering company Bursaria Fine Foods has been based at the convent since 2011, serving its Rosina Function Space, a unique venue offering heritage elegance and featuring original lead-light windows, polished floorboards, atmospheric high ceilings and exposed trusses.
The company, whose inspiration comes from using fresh seasonal produce, also has an outside division, catering to private homes, spaces and offices around Melbourne.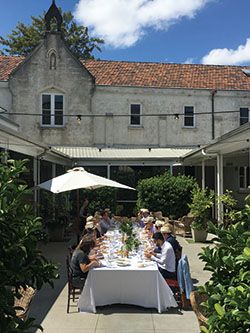 Victoria flavours inspire new menus
Melbourne Convention and Exhibition Centre (MCEC) is throwing out the rule book when it comes to the conference, meetings and events food experience.
New Melbourne-inspired menus have been carefully crafted to foster ideas, fuel productivity and, most importantly, get people talking. From traditional favourites to cutting-edge creations, each dish is a reflection of the culture, craft and quirkiness of the city.
The 2018 menu planning guide also includes "green rated" meal options, which have been analysed by an accredited practising dietician in line with the Victorian Government's healthy choices "traffic light system".
MCEC's executive chef, Peter Haycroft, said the planning guide had been informed by customer feedback.
"Each menu option, whether it's breakfast [or] a gala dinner, has been thoughtfully designed to offer our customers more flexibility and access to only the finest quality, locally sourced produce."

Poptastic chefs show off Wynning ways
Wynn hosted several guest chef pop-up events in their restaurants recently to celebrate Macau being chosen to host Asia's 50 Best Restaurant Awards, with Wynn Macau and Wynn Palace Cotai selected as the awards' official venue partners for 2018 and 2019.
Indian chef Gaggan Anand's restaurant Gaggan, which ranked at the top of the Asia's 50 Best Restaurants list for three consecutive years, teamed up with two famous Japanese chefs, Zaiyu Hasegawa and Takeshi Fukuyama, whose restaurants Den and La Maison De La Nature Goh ranked 11th and 31st in 2017, to cook a creative feast.
Culinary artisans who have been honoured as Best Female Chefs in Asia, including Lanshu Chen, Vicky Lau, and Margarita Forés, also collaborated to make fine delicacies, while Virgilio Martínez's restaurant Central, which ranked 5th in the World's 50 Best Restaurants Awards in 2017, created a unique culinary experience.
Macau, which is promoting itself as the City of Gastronomy in Asia, has been now included in Unesco's Creative Cities Network.
Wynn guest chefs (from left): Gaggan Anand, Lanshu Chen, Zaiyu Hasegawa, Vicky Lau, Virgilio Martínez, Margarita Forés and Takeshi Fukuyama.