ONE OF the boldest destination marketing campaigns seen includes the championing of a hundred-plus international MICE events planned in Hong Kong this year alongside the giveaway of half-a-million airline tickets and a host of promotions to attract visitors.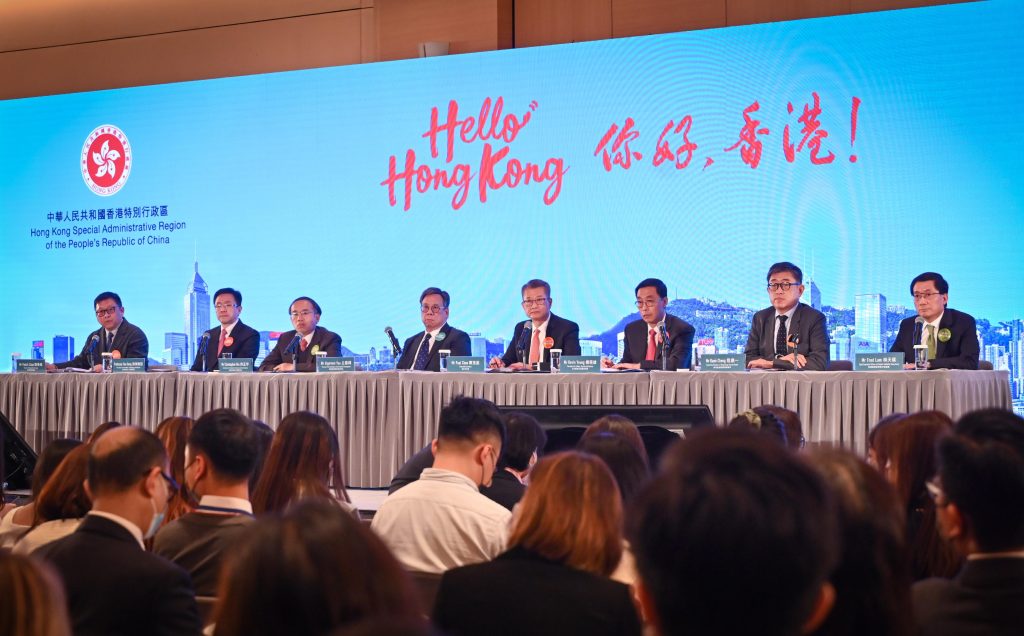 The Hello Hong Kong campaign comes after two years in which waves of travel and social distancing restrictions to combat Covid put the city's events industry into a tailspin despite intermittent relaxing of measures and government support packages.
Hong Kong Tourism Board (HKTB)'s "biggest welcome to the world" was officially announced on February 2, days before boundary crossings between the city and mainland China fully reopened.
The "World of Winners" Tickets Giveaway Campaign, sponsored by the Airport Authority Hong Kong, will be launched on March 1, with Southeast Asia markets the first target. Around 500,000 air tickets will be given away to travellers in major passenger markets in support of the government's Hello Hong Kong efforts to revive the visitor economy.
Dane Cheng, HKTB executive director, unveiled a four-point strategy that also put the international MICE industry at the heart of Hong Kong's "new experiences and events".
More… Junior Chamber toasts Hong Kong
A year-round calendar of more than 250 events and festivals in 2023 was highlighted at the Hello Hong Kong launch. Large events include the Hong Kong Marathon, the Clockenflap music festival, Art Basel, the Museum Summit 2023, Hong Kong Rugby Sevens, Hong Kong Wine and Dine Festival and New Year Countdown Celebrations to  showcase the "dynamic and diverse appeal" of the city.
The campaign also promises the launch of more "MICE and mega events" covering finance, the economy, innovation and technology, sports, arts and culture as well as wine-and-dine events.
"Together with large-scale international conventions and exhibitions, [events] are coming back one after another, reviving the city's MICE tourism sector," HKTB said.
"With its peerless facilities, events spaces and networking opportunities, Hong Kong has more than 100 international MICE events planned for 2023, providing excellent platforms for different sectors to seize business opportunities."
Backgrounder… It all begins in March! HK events get busy at last
New developments promoted by tourism officials include the M+ and Hong Kong Palace Museum at the West Kowloon Cultural District, the revamped Peak Tram, Water World Ocean Park, the new night-time show Momentous at Hong Kong Disneyland and enhanced promenades either side of Victoria Harbour.
HKTB chairman Pang Yiu-kai said: "Hong Kong is back on the map for global travellers, with more excitement to offer than ever before.
"We are extending a biggest welcome to the world through the 'Hello Hong Kong' campaign, inviting friends from everywhere as they return to one of the world's greatest tourism destinations. I am confident that Hong Kong's vibrant east-meets-west culture, together with our iconic and brand-new attractions and immersive experiences will attract travellers back for an epic, unforgettable journey."
More… HK vows return as 'Trade Fair Capital of Asia'
Speaking at a press conference immediately after the launch, Financial Secretary Paul Chan said the Hello Hong Kong campaign would tell the world that Hong Kong is back. He said the SAR Government and partner organisations will go all out to showcase and promote the city's new bright economic prospects, new cultural vision as well as new tourism and mega-event experiences.
A newly established Task Force on Promoting and Branding Hong Kong would "seize this timely opportunity to devise narratives to proactively demonstrate Hong Kong's new strengths", Chan is reported in a HKTB statement as saying.