STAYCATION competition between hotels in Hong Kong is taking a new turn as one of Kowloon's most popular hotels teams up with Australian trade and tourism promotion agencies in the city to maintain and strengthen bonds between the two destinations amid travel restrictions.
The Mira Hong Kong's partnership with Tourism Australia, the Australian Trade Commission (Austrade) and Miramar Travel sees several guest rooms at the hotel themed to represent four states and iconic experiences ranging from surfing, wineries and the Southern Lights to rainforests, festivals and indigenous culture.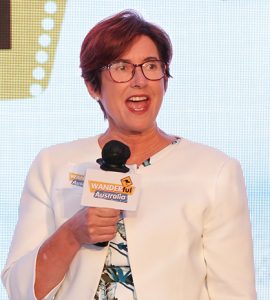 Australia's consul-general to Hong Kong, Elizabeth Ward, and Shannon Powell, the consulate's senior trade and investment commissioner, joined The Mira's head of hotels and serviced apartments Alexander Wassermann and Alex Lee, general manager of Miramar Travel, at a launch ceremony for the promotion.
The Mira's "Wanderful Australia" staycation experience runs from September 17 to November 14 and extends to the hotel's wine, F&B and spa offerings.
Trade and investment commissioner Shannon Powell said the initiative was the first event of its kind in Hong Kong and showed that interest among consumers in choosing Australia as a tourism destination remained strong despite Covid travel restrictions.
Miramar Travel's Alex Lee said inquiries from customers in the past year indicated that they wanted a safe destination where they can enjoy immersive experiences close to nature such as glamping, or luxury camping.
"People are wanting to experience more space and are not into sitting on a coach for hours. That is why they're asking about Australia," said Lee. "They are also choosing Australia as a safe place to go when travel comes back."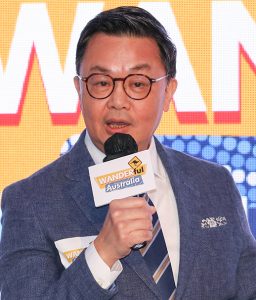 Lee said he expected Qantas to be promoting services between Hong Kong and Australia from next February.
Four state experience rooms at the hotel were co-created with Destination New South Wales, Tourism Western Australia, Visit Victoria, and Tourism and Events Queensland. Tourism Australia recommended travel experience themes for six rooms.
More… Australians get Hong Kong reminder
During the campaign period, the hotel's dedicated activities floor will feature an Adventure Australia 3D Photo Room based on rainforest vistas and a 3D floor sticker for creating "instaworthy" moments by The Mira's social-media conscious guests.
The Australia-themed spa choices will see products from endota, which has a network of more than a hundred spas across Australia. Wineries will be represented by Penfolds and Egon Muller, of South Australia, and Mount Pleasant from New South Wales.
A Penfolds wine dinner is being offered on October 7 with French-Japanese cuisine by Chef Oliver Li and featuring Penfolds RWT (a Barossa Valley shiraz), Penfolds Bin 23 Pinot Noir, and the classic Penfolds Grandfather Port Rare Tawny 20 Years – all introduced by a guest speaker from Penfolds.
For bookings and enquiries, contact:
Rooms: +852 2315 5605 or reservations@themirahotel.com
Spa: +852 2315 5500 or miraspa@themirahotel.com
Dining: +852 2315 5111 or dining@themirahotel.com