ADVERTISING, marketing and media industry event Cannes in Cairns returned to Tropical North Queensland in May with 650 additional delegates, doubling the size of last year's event.
The Brief
Building on the success of 2022, the conference and festival of events coincided with Australia's National Reconciliation Week and featured indigenous themes and content overlaid into the entire program.
Event organiser Dan Uglow said Cairns was an ideal destination for a return event as the city offered exceptional convention spaces and new off-site venues.
Highlights
A substantial portion of the program content centred on Indigenous affairs and the "Voice to Parliament". Local Yidinydi representatives from Minjil provided connection to country, welcoming guests to Cairns/Gimuy.
Speakers included Stan Grant, who was connected via video link through the convention centre's latest AV system and received a standing ovation for his passionate presentation on the importance of Indigenous representation in the media. Tanya Denning-Orman, Director of Indigenous Content at SBS and Jake Thomson, Head of the Aboriginal Health Television Network, also addressed the event.
CHECKLIST
Event: Cannes in Cairns 2023
PCO: The Misfits
Venue: Various including Cairns Convention Centre
Duration: over 4 days in May 2023
Delegates: 130
Australian Indigenous rapper Nooky, the founder of the inspirational platform We Are Warriors, spoke of the need to put a spotlight on Indigenous role models and elevate successes. Poppy Reid, editor-in-chief of Rolling Stone AU/NZ, led a fireside chat with members of the rock band King Stingray.
Exploring diverse and unique avenues for fun was essential to the event's overall success, with Cairns providing opportunities for conference sponsors to create out-of-the-box experiences for large and small gatherings of delegates, including a beach dinner at Nu Nu, the exclusive Cannes in Cairns Yacht with Parisienne DJ Safire, VIP brewery dinner at Hemingway's, cocktail parties at Crystalbrook Rocco, seafood on the iconic Prawn Star and the TikTok takeover of the Cairns Party Bus.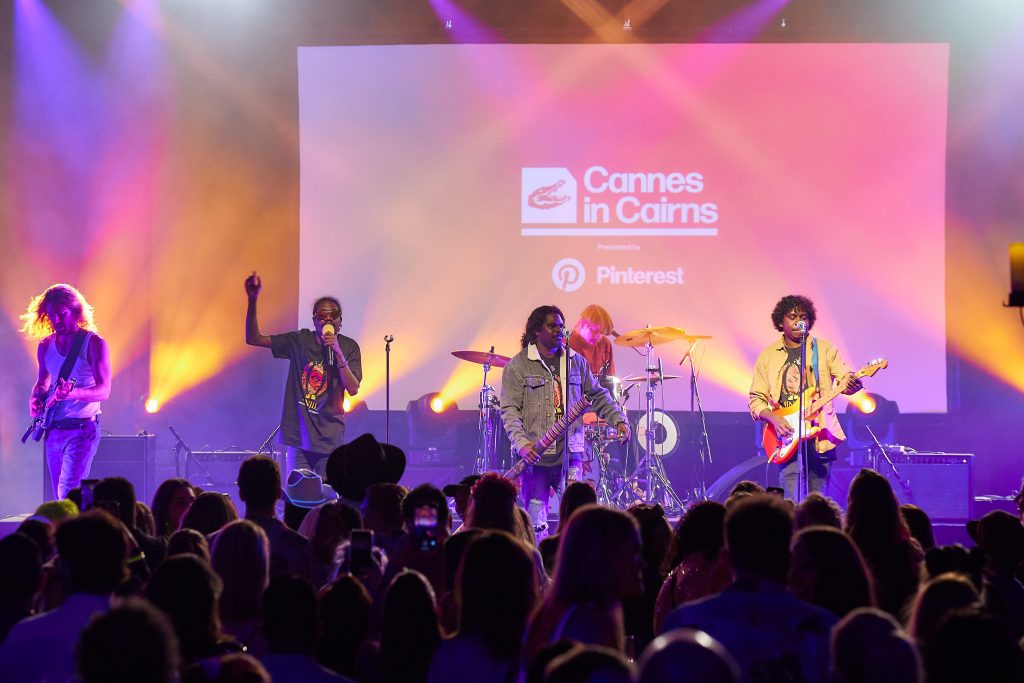 The event's large-scale "special" moment was bringing delegates together for the Pinterest-sponsored Pinchella Welcome Party held at the Tanks Arts Centre – a historical venue featuring three WWII oil tanks within the Cairns Botanic Gardens. F&B from Nu Nu included indigenous food with music from King Stingray.
Upshot
With Cannes in Cairns scheduled for 2024, and expectations that delegate numbers will reach 2,000 from across Asia Pacific, Dan Uglow from The Misfits creative agency said brands were already scrambling for sponsorship opportunities with many having committed.
Main picture: Delegates enjoy views during an exclusive yacht cruise at Marlin Marina, Cairns