GERMANY'S Vok Dams has been at the centre of another car industry event in China.
The events and live marketing agency produced a product launch for Avatr Technology, a new smart-electric vehicle brand from Changan, one of the four leading Chinese auto manufacturers.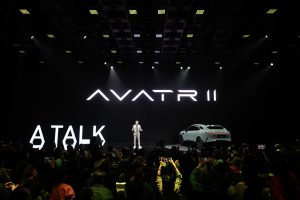 The event in Shanghai also saw the launch of the brand's first car, the AVATR 11, combined with a social media campaign across China giving the first views of the model to a mass audience.
Avatar's brand values are based around emotional intelligence and Vok Dams used these in a strong media staging that climaxed with the actual reveal of the new car.
More… Vok Dams gives Polestar2 'anamorphic' launch in China
Guests interacted with code-transformed animation as they were arrived and then invited to relax in a living room space as the excitement built before the reveal.
Tan Benhong, executive vice-president of Changan and CEO of Avatr, gave an introductory talk accompanied by "emotionally charged choreography".
Vok Dams also produced content for Avatr's collaboration with American fashion designer Matthew Williams, the founder of 1017 ALYX 9SM, who has worked with Lady Gaga, Kayne West and luxury fashion company Givenchy.