NEWLY RENOVATED events space at an Andaman coast resort is proving to be a hit with conference and incentive organisers seeking an alternative to the more bustling MICE destinations of Thailand.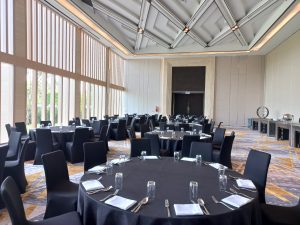 Events hosted at the JW Marriott Khao Lak Resort & Spa's newly built and renovated F&B and conference spaces have so far catered to groups from the consumer products, technical, management, pharmaceutical, finance and entertainment sectors, among others. Gala entertainment at the resort, an hour's drive from Phuket International Airport, even takes to the beach (above) with a pyrotechnic shows.
Three corporate groups bringing a total of more than 500 participants have held events at JW Marriott Khao Lak since the property unveiled its new 9,300 sqm of indoor and outdoor events space in October as part of a full renovation of the 810-guest room hotel.
As the resort gets more attention from business event planners with confidence returning to the MICE travel segment, general manager Abhimanyu Singh is focused on achieving a harmonious coexistence of delegate and hotel leisure guests.
Here are three examples of recent gatherings that are beginning to raise Khao Lak's profile as a beachfront getaway for business events:
Consultants crack coconut CSR
A group of 400 management consultants gathered in October 2022 for a conference before moving to breakout meetings and teambuilding at venues across the resort.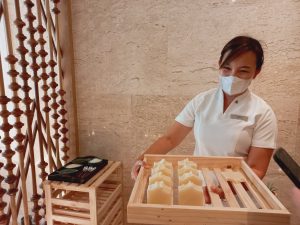 The Quan Spa took a CSR role for top level management, where small groups were invited to coconut workshops highlighting reusability by using husks for sustainable gardening and making natural products including soaps and body scrubs. The spa-based workshop allowed individuals to experience the initial stages of reusing coconut waste, often with the use of traditional Thai tools. Participants were then able to enjoy a spa treatment using some pre-prepared coconut products.
Other delegates were directed to Olive Restaurant to participate in single origin olive oil degustation workshops with pairing dishes. Here, a variety of high-quality olive oils were introduced along with pointers on how to taste them and what to look for. Small dishes were served to complement the oil tasting, including a selection of imported cheeses and meats.
Other groups joined novel mixology classes (where one cocktail featured a tuna-infused gin), all of which were carefully crafted by the resort's Director of Beverages. This experience took place in the JW Gardens, where delegates picked fresh flowers and herbs to flavour their cocktail creations.
Lucky pharma delegates
A scientific conference organised by a global pharmaceutical developer was welcomed in mid-December 2022, with over 100 delegates attending. Khao Lak was selected versus Bangkok, partly due to the ease of travel from Phuket International Airport. Another factor was the space offered by the new JW Grand Ballroom. This met the criteria of being able to be used as a whole space for the first day before the 458 sqm ballroom was divided into separate segments for focus groups and workshops over the four-day event.
Organisers used seven out of the 11 restaurants and bars for the "lucky draw" teambuilding dinners, which allowed a greater level of bonding as attendees were drawn at random to join different subgroups onsite for their evening meal.
On the final day, the themed afternoon coffee breaks were in the form of a floating Thai market with traditional wooden boats in the pool serving refreshments and an authentic menu of afternoon tea.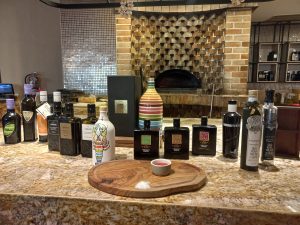 Banking on villas
A high-profile group of upper-level management from the banking industry exclusively reserved the resort's three villas in the third quarter of 2022 to hold two days of board meetings and private corporate functions.
Leadership meetings were held in the living room of a villa with panoramic ocean views the team enjoying a farm-to-table BBQ on the lawn on the first evening. Small group cocktail discovery sessions were also held with participants given a personal set of ingredients to produce quality mixed beverages with the cocktails savoured as scenic sundowners on a decked events space.
CSR at heart of events
A series of new CSR initiatives are being added by the JW Marriott Khao Lak in 2023, beginning with a collaboration with Oceans for All, which will introduce groups to preservation efforts for the bamboo shark, a rare species that dwells in mudflats and is slow moving compared to the more speedier ocean predators. Working with qualified conservationists, the new facilities will aid in the safe hatching and release of shark eggs, so helping restore the marine food-chain's balance.
Beachfront teambuilding
Water-based activities for business event groups to bond range from raft building in "Southeast Asia's longest swimming pool" and beach paddleboarding to surfing (depending on the time of year). Teambuilding extends to mangrove planting and sunrise yoga to wine tasting (with fine pours from Italy, France, Spain, Thailand, Portugal and more), mixology sessions, themed gin and tonic experiences, bath-bomb making workshops, olive oil degustation and more.
JW Farm Garden will help set the scene for the JW Marriott Khao Lak's sustainability efforts. The garden has the aim of growing and cultivating as much produce as possible including honey, vegetables, herbs and eggs from free-roaming chickens.
The farm will enable planners to create more sustainable events with the option to add activities such as "pick what you will eat" or a coffee break where everything served is homegrown and produced.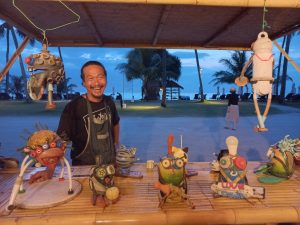 Beach clean-ups see groups bonding in Art of Trash workshops (above) to create art pieces made from rope, plastic bottles and even flip-flop sandals under the creative guidance of a local Khao Lak artist.
JW Marriott Khao Lak general manager Singh says the resort is beginning to establish itself as a strong location contender in Thailand for business event organisers seeking a getaway for their groups while having access to bespoke services, new venues, state-of-the art conference audiovisual equipment and more.
"I believe Khao Lak is ready, and I believe the destination will become one of Thailand's leading MICE hubs in the years to come," Singh said, adding that the hotel is setting a high standard for luxury events with the services of a dedicated conference and banqueting department.