SARAWAK continues to establish itself as the leading hub in Malaysia for advancing public health medicine after winning the 21st International Congress for Tropical Medicine and Malaria (ICTMM 2024), set to take place September 19-23, 2024, at Borneo Convention Centre Kuching.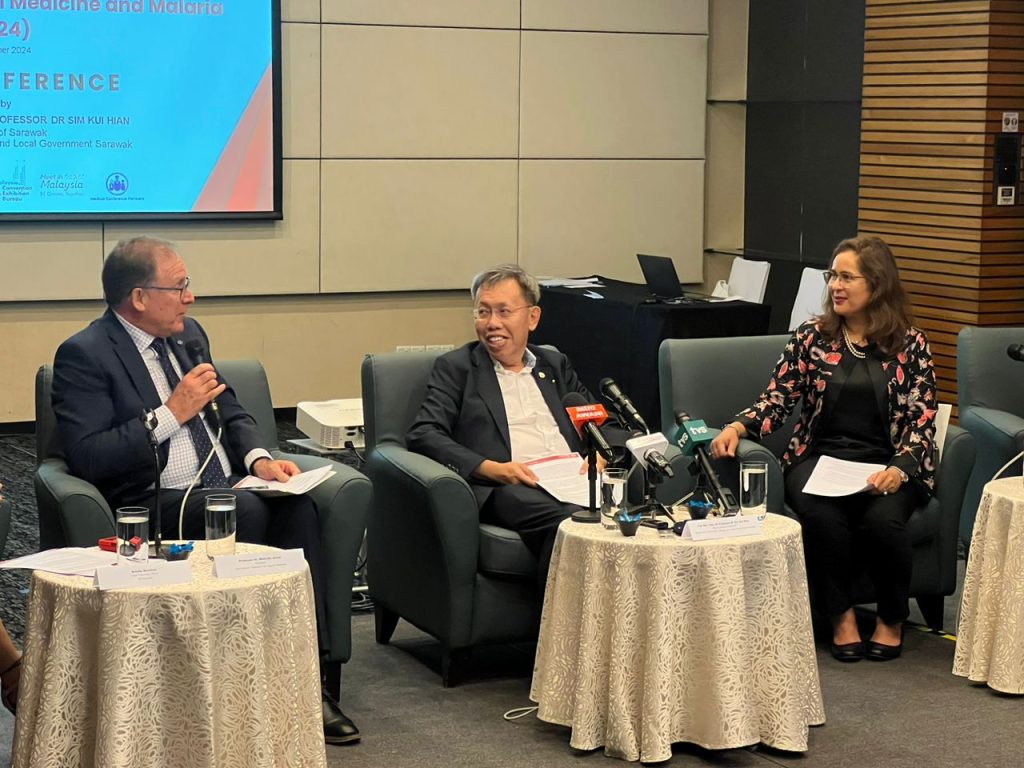 The event will mark Malaysia's debut as the host for one of the world's leading congresses in tropical medicine and malaria.
The international bidding was a collaboration between the Malaysian Society of Parasitology & Tropical Medicine, Business Events Sarawak (BESarawak) and Malaysia Convention & Exhibition Bureau (MyCEB).
ICTMM 2024 is organised by the International Federation of Tropical Medicine and Malaria (IFTM) and the Malaysian Society of Parasitology & Tropical Medicine (MSTPM) and supported by the Ministry of Public Health, Housing and Local Government Sarawak; Ministry of Tourism, Creative Industry and Performing Arts Sarawak; Ministry of Education, Innovation and Talent Development Sarawak; Sarawak State Health Department; Universiti Malaysia Sarawak (UNIMAS); BESarawak, and MyCEB.
More… New era for Borneo as Sarawak, Nusantara rise
The congress, themed "Global Responses and Interdisciplinary Research Towards Eliminating Tropical Diseases", will be jointly held with the 60th Malaysian Society of Parasitology & Tropical Medicine Conference (MSPTM 2024) and the 10th ASEAN Congress of Tropical Medicine and Parasitology (10th ACTMP).
As a highly coveted global event, ICTMM 2024 is expected to attract more than 2,000 scientists, physicians, researchers, policymakers and international authorities to discuss current tropical medicine topics such as malaria, neglected diseases, drug resistance, travel medicine and zoonoses (diseases and infections that are transmitted between animals and humans).
"Sarawak's tropical climate and geographical diversity create various habitats for disease vectors, leading to higher infection and transmission rates of tropical diseases," said The Honourable Dato Sri Professor Dr Sim Kui Hian, Sarawak's Deputy Premier and Minister for Public Health, Housing and Local Government at this week's press conference.
Sarawak's Malaria Research Centre by UNIMAS has been instrumental in studying the genetic diversity and transmission of malaria. Another establishment that we look forward to is the Sarawak Infectious Disease Centre, which is expected to open by 2024.
"Tropical diseases will be a major study and for the centre to reach its full potential, the Sarawak Research and Development Council recently concluded its meetings with Imperial College London and the Swiss Tropical and Public Health Institute in Basel, Switzerland earlier this month to discuss how they can collaborate and do research in Sarawak. We are highly optimistic that this collaboration will take place," Dr Sim said.
"The greatest attraction of ICTMM is that it rotates in different countries so that it is truly international in focus and venue," said Professor Dr Malcolm Jones, President of the International Federation of Tropical Medicine and Malaria.
"Sarawak has a unique setting to study malaria and other tropical diseases due to its diverse ecosystem and varied malaria transmission patterns, providing a range of tropical medicine dynamics for investigation.
 "The Federation's role is to ensure that modern society and the scientific and medical communities, especially in regions such as Asia Pacific are kept informed and connected for the global progress of tropical medicine," Professor Dr Jones said.
Besides knowledge sharing and networking, an expected outcome of the congress is to contribute to global health where knowledge, insights, and collaborations gained from the congress can be translated into practical solutions and interventions that address the challenges of tropical diseases in their respective regions.
ICTMM has been hosted for over 100 years and our ultimate goal is to lead the world's conversations and knowledge in tropical medicine through collaborations between national and international federated societies.
There is a need to emphasise the importance of global cooperation and collaborations in the fight against tropical diseases.
We must explore a multidisciplinary approach to achieve the common goal of eliminating tropical diseases. It is only through collaborations, we can share best practices, exchange ideas, and learn from one another's experiences. It opens doors to multidisciplinary approaches, where experts from various fields can work together to develop innovative interventions, diagnostic tools, and treatment strategies."
– Professor Dr Siti Nursheena Mohd Zain, ICTMM 2024's Organising Chair
ICTMM 2024 is expected to fetch RM24.6 million (about US$5.4m) in total economic impact, of which RM13.4 million will derive from direct delegate expenditure. An additional 1,952 jobs will arise from organising and hosting the congress. As for the legacy impact or the broader values of the congress, the Malaysian Society of Parasitology & Tropical Medicine aspires to be at the forefront of fostering global collaborations within the scientific community and driving transformative change.
As Malaysia and Borneo's legacy capital for business events, we are working closely with the congress committee to help achieve their legacy impact.
Sarawak's business events industry places high value on collaborations and we hope that by being the host destination for ICTMM, the congress will be the key to Malaysia and Asia's tropical medicine advancements.
– Amelia Roziman, CEO, BESarawak
Delegate registration is now open starting from RM450 for Malaysians and US$100 for international delegates. For more information on the congress, please email secretariat@ictmm2024.org or visit ICTMM 2024.