AMONG the changes in people's outlooks brought about by the global pandemic is a yearning for the outdoors, getting close to nature and appreciating local cultures and cuisine.
The Malaysian Borneo state of Sarawak has been introducing and reacquainting visiting groups with the natural wonders and a culture underpinned by a tribal can-do spirit for years. Through Business Events Sarawak, activities and support for organisers are continually evolving with more options created to introduce groups to this fascinating destination.
What makes corporate teambuilding and post-conference activities unique in Sarawak is the sense of adventure your groups will experience with programmes that are made to measure to suit all tastes and with that "tribal spirit" to ensure a productive outcome.
As international conference and incentives emerge from the Covid slowdown, BESarawak – the business events arm of Sarawak Convention Bureau – is at the forefront of showcasing the wonders of Borneo, from coast and jungle to CSR and teambuilding.
ALL THAT JAZZ & RAINFOREST
Two of Sarawak's major annual events with a strong international appeal are the Rainforest Music Festival and Jazz in the Jungle. The best in world music can be enjoyed at Sarawak Cultural Village, near Kuching, this month in an event that will also be aired online. Also this month, in the northern coastal city of Miri, is the Borneo Jazz Festival, themed Jazz in the Jungle, featuring performances, workshops and even a wellness programme.
With Sarawak's live-music festivals up and running, business events won't be far behind.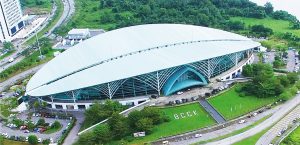 Sarawak's premier meetings venue – Borneo Convention Centre Kuching – has been an established fixture on the conference circuit for the oil, gas, and sustainable energy industries. This not only makes Sarawak a regional powerhouse house for related conferences and exhibitions, but also for post-meetings and incentive activities that let delegates tap into Sarawak's legendary tribal spirit.
Sarawak's unique selling points are the activities offered beyond the conference hall with delegates able to relax and experience Borneo to ensure lasting memories for themselves and communities they visit.
Here are some of the many experiences your groups can enjoy when holding an incentive programme, post-conference excursion, teambuilding adventure or a rewarding trip for company employees with CSR activities and the fun of Sarawak never far away: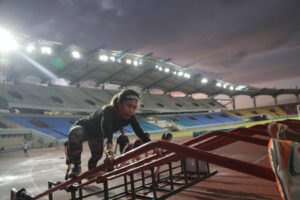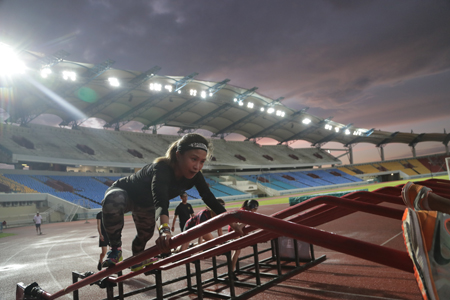 Tribespirit Teambuilding – A new product from BESarawak lets groups base themselves around a host city such as the state capital Kuching, Miri on the northern coast or the central city of Sibu. Organisers and delegates can choose the type of activity that suits the purpose of the programme and the desired level of physical effort. BESarawak can help customise itineraries whether the group wishes to hike, take a fun bike ride, or simply enjoy local cuisine and snacks on a food tour.
Teambuilding Spirit also lets groups discover more about Sarawak's localities and landmarks, whether it's the "Cat City" of Kuching, the coastal wonders around Miri or the heritage of Sibu. It's a superb way of tapping into your group's adventurous spirit, while letting them bond like a tribe.
BESLegacy – Business Events Sarawak Legacy enables organisers to design activities around a conference so that a legacy is left for the community and CSR commitments are met.
Causes close to the heart of Sarawak are also those that enhance the world's conservation efforts with Borneo's famous orangutans among the wild species protected by the efforts of CSR programmes available to organisers and their groups.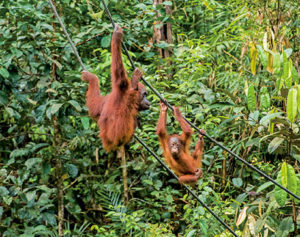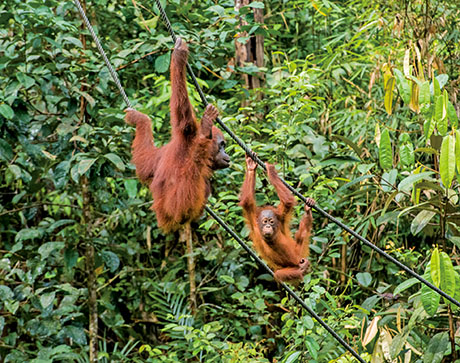 The Orangutan Project – Volunteering in the reserves of Batang Ai National Park is just one way of helping save the "Red Apes of Borneo" in programmes that feature a river journey on native longboats, planting fauna, installing cameras that track wildlife and much more.
Groups not only contribute to conservation efforts for Borneo's remaining orangutan population, while helping local communities, but there is also the priceless opportunity to observe these majestic creatures in their natural habitat.
Sea Turtle Conservation – Another critically endangered species are sea turtles, but the good news is that CSR and volunteer work can be done through a network of coastal and marine national parks dedicated to their protection. Islands such as Pulau Satang Besar feature turtle hatcheries and offer a Sea Turtle Adoption Programme in which volunteers can spend four days working with professional conservationists. And coastal activities such as snorkelling are never far away.
BEIMPACTFUL!
Business Events Sarawak along with MyCEB (Malaysia Convention and Exhibition Bureau) have introduced a new support package called BEimpactful.
The support helps cover travel and accommodation, venue hire and marketing.
BEimpactful was introduced as Malaysia reopened its borders to international travellers on April 1. Anti-Covid protocols are still in force on arrival and at venues along with hygiene measures to ensure the safety of visiting delegates and teams working with them.
For further details contact Business Events Sarawak