FRONTLINE medical staff have moved into exhibition space at AsiaWorld-Expo to carry out coronavirus tests on passengers arriving in Hong Kong from overseas.
A test centre run by the region's Hospital Authority and Covid-19 specimen collection facilities under the regional government's Department of Health will operate for an "indefinite period" as the global battle against the pandemic continues.
"In these challenging times, we are living up to our corporate social responsibilities by supporting the government with the set-up of the temporary test centre and COVID-19 specimen collection facilities at AsiaWorld-Expo for inbound travellers from overseas," says Irene Chan (above), chief executive of AsiaWorld-Expo Management.
HK tourism board's Covid-19 fightback fund
AWE, which is located next to Hong Kong International Airport, is among the growing number of convention and exhibition centres worldwide where event space has been adapted to provide hospital facilities.
Two government bodies have hired three exhibition halls at AWE as health officials seek to ease pressure on local hospitals and medics have been based there since March 20.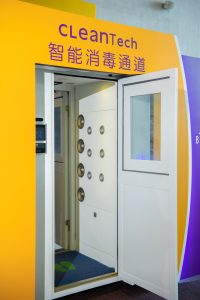 AsiaWorld-Expo (AWE) is also introducing the world's first technology of its type that disinfects and also provides air purification. A spokesman for the venue described the technology as setting the trend for convention and exhibition centres as the business event industry prepares for eventual recovery.
Combined with AWE's partnership with the Hong Kong company that developed the "CLeanTech" air sanitiser, Chan said the use of the halls by the Hospital Authority and Department showed the venue's commitment to the fight against the coronavirus.
"It is an affirmation of the capabilities of AsiaWorld-Expo in its epidemic prevention and effective sanitation efforts. Once COVID-19 is under control, we are fully ready to bring back various large-scale exhibitions and exciting events in collaboration with our stakeholders," she said.
Chan also welcomed the Hong Kong government's HK$30 billion (about US$3.86 billion) with more than HK$1 billion earmarked to help the tourism and business events industry.
Cash hope for HK's ailing exhibitions industry
She said the measures go "an extra mile to proactively engage with manufacturers specialising in biotechnology and disinfection applications".
On AWE's adoption of additional technology to prevent virus infections, Chan said: "By thoroughly disinfecting the venue through scientifically proved solutions, AWE safeguards the health of visitors and staff with products of high and long-lasting efficacy and sets the example for industry fellows to provide safe and healthy environments when event activities eventually resume."
Sammy Tsui, founder and managing director of BioEm Air Sanitising Technology, said: "AsiaWorld-Expo is the first exhibition and event venue in the world to deploy CLeanTech disinfection installation; we appreciate the visionary move of AWE, which serves as a role model for Hong Kong's C&E industry and the wider economy.
"The disinfection results seen from the use of these technologies at AsiaWorld-Expo can strengthen the confidence of exhibitors and visitors alike, contributing to the acceleration of the economic recovery of the Hong Kong C&E industry."