SARAWAK is making history yet again as the Malaysian state on Borneo Island establishes itself on the world stage with a debut at IMEX Frankfurt – Europe's foremost tradeshow for the business events industry.
Tribe Legacy Sarawak will be the theme of the standalone pavilion at the May 23-25 show in Germany. The theme draws on East Malaysia's tribal heritage and emphasises how legacy lays the basis for a meetings and incentive industry that supports community development while contributing to sustainability.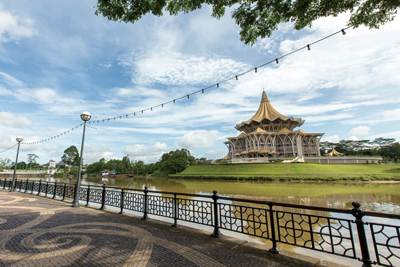 Business Events Sarawak's pavilion will also feature an exhibition on two key initiatives: Post Covid-19 Development Strategy (PCDS) and the International Journal of Business Events and Legacies – the world's first academic journal combining business events and legacy topics.
"PCDS is a pivotal government strategy for Sarawak to achieve economic prosperity, social inclusion and environmental sustainability by 2030," said Dato Sri Abdul Karim Rahman Hamzah, Sarawak's Minister of Tourism, Creative Industry and Performing Arts.
Sarawak's six exhibiting industry partners along with bureau officials will also be on hand to share how legacy impact and community programs can benefit your events whether through attaining ESG standards or supporting  sustainability.
Borneo Convention Centre Kuching

Exhibiting partners at the Tribe Legacy Sarawak Pavilion:
– Borneo Convention Centre Kuching
– Pullman Kuching
– Pullman Miri Waterfront Hotel
– Hemisphere Corporation (tourism & hospitality services)
–  ARC Creators (PCO) – CPH Travel (DMC)
– The Bibber's Tale will provide a creative mixology showcase with beverage ingredients unique to Sarawak.
The pavilion's location is B230 on the showfloor map
Meetings will be held at the pavilion to provide business event planners and other decision makers with insights on Sarawak's economic sectors and how delegates can develop their convention and exhibition legacies.
BESarwak CEO, Amelia Roziman, said: "Associations, hosted buyers, industry partners and media are fully welcome to visit our pavilion, attend any of the plenaries and meet with Sarawak's industry partners.
"We are encouraging associations, destination marketing organisations and convention and visitor bureaux from around the world to meet at the pavilion and discuss how we can collaborate to develop legacy impact and sustainability together."
A press conference will also be held on May 23, the opening day of IMEX, to unveil Sarawak's Three-Year Legacy Impact Master Action Plan with an official backing by the Ministry Energy and Environmental Sustainability.
Minister Abdul Karim said he envisaged the pavilion becoming an annual fixture at IMEX Frankfurt and Sarawak a preferred destination for business events.
MORE ABOUT SARAWAK…
Join the Sarawak Tribe… Among the changes in people's outlooks since the global pandemic is a yearning for the outdoors, getting close to nature and appreciating local cultures and cuisine.
Read more here…
ICCA Opens New Chapter… Community legacy efforts by the conference organisers' association saw the handing of a library to tribespeople. Read more here…
Oil City Miri Drills for Venue… The northern coastal city is set to have its own venue convention centre by 2025. Read more here…
Committee brings Legacy to Sibu… Central Sarawak destination plays role in post-pandemic business events revival. Read more here…