A SHOWCASE gathering of international finance industry bigwigs before the return of the more famous Hong Kong Rugby Sevens at the weekend is sending a message to the world that the city remains as the regional centre for world banking.
It goes further: it says Hong Kong is Back.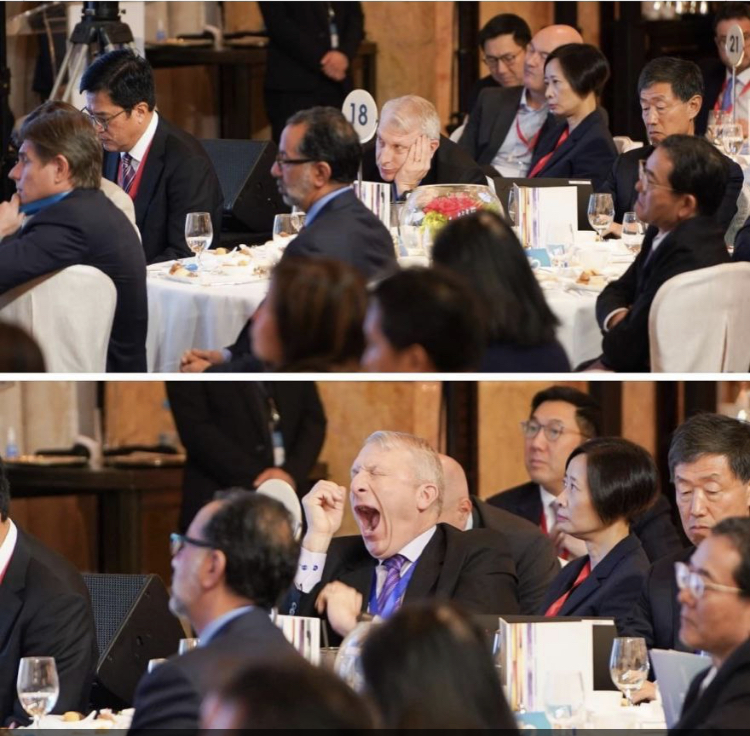 Locally, however, there are various levels of astonishment in the events community at the widespread absence of masks among the audience of CEOs and power brokers during meetings and social events surrounding the finance showcase. This in a city where mask wearing – indoors and outdoors – is obligatory (when not eating or drinking) and being found not wearing one risks a HK$5,000 fine.
Hong Kong's strict anti-Covid rules have been eased recently with mandatory hotel quarantine dropped and limits on the number of people gathering relaxed among other measures. But delegates in town to attend the Global Finance Leaders' Summit were exempt from regulations that include arrivals having to carry a digital QR amber code to prevent them from entering restaurants and other venues for three days until the code turns blue.
More… Strict mask policy at Rugby Sevens may backfire on HK
A business executive from one of the city's famous tycoon families boasted to an online finance show of how he and the interviewer were able to converse without masks. Social media users reacted with indignation with "one rule for them" being among the more common jibes.
The mask issue is now a talking point among events planners and sports fans in the city with the Hong Kong Rugby Sevens getting underway during which revelry and drinking features heavily. It was only a couple of weeks ago that officials made a U-turn on a requirement that eating would be not allowed in the stadium beyond the corporate box areas.
Event companies have already had corporate clients backing out of plans to come to Hong Kong in time for the banking summit and Sevens due to uncertainty surrounding the city's quarantine and rules on gatherings.
Beyond the stadium there could also be embarrassing scenes of officials "stopping the party" to inspect premises frequented by rugby revellers. The live music that has long been a mainstay of Hong Kong nightlife is now back, but with musicians having to undergo a PCR test before performing – and then with a screen between them and the audience.
More… HK Sevens private boxes face 'beep-out' bother
Though "Hong Kong is back" is the talking point to be expected at the finance summit, the reality for the city's event organisers and their audiences is stark in comparison to the privileges afforded to attendees this week at The Four Seasons, the city's stock exchange and the M+ Museum. Compare this to venue inspections resembling raids with patrons enjoying drinks and music ordered to get their masks back on.
Anyone, like myself, who has managed to spend time travelling overseas in recent months and experienced the option of whether or not to wear a mask – especially outdoors – is bemused when they return to Hong Kong, but they abide by the law. This is what makes "one rule for them" all the more perturbing.
As one banking chief put it, Hong Kong has never been away during Covid as far as her firm is concerned.  She didn't get to Hong Kong, but other bankers filmed expressing opinions weren't wearing masks while here.
The events of this week are set to unmask a whole range of mysteries surrounding the reasoning adopted to justify mask wearing outdoors. It will be interesting to see who among the bigwigs at the Hong Kong Sevens will be dropping their mask.
Martin Donovan is the Editorial Director of MIX