SANTA paraphernalia and Christmas carols at shopping malls in mid-October still bewilder me – but it no longer stops me in my tracks. I did, however, have to take a double-look when I was told that a couple of MIX's counterparts in the business events publishing field were pulling down the shutters for a well deserved snooze in the run-up to Yuletide with a view to returning sometime in January.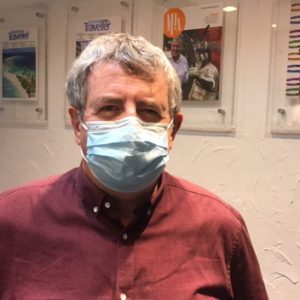 That a dimming of the lights and time away for "recalibration", as one outlet put it, comes as little surprise given how Covid has ravaged business activity.
Scant thought, however, has been given as to how Santa and his helpers can deliver hampers and pressies to these offices when the regular occupants are in slumber. Maybe next year.
All this took me by surprise only this week. It's much too early to be shutting shop for Christmas and one hopes this does not become the type of trend we see with tinsel and reindeers in autumn.
So it is pleasing that much-needed cheer arrives in Asia Pacific from Australia where borders are opening and BESydney welcoming the latest announcement by the New South Wales Government as a solid sign of a revival in corporate events.
It's a pity the same can't be said of MIX's home base of Hong Kong where a fourth wave of Covid has unleashed a bureaucratic backlash of – some would say – bonkeresque proportions.
This has not only left the Hong Kong-Singapore travel bubble grounded for a few more days, it has also shed a light on some of HK's more unique events spaces where ballroom dancing has become the latest Covid hazard.
Due to these trysts that are a traditional pastime among the city's high-end cougars and quick-stepping Lotharios, woe has befallen ordinary members of the community. The government has closed the pubs until a suitable time that outbreaks come under control. Other restrictions have been put in force, but you know what matters.
More Opinion… Tai Chi in Times of Covid
Dancehall dalliances, meanwhile, have not come under the anti-Covid cosh, and appear free to continue because group exercise is limited to two persons. Ideal for the tango and foxtrot.
So the seasonal bewilderment continues. Though our leaders have been urged to consider ways of bringing live business events back with social distancing and rapid anti gen Covid tests, cancellations are once more the norm in Hong Kong.
What a merry dance we are being led on. Little wonder that some are bedding down for a few weeks, but the best way is to remain vigilant and awake for when it's the proper time to share Yuletide greetings. We'll be back next week.
Martin Donovan is the Publisher of MIX
Do you think dancehalls and early Christmas breaks have been unfairly singled out for Mr Donovan's opprobrium? Leave a comment in the box below