A SURGE in Hong Kong Covid cases has postponed the much-heralded air-travel bubble between the city and Singapore.
Demand for tickets had been "overwhelming" with tourism boards in the two cities agreeing to cooperate on packages for attractions and reward schemes.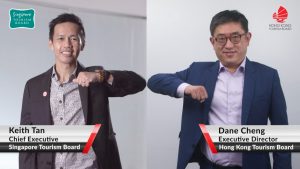 Quarantine-free travel for passengers having taken Covid tests on both sides was due to start last Sunday, but has been delayed for two weeks following a spike in infections recorded in Hong Kong.
Authorities in Hong Kong suspect the latest outbreak to be a fourth wave of virus infections and preventive measures such as renewed restrictions on places of entertainment are expected to be announced later today.
Latest reports say the city is facing 83 new cases of the coronavirus.
Guidelines for the travel bubble state that the arrangement would be suspended if the daily average of untraceable cases within a week rose to five or more.
Hotels had also geared marketing towards visitors from either city and images of a ballooned archway at Hong Kong International Airport (main image) were circulated on social media at the weekend.
Background… Singapore, HK team up for travel bubble
A maximum of 200 passengers a day were due to travel either way with ticket holders having to test negative.
The South China Morning Post quoted a Bloomberg Intelligence report that the quarantine-free flight corridor would be worth nearly US12 million in revenue to Hong Kong carrier Cathay Pacific, which is already struggling with losses.
"The demand on our Singapore travel bubble flights is overwhelming," the Post reported Ronald Lam Siu-por, Cathay's executive director, as saying in a briefing to investors last week.
"In the next few weeks our flights are pretty much full. There is also a quota of 200 passengers per flight due to the limited capacity and high demand, our flights are pretty much sold out in the next few weeks."