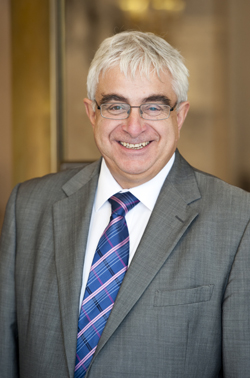 How did you get your first step on the conference and business events ladder? What was the industry like then compared to now?
As with many professionals of my generation I did not map out a career in the meetings industry, it essentially did not exist as a defined profession when I started work a very long time ago! I became involved as I had responsibility for developing new revenue streams at the Commonwealth Institute and from a modest history of hiring out rooms we developed a dedicated conference and events centre which became a major UK player and multi-award winning. I was there for 15 years and during that time became deeply involved in industry associations such as MPI (Meetings Professionals International) and the UK supplier trade body the MIA. Involvement in these organisations accelerated my knowledge and massively expanded my professional network. The industry has evolved dramatically since then with higher education degree courses abundant, and a well established career path available in both the demand and supply sides of the industry.
Was there a defining moment or event that inspired you to become an owner-operator? 
No, it was a natural evolution from having been a managing director of a venue and group director at Reed Travel Exhibitions, leading the portfolio of B2B events on five continents. So, having travelled some 30-plus weeks a year, it was time for me to do something different and more bespoke.
How important are industry associations such as MPI in terms of educating members? 
Very, but only if you really get involved in attending events and like many others stepping into volunteer leadership within these organisations. Great experiences can be had that can be truly important in forging your career – it was for me.
Another interesting development has been the advent of The Meetings Show. How did this come about and were you concerned about larger operators in this field? 
The show emerged from within the work I was undertaking at the time for Centaur Communications, a publishing and events company. I had always thought there was a gap in the UK market for a hosted buyer-led show focusing on UK inbound and UK outbound.
We did enter into a competitive field from a purely UK perspective, but there was no other hosted-buyer led show at the time and The Meetings Show remains the only one. I believe there is still scope in the international market for bespoke and stylish regional events and Convene in the Baltic is just such a case in point.
How does The Meetings Show stand out from others in this field? 
It's the hosted-buyer nature of the show with the 2016 edition hosting 900-plus hosted buyers who will undertake some 12,000-plus pre-scheduled appointments. No other UK-based event comes remotely close to this market proposition and the UK outbound MICE market is very large and performing strongly. Such a show in the UK will have much appeal to international destinations.
What next for Kennedy Consult, The Meetings Show and yourself?
I probably will get involved in fewer B2B events and focus on strategic business and marketing consultancy work for destinations, venues and companies in the meetings industry. I am particularly interested in working not just on strategic options for destinations but working alongside them to grow market share.