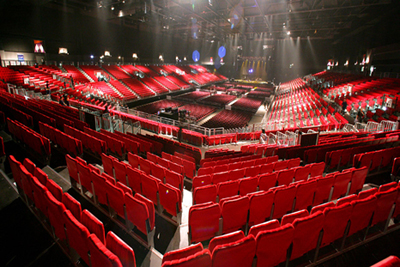 Lantau Island in Hong Kong is emerging as something of a self-contained events destination. Pride of place in this transformation goes to AsiaWorld Expo, the largest purpose-built venue in Hong Kong.
However, as Kenneth Chan, AsiaWorld Expo's PR and communications manager, points out, Lantau is fast emerging as almost a self-sufficient meetings and incentives enclave, with quality hotels, theme parks, one of the finest international airports in the world, ferry links and of course, a premier mega venue, AsiaWorld Expo itself.
The heart of the centre is the Hong Kong Arena, a 13,500-seater auditorium that can hold concerts, rallies and all kinds of plenary gatherings. Hong Kong's popularity as a destination for major conferences and events is not unfortunately matched by a wide choice of venues large enough to cater for them. AsiaWorld Expo and the Wanchai-based Hong Kong Convention and Exhibition Centre stand out in this regard.
AsiaWorld Expo, which opened in 2005, has already handled a number of large business events, such as the Charle annual conference and incentive. Charle is a Japanese lingerie company that brought 5,000 of its saleswomen to Hong Kong for a reward and motivational programme in February 2007. The trip included seminars at AsiaWorld Expo as well as a nighttime event at nearby Hong Kong Disneyland. Herbalife likewise held a thousands-strong event as part of its Greater China Spectacular, that brought together sales operatives from Mainland China, Hong Kong, Macau and Taiwan.
A particular strength of purpose-built venues is the ability to host conferences related to exhibitions.
AsiaWorld Expo has already pulled off a number of high-profile, high-attendance conferences.
The International Telecommunications Union (ITU) conference and exhibition in December 2006 brought over 60,000 delegates and show attendees to the venue.
Alongside the main forum there were a number of parallel events. Over 240 people from 131 countries attended the ITU Telecom Youth Forum, with their own packed programme of discussion and debate, allowing them opportunities to meet and talk to senior industry figures such as government officials, industry executives, technology leaders, content providers and strategists.
Another symposium saw 127 TDS (Telecommunication Development Symposium) Fellows from 78 of the least-developed and low-income ITU member states gather to discuss how the use of advanced fixed and wireless technologies can help narrow the digital divide, transforming developing countries and helping them compete globally.
There were 2,866 forum participants from 86 countries, of which 2,117 were delegates. On top of this, there were 378 speakers from 68 countries.
Hong Kong International Airport (HKIA) at Chek Lap Kok is only a one-minute train ride away, Chan points out. The centre has its very own rail station that connects not only with HKIA but also with stations in Tsing Yi, Kowloon and Central on Hong Kong Island.
Such is the ease of transportation into the heart of Hong Kong Island and Kowloon that Chan says: "There are actually close to 30,000 hotel rooms within 30 minutes' easy reach of the Airport Express system."
And, looked at another way, half of the world's population is within five hours' flight of the centre. Aside from this infrastructure, Lantau can also offer corporate groups a memorable incentive experience without leaving the Island.
Lantau, of course, is home to Hong Kong Disneyland and the soon-to-be-reopened Ngong Ping 360 cable car and entertainment complex.
Accommodation is on hand too. The Regal Airport Hotel (regularly voted as one of the world's best airport hotels by the readers of Mix's sister title Business Traveller) is close by as is the more recent Citygate Novotel. There is a forthcoming Marriott hotel which will be within walking distance that will eventually have 1,000 guestrooms when it opens.
Chan believes AsiaWorld Expo's location will prove crucial to its success and given that Hong Kong seeks to be the crossroads of North Asia, it's easy to imagine that Lantau can position itself as a hub within a hub.
ASIA WORLD EXPO FACTS
Contact
AsiaWorld-Expo
Hong Kong International Airport
Lantau Hong Kong
Tel: +852 3606 8828
Fax: +852 3606 8889
Email: sales@asiaworld-expo.com
Meeting spaces
Ground floor
Hall 1 (AsiaWorld-Arena) capacity13,500 seated
Level 2 largest meeting room can hold 680 delegates theatre-style, the smallest meeting room on this level can hold up to 95 delegates
Pre-function area – 535 sqm
Other halls (mainly exhibition) – 10
Connections
By air – 1 minute by Airport Express to Hong Kong International Airport or a 10-minute stroll on foot
By train – Airport Express stops at Hong Kong International Airport, Tsing Yi, Kowloon and Hong Kong Central, all reached within 23 minutes.
By sea – there are plans for direct ferry connection using the SkyPier terminal, which currently provides high-speed ferries to shuttle passengers from six ports in the Pearl River Delta – Shenzhen Shekou, Shenzhen Fuyong, Macau, Zhongshan, Humen in Dongguan and Zhuhai Jiuzhou – to HKIA.
By bus – there are several cross-boundary bus services connecting Lantau and destinations in Mainland China's Guangdong province.