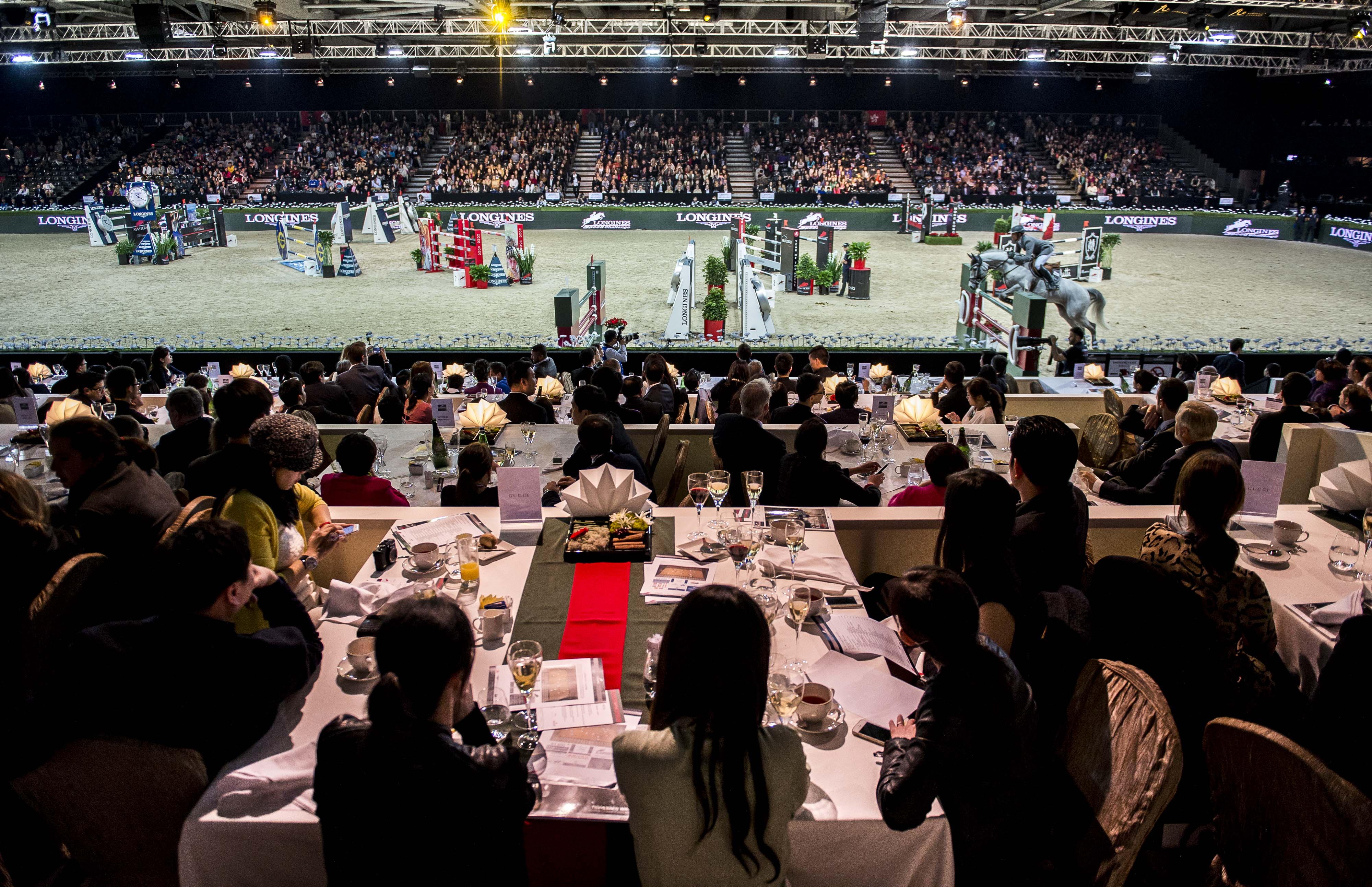 Longines Grand Masters
What's on offer: Held at Hong Kong's AsiaWorld Expo, the Longines Grand Masters is the Asian leg of the annual showjumping competition, now in its fourth year and complemented by shows in Los Angeles and Paris. Here, the world's top 25 showjumpers put on a show of dynamic equestrianism alongside a display of luxury fashion and lifestyle goods at the Prestige Village.
For VIPs: For groups, the VIP Masters Club gives access to some of the best seats in the house with catering by two Michelin-starred Belgian chef Yves Mattagne. Tables for eight can be booked with full-services menus, fine wine and Champagne Barons de Rothschild for Friday dinner, Saturday lunch and dinner and Sunday lunch.
Australian Open
What's on offer: Held in Melbourne, the Australian Open is the first Grand Slam tournament of the year welcoming defending champions of 2015 Novak Djokovic and Serena Williams. Alongside the tennis, the Open has a robust entertainment offering from musical performances by indie chart toppers, interactive fan zones, spa lounges and meeting sessions with celebrity players.
For VIPs: Melbourne Park's Rod Lavar Arena and Hisense Arena hosts super boxes for corporate groups, offering personalised signage, canapé and buffet menus, a corporate host and special beverage packages. With a capacity of 12, 18 and 24, boxes have access to all outdoor courts, and official transport can be provided by tournament sponsors, Kia. Seven on-site restaurants offer private dining with exclusive spaces or rooms for groups, with flexible dining times and a la carte options.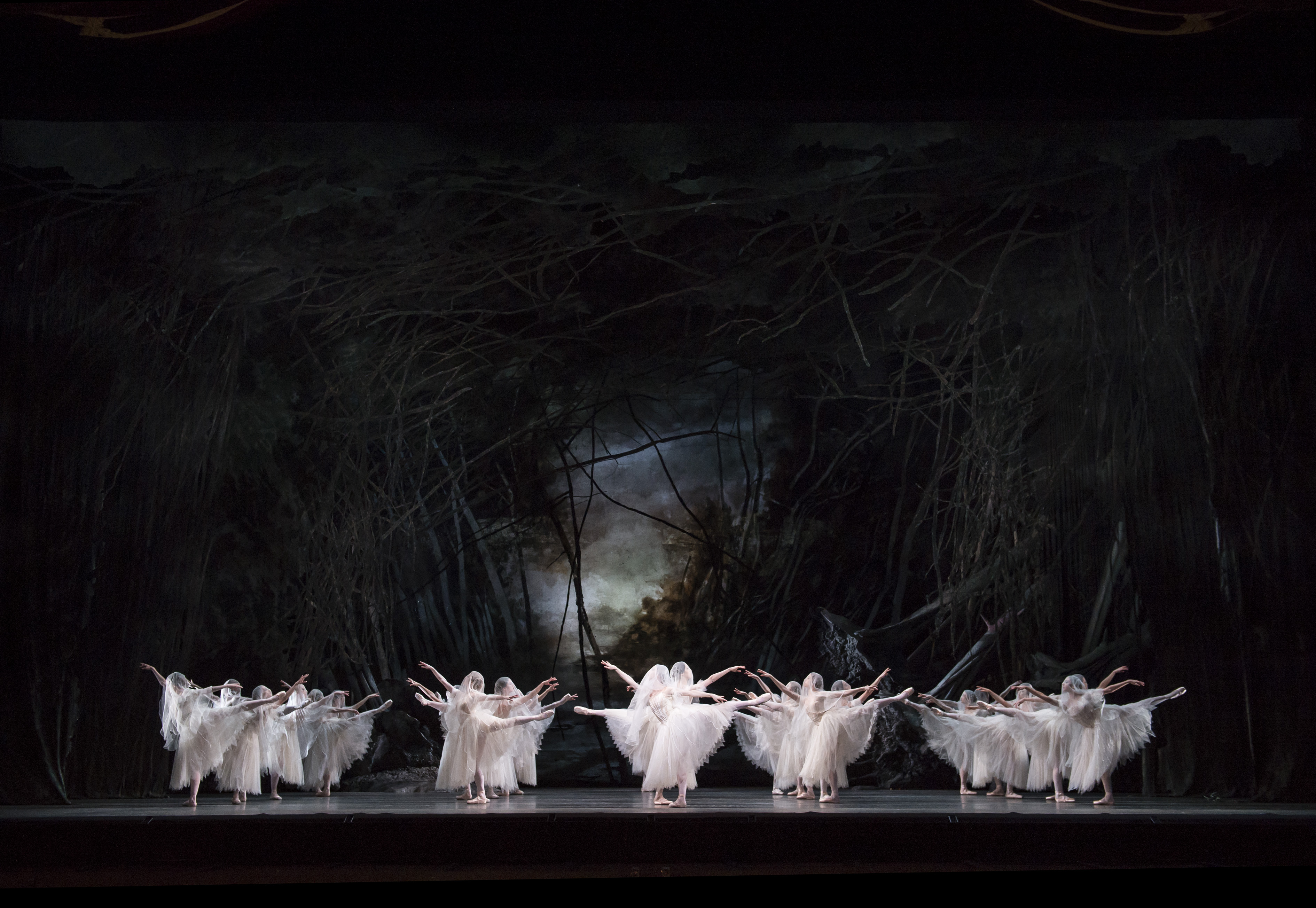 Royal Opera House
What's on offer: London's Royal Opera House (ROH) is home to both the Royal Opera and the Royal Ballet, and a regular incentive with companies that sponsor and are linked to the arts. Everything from Giacomo Puccini to Oscar Wilde is performed at the ROH, and a suite of public activities take place regularly such as tea dances, 'family Sundays', tours of the production workshop and costume centre as well as free lunchtime recitals.
For VIPs: Small parties can book out the ROH's Royal Retiring Room, which offers a personal butler service and the chance to watch performers take curtain calls from the stage. Directly right of stage, the Royal Box seats up to six people and overlooks the orchestra pit. The Retiring Room can host ten for a meal, and for groups exceeding six, Grand Tier Boxes located
next to the Royal Box can be reserved. Welcome drinks and canapés are served on arrival and meals can be arranged before, during interval or after a performance.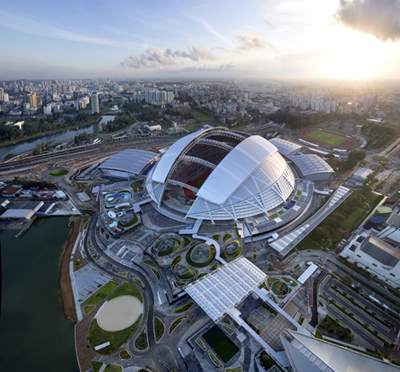 Singapore Sports Hub
What's on offer: The National Stadium is one of Singapore's largest venues with 55,000 capacity and a retractable seating facility, making it the only stadium in the world that can host a range of events such as rugby, cricket, football, music and dance concerts. A retractable roof and indoor cooling technology means Singapore's all-year humidity is kept at bay, with energy usage offset by solar panels on the stadium's rooftop.
For VIPs: The stadium has 62 executive suites that can host between eight and
30 people, including one VVIP Suite that offers 360-degree views, luxurious interiors and premium facilities. All suites are equipped with flat screen televisions and air conditioning, together with a team of 'in-suite' attendants and a tailored catering menu by in-house caterers. The Hub offers membership to its executive suites, which includes benefits such as complimentary parking, private entraces and lifts, branding and customisation, event day concierge and priority access to all sporting events.
Singapore Grand Prix
What's on offer: Going into its ninth year, the Singapore Grand Prix is joined
only by Abu Dhabi and Bahrain in the F1 evening race acts, and one of the last fixtures of the year to take place in Asia. The Marina Bay Street Circuit offers spectacular views of the city skyline, drawing in an estimated 300,000 overseas visitors according to the Singapore Tourism Board, and generating S$150
million revenue.
For VIPs: The list of 'off-track' entertainment last year saw the likes of Pharrell Williams, Bon Jovi and Maroon 5 taking to the stage so hopes for a strong 2016 line-up are high. Trackside hospitality comes in the form of the Formula 1 Paddock Club, where guests can take in team garages, the starting grid and pit lane below. The Lounge @ Turn 3 offers spectators free flow beer and wine in air-conditioned comfort, while the Sky Suite has one of the best vantage points for high-octane thrills.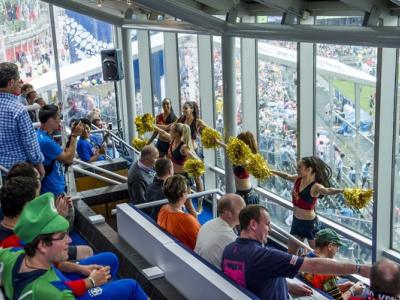 Hong Kong Rugby Sevens
What's on offer: The Sevens is a stalwart on Hong Kong's sporting calendar, and Asia's most celebrated seven-a-side rugby union tournament, drawing more than 120,000 spectators over the course of the weekend. Held at Hong Kong Stadium, last year's tournament hosted the Village People, and welcomes Fijian champions to defend their title against the 28 invited teams.
For VIPs: Glass-fronted executive level suites can be booked out for groups, accommodating between 60-70 people in each with catering provided by the games' contractor Holiday Inn Golden Mile. Corporate boxes offer planners a block of reserved seats in the open area, and can be booked out for two years in a row, seating between 20 and 48 seats. The Sportsman's Bar is a two-floor 900 sqm area offering dining services complete with soft furnishings and big screen TVs. Overlooking the stadium, groups can book a three-day package with free flow F&B and the offer for three different guests to enter during the event.