1/ Lamma island
The lowdown Most of Hong Kong's 234 outlying islands are uninhabited by humans. Lamma is one of the exceptions and is among the territory's main commuter islands, popular with those who prefer to get away from the city at the end of the working day.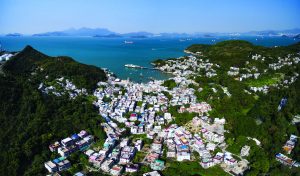 Over the years Lamma has become popular with artists, musicians, writers and "eco-entrepreneurs", with cafes and stores on the island being the first in Hong Kong to pioneer wholefoods and more.
Cars or trucks are not permitted on the island except on a private network of roads serving Lamma Power Station, which is off-limits to the public, but its three steeples can be viewed from one of Lamma's beaches. You will, however, see mini-sized emergency-service vehicles and motorised carts used by builders.
For groups Make sure the locals along Yung Shue Wan's narrow byways are not disturbed by large groups, so limit the numbers and avoid arriving and leaving by ferry at rush hour.
Location The main village, Yung Shue Wan, is served by ferries operating from Aberdeen, on the south of Hong Kong island, and Central. The smaller Sok Kwu Wan is on the east coast of the island and is a popular port of call for private junk-trip groups and is also served by public ferry.
discoverhongkong.com
2/ Tai Kwun
The lowdown The former prison, police barracks and magistrates court was saved from demolition and transformed into an arts and cultural centre with café and restaurant outlets.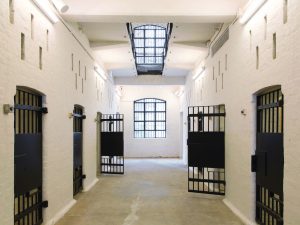 For groups Captive audiences will appreciate the jailhouse- corridor setting for cocktail reception events with a sense of edge. Theatre and exhibition spaces are also available, though mainly used for cultural events.
However, one of the restaurants was recently hired for an evening by a local law firm that hosted an international legal conference.
Location Central area of the city along Wyndham St with sights around the building that include the Lan Kwai Fong nightlife precinct, the Mid-Levels escalator (the world's longest outdoor-covered escalator operation), and a network of narrow, cobbled and stepped streets opposite that lead down to the main streets of Central.
taikwun.hk
3/ AIA Carnival
The lowdown The AIA Carnival became a popular feature as more business events were permitted on Central Harbourfront on condition that the area's management company also facilitated public events.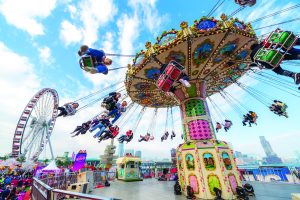 One of the most popular is the AIA Great European Carnival and, despite street disturbances which reached a height in the second half of 2019, the carnival's organisers have pledged to continue holding what has become a festive season favourite.
For groups Corporate hospitality is now a feature of the AIA Carnival with groups of up to 200 catered for with VIP area, event space, access to rides and meet-and-greet with circus acts as well as private bookings for shows.
Location The carnival's tents are pitched in a secure area beneath the Ferris wheel at Central Harbourfront near the Star Ferry Pier. The carnival runs until February 16.
tgec.asia
4/ Xiqu Centre
The lowdown One of the venues to open at West Kowloon Cultural District is dedicated to a tradition of Hong Kong: Cantonese opera.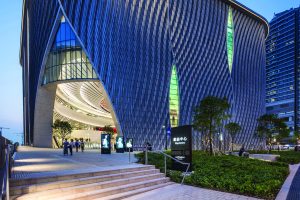 The interior design is inspired by Chinese lanterns, and the entrance to Xiqu is meant to resemble stage curtains being parted and leads to a podium space that features free performances in the Tea House area, which can seat 200. The venue's Grand Theatre seats 1,073.
For groups The Tea House has been used to host visiting groups who can also enjoy musical performances and excerpts from Cantonese opera. Other parts of Xiqu can also be hired for events ranging from meetings and seminars to exhibitions and prize-giving ceremonies.
Location Xiqu is on the eastern side of West Kowloon Cultural Centre and near the MTR stations of Austin, Jordan and the West Kowloon high-speed station.
westkowloon.hk
5/ Maritime Museum
The lowdown Before it became renowned as a banking and finance hub, Hong Kong grew into – and still very much is – a port for trade, logistics and shipping.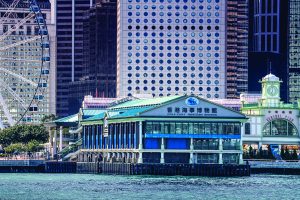 Companies involved with shipping and cargo helped set up this museum in recognition of how seafarers contributed to Hong Kong's success.
For groups Private tours of the galleries that chart the region's maritime history can be arranged with shipping hardware making atmospheric backdrops for events. A special exhibitions and events gallery can seat 150 for dinner, 200 theatre-style and the same number for a standing reception.
For events with views of Victoria Harbour, the open gallery space can be hired. The Resource Centre, with a boardroom-style table that seats 12, and an education room can be adapted for meetings and seminars.
Location Central Ferry Pier number 8.
hkmaritimemuseum.org