SINGAPORE'S Marina Bay Sands has launched a hybrid event broadcast studio at Sands Expo and Convention Centre seen as a first for the industry and redefining the future of meetings.
Designed to accommodate a live studio audience with a maximum capacity of 50 persons at any one time, the hybrid broadcast studio – which offers broadcast-quality live-streaming capabilities and hologram functionalities – will act as the central hub for event planners looking to produce hybrid meetings.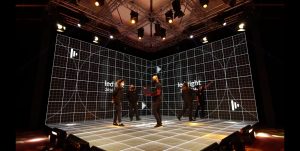 "Hybrid meetings will help enable the return of large-scale events in a virtual manner amid the Covid-19 situation and we want to set the stage for these shows by providing planners with a suite of useful and innovative solutions which are relevant for the times," said Paul Town, senior vice president of resort operations, Marina Bay Sands.
"Our highly advanced hybrid broadcast studio is not only equipped with industry-grade broadcasting equipment and an interactive stage set-up, it will also be maintained with the highest sanitisation levels to ensure the wellbeing of our clients," Town said.
"Marina Bay Sands will continue enhancing the technical capabilities of our broadcast studio and drive greater demand and innovation in the hybrid events scene."
The studio's centerpiece is a three-dimensional stage fitted with an immersive backdrop and floor that can be reconfigured to fit the needs of most events.
More… Virtual events to slash costs: webinar
Replacing the conventional green screen backdrop are two massive 6×4 metre right-angled LED walls which can show high-resolution 360-degree visuals, while a plexiglass LED floor can display stunning floor projections.
The 3D stage is designed to provide presenters with a better perspective of their surroundings, helping them to visualise and deliver their presentations in a more immersive environment.
Stage-lighting systems can be customised, designed and operated to fit an event's specific needs. In this season of travel restrictions, the studio is also able to beam someone from a different part of the world 'live' into Singapore through a holographic presence.
Marina Bay Sands currently offers three virtual conferencing options – full virtual webcasting and live-streaming events; hybrid events with in-person and online audiences; and hybrid events with holographic telepresence.
Organisers can use an enhanced suite of event-tech capabilities incorporating Virtual Reality, Augmented Reality and Extended Reality solutions.
Ong Wee Min, Marina Bay Sands' vice president of conventions and exhibitions, said the studio involved months of collaboration between in-house and external technical experts.
More… Holograms in times of Covid
"We want to provide a holistic ecosystem where we partner clients to co-create and deliver impactful and well-designed hybrid meetings that will not only spark conversations, but help drive engagements and greater attendance for the next edition of events," Ong said.
Marina Bay Sands is also cooperating with the PCMA to use the studio to create hybrid events for the association including its Convening Leaders conference and the PCMA Asia Pacific Community Conversations.
More than 30 sales and MICE team members will undergo PCMA's Digital Event Strategist certification as part of the integrated resort's continuous focus on staff training.