1/ Beaming in speakers
Holograms have been demonstrated on trade-show floors such as IBTM Arabia in Abu Dhabi, but the Covid pandemic is spurring investment in the technology. Toronto-headquartered ARHT has some big names from the world of entertainment, business and sport appearing in its promo videos.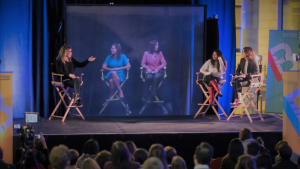 ARHT has developed and trademarked its Virtual Global Stage (VGS) technology (above) to create high-quality hologram content through its patented Holographic Telepresence technology. This brings "multiple 3D, life-size presenters to a virtual stage, side by side, as if all parties were physically next to each other, while actually being in completely different locations around the globe".
Starting at US$23,000 for a fireside chat, town hall, or conference presentation with two presenters at studios located in Hong Kong, Singapore, Toronto, London, New York or Los Angeles, the company says it helps organisers with budgets, especially when compared to the combined cost of travel and a venue.
++++++
2/ It's all in the networking
Hopin was inspired by founder Johnny Boufarhat's need to network when he was laid low at home four two years with illness. He was able to chat online, but found that he could not build a network with some emotional connection to help him find work.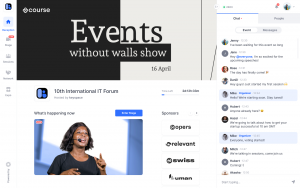 While Zoom and similar platforms specialise in video-conferencing, Hopin is built to support larger numbers of simultaneous users, making it suitable for large conferences and exhibitions. In March, it was supporting 100,000 users at once with the aim of making that a million by the end of the year.
Hopin combines livestreams of keynotes, video-conferencing and capabilities one-to-one conversation that can be used as the basis for breakout sessions or interactive exhibition booths.
The platform has hosted 17,000 events as of June and Hopin expects that number to nearly double during July. One event was the inaugural SheetCon – and online conference for Google Sheets, which took place in March with 6,700 registered participants. 
Hopin recreated the elements of an in-person conference online with 11 expert speakers, a main stage, networking, roundtables, and an expo hall. Each roundtable discussion facilitated between four and 15 people speaking on the screen and another 80 to 100 listening and participating in the chat.
A tutorial has been created for vendors here
++++++
3/ Thermal imaging
While a hand-held spot pyrometer (or temperature gun) is becoming a common sight in Hong Kong and Singapore on entering restaurants and for those rare few these days who board planes, they can only be used on one individual at a time. They are also designed to simply detect heat from the forehead.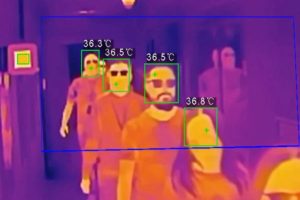 Thermal-imaging machines scan the whole body or head and enable the numerous people to be checked at once. Hong Kong-based Eventsman is one operator who invested in thermal-imaging equipment at the height of the coronavirus outbreak in the regions, while Jeremy Ducklin credits the device as helping turn around the dire straits his company Congress Rentals was in due to the pandemic.
Suppliers in the United States that are already providing scanners to the events industry include CrowdX, Athena and Faith Technologies.
++++++
4/ Activating alliances
Watch out for merger and acquisition deals surrounding start-ups and other companies whose event tech products have done well during Covid.
One of the latest deals comes from brand activation company Pico+ which has formed an alliance with China Mobile's Migu Video Technology to create online virtual events and exhibitions. The new venture will cover three areas:
Online and virtual exhibitions and platforms – Leveraging platforms like China Mobile's Global Virtual · Reality Conference, Pico+ and Migu will organise themed exhibitions and industry summits and launch new exhibition formats such as cloud-based forums, exhibitions, signing ceremonies and trading;
VR content channels on mobile phones, TVs and VR headsets –Pico+'s 360-degree virtual exhibitions and virtual conference experiences will be powered by Migu's capabilities in video content distribution across three major channels – mobile phones, TVs and VR headsets. The alliance will create VR content channels and unique panoramic content for users, incorporating and operating features such as cloud exhibitions, cloud forums and more.
VR e-commerce and online new economy – The alliance will combine the expertise of Pico+ in 360-degree 3D VR display technology with Migu's resources in e-commerce merchandising. This will ultimately help convert "footfall" from cloud exhibitions into online consumption. 
++++++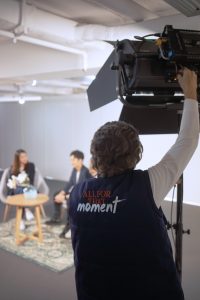 5/ Studio solutions
As Covid-19 gripped brought a raft of live-event and conference cancellations, Uniplan turned to its studio in Hong Kong to offer clients a solution with a 60 sqm space can live-stream events ranging from panel discussions to small-scale product launches.
"The studio is really a blank canvas that can be customised to meet the specific requirements of individual clients. Our experience in designing spaces allows us to create different scenarios, with a short turnaround time," says Judd Christie, Uniplan Hong Kong's executive creative director.
++++++
6/ Virtual site tours
Venue site inspections may be on hold for a while, but virtual reality tours of hotels and venues happened to be an emerging trend prior to Covid-19.
The solution is reported to be gaining traction in the United States as couples seek to continue to plan their wedding ceremonies even though the big day may be postponed. A range of start-ups provide digital floorpan solutions, but Connect by Allseated offers a video-conferencing feature for venues to hold virtual meetings in the actual event spaces of their properties.
The tools also enable meetings and event planners to take virtual tours of the property from the relative comfort of their homes or offices.