DETAILS of the cutting-edge technology being built into phase two of the China National Convention Centre to make it China's premier international conference venue have been revealed.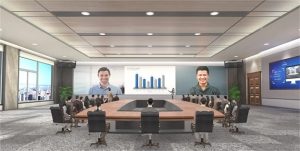 CNCC-II served as the main media centre for the Beijing 2022 Winter Olympics and Paralympics earlier this year and is scheduled to reopen in early 2025 as part as a revitalised Beijing Olympic Central Precinct aimed at attracting overseas visitors once Covid restrictions are eased.
The precinct features landmarks such as the Beijing National Stadium (Bird's Nest), National Aquatic Center (the Water Cube) and National Speed Skating Oval.  Beijing North Star Convention and Exhibition Investment, which is steering the project, wants the precinct to be a sports, business events, trade, tourism, cultural exchange, and technological innovation.
8 TECH INNOVATIONS AT CNCC-II
1/ BUILDING INFORMATION MODELLING (BIM) is being used in the design, architecture and construction phases. BIM technology is applied used throughout CNCC-II's lifecycle to coordinate digital descriptions of all aspects of the project.

2/ DIGITAL SCENE PLATFORM – This is an intelligent event application based on 5G, cloud computing, the Internet of Things and other tech innovations.

3/ GIANT LED SCREEN – The CNCC-II's VIP atrium features a 25×18 metre LED screen with 8K will be the first of its type in China. The equipment offers event organisers up to 450 of digital space to show messages, agendas, sponsor logos, visual storytelling and a more immersive experiences for visitors.

4/ ELECTRONIC VARIABLE SOUND SYSTEM – This provides high-quality sound for concerts, operas, fashion shows, and other entertainment events.

5/ DIGITAL TWIN MANAGEMENT PLATFORM – This will bridge the gap between CNCCII's facilities and operations delivering a better and more efficient event experience.

6/ AR INDOOR WAYFINDING SYSTEM – Visitors will be able to find their way around CNCCII's 420,000 sqm using their smartphones for location guidance from arriving at the venue to getting easy directions to meeting rooms or elsewhere required by their event program. Emergency exits are also displayed and efficient seating guides to avoid overcrowding

7/ VIRTUAL MEETING SET-UP TOOL – Organisers can select room layouts and then preview the overall layout with the number of people that can be accommodated.

8/ METAVERSE REPLICA OF CNCC-II – This reduces time spent onsite for inspections, VR technology enables the venue to be explored while the planner interacts with sales people. Planners can simply use their laptop or put on a VR headset and progress from a flatscreen experience to an immersive one, interacting with an environment and the people in it. Planners can also customise the desired space in the metaverse replica to suit the needs of their event.
"Technology will be central to every interaction at CNCCII – from marketing and selling the centre to planning and hosting events to the ultimate visitor experience," said Rod Kamleshwaran, pre-opening consultant of CNCC-II.
French architect Christian de Portzamparc, along with curtain wall design studio T/E/S/S (France), curtain wall consulting agency RFR (France) are leading the project's design. Kenya Hara leads visual-system design with hotel interior design studio Yabu & Puchelberg. The main lighting designer is Kaoru Mende; rooftop garden creator, Shamsan Gang-Serlingen, and acoustic consultant, Müller – BBM.
Main picture: Artist's rendition of the giant LED screen at CNCC-II at work during a car launch