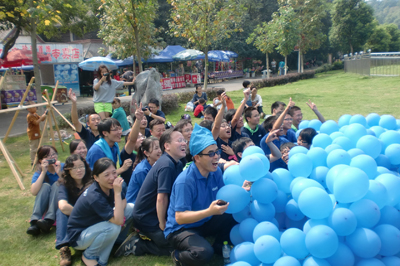 In Motion Asia
Where? Based in Taipei, In Motion Asia is a DMC with teambuilding as a specialty. It has also recently opened an office in Phuket.
What's it like? In Motion offers teambuilding programmes across Taiwan, Thailand – including Phuket, Koh Samui, Bangkok, Chiang Mai and elsewhere on demand – as well as Boracay, Philippines. "Some of our new programmes in Thailand include Thai cooking workshops and elephant care," says director Cam McLean.
Popular: In Motion's most well received activities range from dragon boating and dragon dancing to GPS Geoteaming, a treasure hunt. "The favourite is The Amazing Race, as the event offers a lot of action in a short timespan in highly scenic areas and can also accommodate large groups," says McLean.
The race is popular with multinational Asia Pacific-type conferences as the event provides a mix of teambuilding and sightseeing. In Taiwan, In Motion offers a new venue for The Amazing Race at Shifen – famous for its mountain scenery, waterfall and railway – around 45 minutes northeast of Taipei. "This incorporates a group DIY lantern making workshop, which has been very well received," says McLean.
inmotionasia.com
Laguna Phuket 
Where? In Bang Tao Bay, 20 minutes from Phuket town and the international airport.
What's it like? This large-scale integrated resort comprises seven hotels, including Banyan Tree and Angsana. With more than 1,400 hotel keys and over 20 hotel meeting rooms, it offers large indoor and outdoor function venues set within 1,000 acres of tropical parkland attractive to  groups.
Popular: Laguna Phuket is famous for its Quest teambuilding programme, which includes an Amazing Race where teams are issued with their own tuk tuk and driver. "With smaller teams of six to seven, there is the potential for greater individual input from team members. This is an ideal activity for multinational groups looking to foster greater team cohesion," says Teerawut Totarat, director of tours and travel.
Also popular is the corporate care programme, where groups can choose environmental and social initiatives or develop a specific "core competency".
lagunaphuket.com
Dragon Team Building
Where? This Shanghai-based operation hosts activities all over China, with Suzhou emerging as a favourite.
What's it like? One of the only operators in Shanghai to offer extensive teambuilding, Dragon's programmes range from sailing challenges to the cooking competition, Recipe for Success.
Popular: Those looking for a resort feel without leaving the city can organise an event such as dragon boating at the Shanghai Boat & Yacht Club on Dianshan Lake, or seaside pursuits like beach volleyball at Chongming Island, which is a 90-minute drive from Shanghai.
"The activity choice is merely a means to an end, as our primary focus is to deliver a high-impact learning experience that empowers individuals to contribute to common goals, help build effective teams, improve productivity and motivation," says founder and general manager Charles Georg. Delivering an attractive backdrop to teambuilding is crucial, he believes. "If the location is special, delegates will be in a good mood and enjoy the event more."
dragonteambuilding.com
Tangalooma Island Resort 
Where? On the west side of Moreton Island in Queensland, this former whaling station is a 75-minute catamaran cruise from Brisbane.
What's it like? Those seeking wildlife-based teambuilding are well catered for at Tangalooma, with whales and dolphins the top draws. There are more than 300 hotel rooms on the island, including resort suites and beachfront villas.
Popular: Most groups sign up to enjoy the wild bottlenose dolphin feeding experience while the whale watching cruise is similarly popular. "During June to October, it's our whale watching season. With numbers anticipated to be over 20,000 this year, great whale migration is an event not to be missed. Tangalooma joins the traditional land owners, the Quandamooka people in welcoming the whales to the waters of Moreton Bay," says Robyne Wilson, business development manager – conference and events. The resort also offers a Desert Safari Tour, sand tobogganing, ATV Quad Bike Tour and guided snorkelling experience round the shipwrecks.
"Sunset and fishing cruises are among the best options for groups as they help to strengthen relationships between delegates," says Wilson.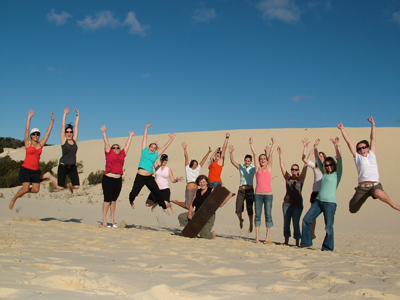 Bintan Lagoon Resort
Where? Set on Pasir Panjang Beach, Bintan is an hour's ferry ride from Singapore.
What's it like? The largest integrated resort in Bintan with its own purpose-built ferry terminal and conference centre, Bintan Lagoon's recreational facilities include an adventure training centre and two international golf courses sited on 300 hectares.
Popular: Bintan Lagoon outdoor training facilities attract clients from the worlds of finance, IT, education and healthcare. Activities include The Bintan Lagoon Amazing Race involving archery, a raft challenge and a resort treasure hunt – plus mini triathlons, sandcastle building and water polo. "We go the extra mile to build the company's brand message into their event, like making a batik painting with the brand logo, customising menus and creating company-specific motivational posters along the path of your amazing race," says Gerald A. Hendrick, vice president, business development and hotel operations.
bintanlagoon.com
Hyatt Regency Hong Kong, Sha Tin
Where? About 30 minutes from Hong Kong International Airport, the hotel is a three-minute walk from University MTR station in Hong Kong's New Territories.
What's it like? With views of the Kau To Shan mountains and Tolo Harbour, this is one of the few hotels in Hong Kong to deliver a genuine resort feel, with many teambuilding activities taking place al fresco at the 3,000 sqm landscaped garden, Salon Terrace or a tennis court that can host indoor and outdoor teambuilding activities of various scales.
Popular activities: The tai chi class enables overseas guests to embrace Chinese culture and start the day with some exercise, says director of events Tiko Chung. "It is very cost effective as everyone is engaged," he adds.
Clients from banking and finance usually prefer teambuilding that combines purpose and fun, such as Flat Out Formula One, which requires teams to build a cardboard racing car within a limited time then race it to the chequered flag "Also popular is 'The Big Picture' activity, where small groups paint canvases of an image with different information given to each team. Teams work together to form the final 'Big Picture'."
hyattregency.com