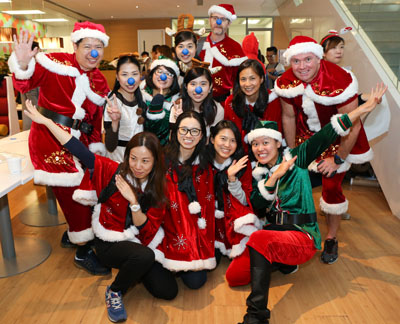 Operation Santa Claus, a yearly charity campaign jointly organised by Hong Kong's main English-language newspaper, South China Morning Post and broadcaster RTHK, aims to "connect the local community in Hong Kong to charities… share the gift of hope to those who lack the means to improve their lives".
KPMG – one of the world's "Big Four" auditors – supports this campaign with a staff fundraising initiative called Run for a Claus, developed in conjunction with teambuilding experts, Team Building Asia. Now in its second year, Run for a Claus provides a unique experience for KPMG employees and acts as a worthwhile teambuilding activity by allowing them to get more deeply involved with the charity campaign.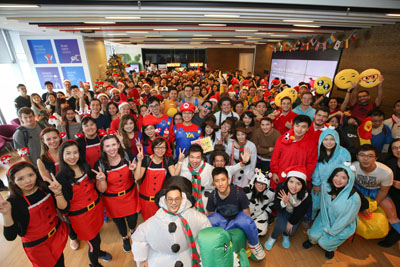 Winning Pitch
KPMG approached Team Building Asia to help create an event that would challenge employees to work together in a different environment, away from the office while also raising money and awareness.
Team Building Asia adapted its Go Team programme to create a high energy, collaborative GPS treasure hunt centred on the beneficiaries of Operation Santa Claus.
Go Team is proven to improve team dynamics, stimulate creativity and help unite teams. Team Building Asia customised a version for KPMG to allow participants to interact with the beneficiaries of Operation Santa Claus as well as raise money for them.
Highlights
Over 180 people in 46 teams took part in the giant treasure hunt around Kowloon. The usual GPS triggered challenges and checkpoints were all centered around the beneficiaries of Operation Santa Claus, so teams had to visit the charities and engage with the people there to complete their challenges. Those charities not based in other parts of Hong Kong got involved by creating pop-up centres around Kowloon for teams to visit.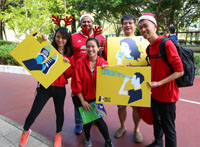 Challenges were set by the Children's Cancer Foundation, Kely Support Group and HK Association for Specific Learning Disabilities among others. They took part in games that children in hospital play to distract them from the various medical procedures they go through, learned the recovery position from Kely Support group and played a word game to help them understand the challenges people with dyslexia face every day.
Upshot
Teams also raised money through sponsorship before the event. The Go Team app was further personalised to give more opportunities to donate on the day itself, with the 'Pledge for Questions' feature. Each team could pledge money to receive up to five additional questions and challenges, which would accumulate more points. In total, KPMG managed to raise over HK$500,000 (about US$64,000) for Operation Santa Claus.
"This event truly showed the power of collaboration. As a professional services company it was fantastic to have Team Building Asia as our professional advisors to bring our ideas to fruition," said Anita Chau, director of marketing at KPMG in China.
"We particularly liked how they took something static and made it digital, giving us very slick functionality. We were also able to guide them in the style of tasks and challenges which we wanted the teams to complete and Team Building Asia were very open to the feedback – a great partnership."
CHECKLIST
EVENT: Run for a Claus
ORGANISERS: KPMG
AGENCY: Team Building Asia
LOCATION: Various Kowloon precincts
ATTENDEES: Over 180 staff and clients cross 46 teams
BIG MOMENTS: Visits to eight beneficiaries of Operation Santa Claus; adapting Go Team GPS-based app; charity pop-up booths