A SKY-HIGH benchmark has been set for outdoor events after 500 drones flew over Sydney as part of the biggest airborne spectacle of its type in the Southern Hemisphere.
The drone shows were part of the inaugural Elevate Sydney, a five-day festival featuring more than 180 acclaimed Australian artists involved in five days of events ranging from children's entertainment and sports-themed variety shows to disco, First Nation activities and more.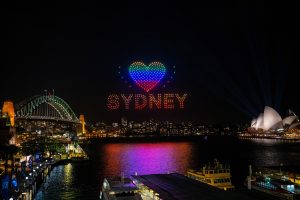 The Elevate Sydney SkyShow saw the 500 drones choreographed by some of the world's leading leading drone pilots to rise over Sydney Cove. Elaborate patterns created a light show with shapes including a boomerang, a waratah and a series of animations that told a powerful story of Sydney's past, present and hopes for 2022.
"The coupling of technologies and applying them to outdoor public events greatly enhances the audience experience and will certainly set a benchmark for future events," said Anthony Bastic, founder and CEO of AGB Events, which was commissioned by Destination New South Wales for Elevate Sydney's creative production.
"This world-class initiative really positions NSW as a leader in event innovation, and what a stunning debut," Bastic said before the show.
"We're very grateful for the support and efforts of the many agencies who have worked with us to realise this project. This is an industry we really want to nurture and promote. The Intel Pilots travelling to Australia and sharing their knowledge is an amazing opportunity to grow the expertise of local drone operators."
As a further enhancement, AGB Events engaged international augmented reality artist Charles Clapshaw of Future of Art, to overlay an augmented reality experience to the drone show.