Asian Paint Industry Council Convention
Client: Philippine Association of Paint Manufacturers
Location: Virtual (from the Philippines)
Dates: October 7-8, 2021 (live days); October 7 to November 4, 2021 (24/7 access)
'EMPOWERING the Paints Industry through Sustainable Development and Innovation Initiatives" was the theme for the Asian Paint Industry Council (APIC) Convention 2021.
Hosted by the Philippine Association of Paint Manufacturers in October 2021, the show was supported by VX Events, the digital and virtual-event management team of Global-Link MP, a member of the Pico Group.
THE BRIEF
Global-link MP provided virtual event management for the exhibition and conference, as well as services including video production for conference "mood setting", event highlights and attendee tutorials.
The team's responsibilities also covered event registration, attendee management and content creation for email and social media promotion.
Flexible, effective product display and ease of interaction between participants had to stand out as "must-haves" for the show. The project team responded by developing a bespoke platform that would feature virtual showroom booths for exhibitors.
HIGHLIGHTS
Visitors and exhibitors selected from options to communicate, exchange information and place orders. Gamification was also woven into the event programme to boost visitor engagement.
The event comprised two distinct phases: during the "live days" of October 7-8, visitors chatted or made video calls in real-time with exhibitor representatives. From October 9 to November 4, they could access the virtual booths and leave messages for exhibitors.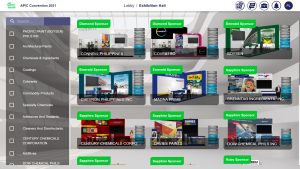 After entering a virtual lobby (main image) designed by Global-link MP, participants could click on the appropriate "annex" to instantly access any part of the convention, including the conference and webinars underway in the APIC Conference Hall and Networking Rooms. The team also designed virtual stages for the PAPM 60th Anniversary venue and produced a video highlighting the association's milestones.
In the Exhibition Hall, exhibitors' virtual booths offered greater flexibility for brand expression and showcasing services. The booths allowed visitors to exchange catalogues, photos and contacts, schedule meetings via the booths, while exhibitors could also survey visitors for future business analysis.
GAMIFICATION
To further boost visitor engagement – especially as they waited between sessions – the team designed and built an APIC Arcade Room with activities customised with various brand hallmarks.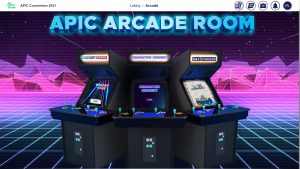 Users lined up matching brand logos in "Character Connect", piled up boxes in "Box Stacker", and turned over pairs of matching cards in a "Memory Game". Further interactive features included a photo booth which enabled participants to post images on their own social media accounts, and a help desk to guide visitors.
UPSHOT
Organisers once again found how international conferences can still be successful when held virtually amid travel restrictions. For the host association, the convention showed how business opportunities and industry knowledge can still be pursued in a virtual setting.
"It was important to us that this event would be more than a sales opportunity," said Derrick Tan, president of the Philippine Association of Paint Manufacturers. "We also wanted participants to gain an understanding of the industry's development and direction.
"Global-Link MP developed an event platform that was not only easy to use, but which provided enormous flexibility for sponsors and attendees, great scope for interaction, gamification that increased visitor engagement, and the capacity for a conference and webinar programme."
EVENT BY NUMBERS
28 countries represented
18 sponsor booths
720 delegates
EVENT AREA VISITS:
Lobby – 14,169; Expo – 2,395
Arcade – 2,420; Plenary Hall – 2,049