SOUTH of Taipei are Kaohsiung, Tainan and Taichung, which are rapidly developing their hardware to present planners with plenty reasons to consider the cities as business event destinations.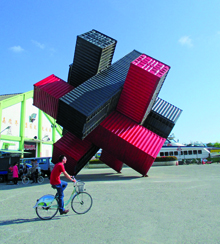 The efforts haven't gone unnoticed: Kaohsiung has its New Bay Area with impressive modern architecture combined with Pier 2 art installations along its old docklands, while the neighbouring city of Tainan has history and traditional culture. Both have entered the global conference rankings of the prestigious International Congress and Conference Association (ICCA) in the Asia-Pacific and Middle East regions for the first time in 2011 at 23rd and 51st respectively. Recently, the competition opened further, with Taiwan's third largest metropolis, Taichung, announcing its intention to increase its meetings profile.
KAOHSIUNG
The maritime city's prosperity was derived from its portside location, which shored it up as a logistics and industrial hub for many years. Today, the city is harnessing that existing reputation and investing heavily in new infrastructure to accommodate meeting and event groups.
By November, the Kaohsiung World Trade Exhibition and Convention Center (KECC) is expected to be completed, part of a massive synchronised development that also includes the Nansing Yacht Industrial Park. When completed, the park will be the first economic zone in Taiwan themed around pleasure boats. As part of the Kaohsiung Port Terminal and Cruise Service Center, and Maritime Cultural and Popular Music Center, the facility aims to become the heart of Asia's luxury-yacht manufacturing industry.
Conceptualised by COX Architecture of Australia, the design of the US$102 million KECC reflects Kaohsiung's enduring relationship with the sea. The building's contours resemble ocean waves and a public street running through the centre of the facility links downtown to the waterfront. The indoor and outdoor facilities combine for a total exhibition space of 22,900 sqm. The size makes the facility an ideal platform for southern Taiwan's agricultural products, IT, automobiles, ships, yachts, heavy machinery, marine science and technology.
In the same spirit, the Pier-2 Art Centre, a warren of Japanese-built warehouses which fell into disuse as the nearby international container port rose to prominence, is getting a second wind. Managed by Kaohsiung City Government's cultural department, the sprawling complex is now studded with eye-catching outdoor art installations and walls used as outdoor canvases. It brims with fresh purpose as new-generation tenants in the form of artists-in-residence, boutique design firms and digital media outfits occupy once abandoned quarters. As is common to many harbourside districts, the rich history and atmosphere makes itself instantly palpable upon arrival and whilst walking along the newly refurbished pathways.
In fact, the recent slick action film, Black & White Episode 1: The Dawn of Assault, shot around Kaohsiung, made use of certain areas along the waterfront that still exude some of the area's original character.
While the restored areas are being promoted to the arts community, it still remains unclear whether the Pier-2 Art Centre has also been pitched to events planners for their next corporate-entertainment activity. With such space and infrastructure available though, it shouldn't be long before the right enterprising professional pushes for a lifestyle-product launch or evening cocktail reception to be organised there.
Other eager stakeholders in Kaohsiung's future as a meeting and events destination include the 13-year-old International Convention and Conference Kaohsiung (ICCK) and the Kaohsiung World Games Stadium (National Stadium).
The former has conducted a top-to-bottom refurbishment of its six floors and is already considering expanding in two years' time. According to Richard Ko, managing director of the Grand Conference Management Company, the new management team boasts conference and exhibition organising credentials. Ko says: "This means we operate the facility from the conference and exhibition perspective."
Ko is particularly proud of the venue's assets, which he believes are highly desirable amongst event planners. The facility features a first-floor main exhibition hall with a 7.5-metre-high ceiling and, on the third to the fifth floors, movable partitions which allow a great deal of flexibility for meeting sizes.
The National Stadium, host of the 2009 World Games, has 13 VIP rooms that also make excellent meeting venues during downtime. The view of the track and football field from spaces with huge windows and spectators booths is refreshing, a benefit that could elicit inspiration during an annoying brain block. Designed by Japanese architect Toyo Ito, the facility uses solar energy to provide most of its power needs, capturing sunlight through solar panels covering the vast external face of the stadium. The concept was pioneering at the time the stadium was being constructed.
This may not be for everyone, but the Fo Guang Shan Buddha Memorial Centre (BMC) can provide overseas visitors with a glimpse into the spiritual side of Taiwanese people. Located in Dashu district, the complex began construction in 2003 and was completed nine years later with the help of countless benefactors. The venue's most sacred treasure is the Buddha's tooth relic, presented to master monk and BMC founder Hsing Yun by the revered Tibetan Lama, Kunga Dorje Rinpoche. Meanwhile, the temple's most photogenic asset is the Fo Guang Big Buddha, which rises to 108 metres. This statue is the tallest seated Buddha in the world and consists of a karma-capturing 1,780 tonnes of bronze coated steel
The Great Enlightenment Auditorium is the only facility in the complex designed to accommodate groups. It's a vast space, however, and can seat 2,000 people.
TAINAN
Regularly annexed, Tainan has been ruled by the Chinese general Koxinga, the Ching Dynasty, the Dutch and the Japanese at different periods. Fortunately, local officials and the community zealously value their past and the city's Anping district, which boasts well-preserved examples of heritage homes and structures, won the nod of the Tourism Bureau of Taiwan in 2012. The destination was included in the bureau's list of "Top 10 Tourist Towns".
After a meeting or workshop at the Shangri-La or Tayih Landis, exploring Anping's interesting back lanes and alleys is highly recommended for photo fiends and history buffs. Start off with the Tait & Co Merchant House. On the grounds can be found the fantastical Anping Treehouse, an example of how nature can wreak its vengeance when left undisturbed. The ruins of Tait & Co's warehouse are now in the stranglehold of a family of banyan trees and it's difficult to tell whether the trees are growing out of the wall or the house has been built in the branches.
A sturdy metal walkway winds high above the overgrowth and offers a great view of the tree's eerie advance. While commercial events are not allowed within the former warehouse, the lawns are available for event use. Indeed, the exterior space was recently used for a reception by Netherlands trade and cultural executives visiting Taiwan.
Other must-sees include Anping Fort, where evening receptions can exude an old-world feel against its backdrop of brick walls; the Julius Mainich & Co House, now a combination bar-café-museum; Shio House, where a Japanese salt merchant used to live; and Shennong Street, near the bar and café packed roads of Hai-an and He-wei. That particular area is quickly filling up with hip artists' workshops and designer studios where humble dwellings used to be.
Tainan authorities are keen to show off the local architectural gems and is using cultural events like the Tainan Arts Festival to do so. The festival, held earlier in the year, saw the pop operatic group Il Divo entertain at the Ching Dynasty-era Eternal Golden Castle. Tainan mayor Lai Ching-te said: "History does not exist merely in memory, but should be connected closely with life. This way, people can enjoy wonderful performances by top national and international groups in historical settings." Revitalisation projects include Wude Temple, Soulaungh Cultural Park, Nanying Green Heart Park, Chin Men Theater, Tsung-Yeh Arts and Cultural Centre, Wu Garden, Old City Hall and the alluring Liu Family Historical House in Liuying.
For alfresco incentives, the 247-hectare Tree Valley Park, consisting of the Tree Valley Life Science Museum and Tree Valley Music Hall, can accommodate 500 people. This space easily injects some fresh air into a group programme. Also available there are an exhibition space and a conference centre.
TAICHUNG
Usually the jump-off point for the tourist staple of Sun Moon Lake is Taiwan's third largest metropolis, with a population of just over 2.6 million. Small businesses have long been the driving force of the economy, and the city is keen to promote its strong cultural and entre-preneurial ethic. Although the environment has changed drastically through the years, family operators are still a thriving breed, especially downtown. In fact, bubble tea is said to have originated from the Chun Shui Tang teahouse.
According to Dan-shang Wang, director-general of the Taichung Government Economic Development Bureau, over 6,000 art events are held yearly in the city. Prime venues include the National Taiwan Museum of Fine Arts and National Museum of Natural Science, which both welcome meetings as well as small to medium-sized cocktail receptions and sit-down dinners. Other options include Stock 20, a converted railroad warehouse that now exhibits modern art, and the Taichung Winery, which dates back to the Japanese era and is still operational. On the premises are found a wine museum with displays on wine making and wine history.
A favourite local wedding venue, Mon Coeur, is a 30-minute drive from the city centre. The facility is branching out to cater for corporates and there are two ballrooms, when combined can accommodate 500 people. for cocktails. There is also a rooftop deck with two function rooms and a small lawn that can be booked for cocktails or barbecues. A short walk from the main structure is a small annex housing three function spaces, including one encased with floor-to-ceiling windows looking out to the valley below. The view, however, could easily prove distracting during an intense brainstorming session.
Fast Facts
ACCESS Taiwan Taoyuan International Airport in Taoyuan Country is the country's main gateway, serving Taipei and northern Taiwan. It is the busiest of the several airports operating around the country and the base of China Airlines and EVA Air. Taipei Songshan Airport, located in the city centre, was the former international airport, but now mainly serves only chartered flights, mostly from Mainland China. Kaohsiung's airport receives a number of international flights, whilst Tainan's facility is mostly domestic, although China Airlines recently launched services between the city and Hong Kong.
The High-Speed Rail (Gao-Tie) connects Taipei-Taoyuan Airport to Kaohsiung (1 hr 30 mins to 2 hrs), Tainan (1 hr 42 mins) and Taichung (42 to 58 mins)
CLIMATE This ranges from hot and humid in the southern part of the country to cooler in the north and inland mountainous areas. With sudden showers common throughout Taiwan, it's always wise idea to slip a folding umbrella or light raincoat in your tote or backpack.
VISA Visa-exempt entry is offered to citizens of 42 countries, for up to 30 or 90 days. Those from India, Thailand, the Philippines, Vietnam and Indonesia who hold a valid visa or permanent resident certificate issued by the US, Canada, Japan, UK, Schengen Convention countries, Australia or New Zealand, also enjoy this benefit. More information is available at boca.gov.tw under "Visa exempt entry".
LANGUAGE Mandarin Chinese is widely spoken, with Chinese dialects also prevalently used. Japan's 55-year occupation of the island (1895-1945) – its first overseas colony – has left a few vestiges, one of them being a familiarity, if not fluency, in Nihongo.
CONTACTS Taiwan's MICE industry pilot programme at meettaiwan.com 
KECC at a glance
EXHIBITION HALLS: Two
TOTAL INDOOR EXHIBITION AREA: 18,300sqm (1,100 booths)
TOTAL OUTDOOR EXHIBITION AREA: 4,600sqm (400 booths)
CONFERENCE ROOMS: 1 for 2,000 people; 2 for 800 people each; 4 for 40 people each; and 6 for 60 people each
SERVICES: Simultaneous interpretation facilities, F&B outlets
FEATURES: Sea view; the only 3-in-1 (convention, exhibition and event) international venue in southern Taiwan
OWNER: Bureau of Foreign Trade, MOEA
EVENTS IN 2014: Taiwan International Fastener Show (April 14-15), Taiwan International Boat Show (May 8-11)
CONTACT: Martha Weng at m-weng@uniplan.com.tw
Hotel highlights
Foreign brands are still few and far between outside of Taipei. Mostly independents dominate the market, but there are notable exceptions, including the Shangri-La in Tainan and IHG's meeting-orientated Crowne Plaza in Kaoshiung. Service is generally of good quality and space options are generous, however the hardware in some of the properties would benefit from a thorough refurbishment.
KAOHSIUNG
THE SPLENDOR KAOHSIUNG HOTEL
Six floors in the city's tallest landmark, which rises to 70 storeys, are marked for meetings: the 38th, 41st to 43rd, 45th and 67th. Three ballrooms and a variety of meeting rooms, some with a spectacular view of Kaohsiung port, lend themselves to the usual set-ups. The Diamond Ballroom can accommodate the largest number – 1,000 guests for a reception. The 67th-floor Meeting Centre has three function spaces that are able to hold up to 20 participants each. Free wifi comes with all bookings.
CROWNE PLAZA KAOHSIUNG
E-DA WORLD
The 656-room property forms part of a complex that also consists of a sister hotel, the Skylark, which adds a further 300 rooms. Delegates can be assured that there will be lots to fun things to do after lectures and brainstorming, with an outlet mall, duty-free shop, restaurants, an "Aegean" theme park, go-kart track and golf course nearby.
Besides offering two ballrooms and 20 function spaces, there is the so-called "Edatorium", which can seat a crowd of 460. There are two outdoor areas: one on the same level as the 8th-floor theatre and another, dubbed Central Garden, which features an elegant marble gazebo that invites swish evening cocktail events.
TAINAN
TAYIH LANDIS
Those planning a product launch will find this landmark hotel's special hydraulic lift a logistics boon, as it facilitates the transport of heavy goods to upper events spaces. The areas that can host big events are the Grand Ballroom designed to accommodate 2,000 guests and the Banquet Hall for 1,000 guests. Six meeting rooms and one boardroom complete the space portfolio.
SHANGRI-LA'S FAR EASTERN PLAZA HOTEL
Opened in 2009, this hotel continues to be the most contemporary-looking choice in town. Most of its meeting spaces are located in basements one and two, including the chic Marquee Living Room that is ideal for a reception of around 100 guests. Following what seems to be a must with Taiwanese hotels, the Shangri-La boasts an auditorium on the 9th floor that seats 250 people, while on the same floor is a boardroom for 18 executives. More intimate networking can take place in either the Mezzanine Bar on the second floor or Shanghai Pavilion, which attracts good crowds for the dim sum and Huaiyang cuisine, as well as the panoramic city view that it comes with.
TAICHUNG 
EVERGREEN LAUREL HOTEL
Popular in the local market, the Evergreen Laurel Chain has a presence in Taipei and Tainan as well. This facility deserves a long overdue refresh and customers will surely appreciate the effort. The two ballrooms – Evergreen Ballroom, which has a capacity of 1,000 for cocktails, and the Laurel Ballroom, which has a capacity of 200 for cocktails – feature gleaming crystal chandeliers from the Czech Republic. Five meeting spaces are found on level two, while a third ballroom – the Peony – is on the third floor and can take up to 135 guests. An auditorium is available for small and medium-sized groups, who will find the built-in seat desks useful during seminars.
WINDSOR HOTEL
Windsor Square, the hotel's ballroom offering, comes with a 14-metre-high "wall of windows" and a 9.1-metre LCD screen. Three meeting rooms offer a spectrum of set-ups and the International Lecture Hall can host 278 attendees. Complimentary wifi is furnished throughout the entire building.