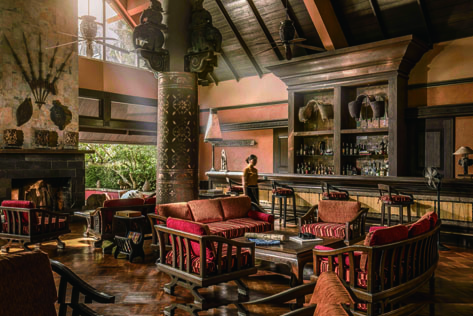 Elephant Bar and Opium Terrace, Anantara Golden Triangle
Where? Overlooking Thailand, Myanmar and Laos, an hour's drive from Chiang Rai airport.
Why go? There's a real sense of calm and tranquillity at this very northern outpost, and few better places to take it in than the bar with its three-country, two-river vista and multi-item drinks menu. Chilies rather than opium infuse some cocktails, while food can be delivered from any of the resort's restaurants.
For groups This is a resort that might have been made for groups, with elephant stables right next door, cooking classes and a spa providing plenty of opportunity for fun teamwork. Thai boxing, boat trips, farming rice, touring coffee and tea plantations and digging into the area's opium history are other options.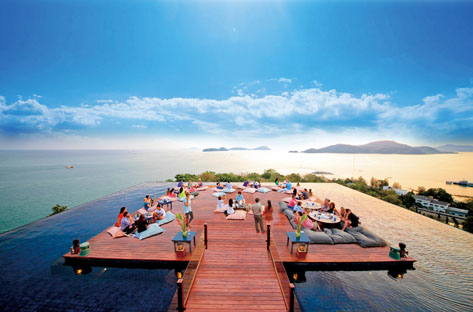 Baba Nest, Sri Panwa, Phuket
Where? At the southern tip of the island.
Why go? Few hotels around the world can boast a rooftop bar and pool quite like Baba Nest, with its commanding views over Cape Panwa and out to sea. The emphasis is strictly on chilling, with an expanse of deep cushions and low-rise tables to aid lolling.
For groups Baba Nest works well as an informal cocktail or light dinner venue. Burriots, tachos, nachos and other Mexican tapas (with obvious parallels to Thai cuisine) make up the menu, while the surroundings have inspired some outstanding cocktails: the chilled or frozen Sri Panwa – Belvedere vodka, apple and lime – is deservedly popular, while there are also plenty of bubbles and an intriguing Japanese "Pimm's" made with sake.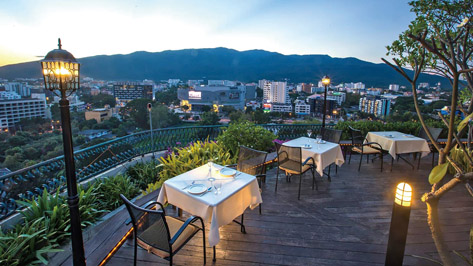 Xanadu Pub & Restaurant, Furama, Chiang Mai
Where? A short way east of Doi Suthep and Chiang Mai Zoo.
Why go? Never mind Kublai Khan's golden stately pleasure dome, Chiang Mai plays yin to Bangkok's yang, and Xanadu is one of the best places to kickstart any event. A Thai take on Brit pubbing, Xanadu also shakes up some great cocktails: North Montra is based on Mae Khong whisky, with rosemary smoke and a lime wedge for a bit of a citrus kick.
For groups Thailand's second city is all about a gentler side of the kingdom, a chance to take in a dose of culture as an alternative to meetings or brainstorming. A swift tuk tuk tour is a good way to get everyone into the swing of things, taking in the city's main sights and markets.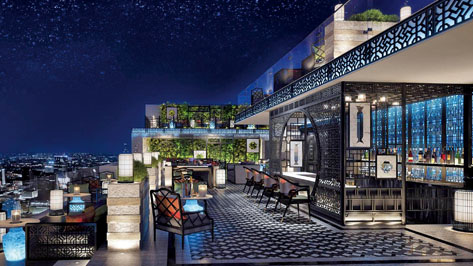 Yao Rooftop Bar, Bangkok Marriott Hotel The Surawongse
Where? Roughly halfway between Lumphini Park and the Chao Praya.
Why go? Start the evening at Yao the rooftop bar, then segue into Yao the restaurant. Both rejoice in amazing night-time views of the City of Angels, and that the two venues are above and below each other keeps groups together while still providing a change of scene.
For groups Kick the evening off with a selection of Asian-inspired cocktails to give a gentle introduction to the region. Silk & Sangria melds Sauvignon Blanc with peach liqueur, ginger, pineapple and honey, while the Chinese Zodiac adds lychee, dragon fruit and star fruit to vanilla vodka. There are plenty of classic cocktails too, and – true to the norms of Thai hospitality – staff will whip up any drink that's not on the menu.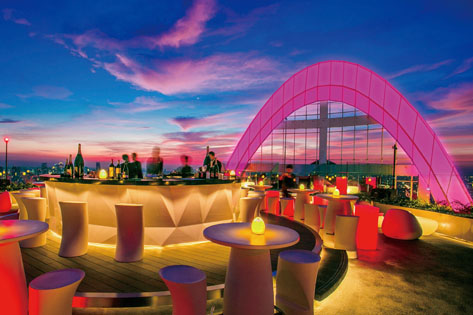 CRU Champagne Bar at Red Sky, Centara Grand, Bangkok
Where? In walking distance of both Chitlom and Siam BTS stations.
Why go? When it comes to the perfect recipe, CRU is about as ideal as it can get, with 360-degree views, endless bubbly, cool sounds and super snack menus to back it all up.
For groups Given that CRU is on top of the Centara Grand Hotel, which is next to a convention centre, there are several poignant reasons for gathering groups here. CRU would make for a superb one-off cocktail spot, or an entire evening's partying with DJ, drinks (it's the only place in the country allowed to sell Mumm No.1 Pink Champagne) and rafts of caviar, lobster and oysters.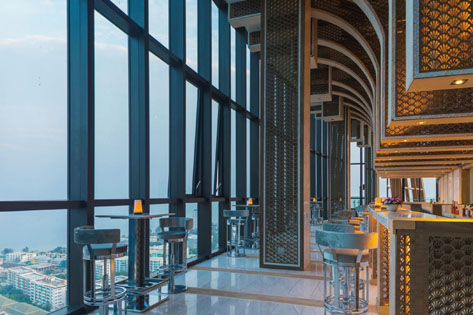 Vana Nava Sky Bar, Holiday Inn, Hua Hin
Where? Next to the Vana Nava Water Park resort.
Why go? For a start, Hua Hin enjoys a certain cachet as Thailand's royal seaside resort of choice; secondly, the Holiday Inn is on the doorstep of a massive theme park, with plenty of opportunity for groups to bond, relax and even hold meetings.
For groups The bar – very much somewhere to get groups talking – was designed by Ashley Sutton, no less, (the glass-floored observation deck is a heart-stopper) and the drinks menu was devised by Joseph Boroski – previously W Hotels' Global Head of Mixology. Boroski has made full use of Thailand's tropical fruits – witness the "100% Fresh Pina Colada." There's also an adjacent private function space that can cater for up to 100 guests.
More: Stirring it up on the roof with mixologist Ron Ramirez