2020 might be Chinese Year of the Rat, but many predictions point to it also being Year of the Robot for the meetings and events industry.
The industry has been doing catch-up on the hospitality trade in recent years when it comes to chipping in digitally, but artificial intelligence (AI) is finally disrupting the old ways, especially with 5G internet speeds close to bestowing superpowers on it.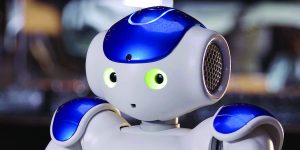 Hotels have been at the forefront of the robot revolution, with Starwood's Aloft installing its Botlr bellhop in Cupertino, California, back in 2014, Crowne Plaza introducing the delivery bot Dash in Milpitas, also in California, in 2015, and Hilton employing its first ground-breaking concierge robot, Connie, in Hilton McLean, Virginia, in 2016.
Hotel EMC2 in Ontario took automation to a new level in 2017 with dispatch elevators, Amazon dot and Alexa on call, smart TVs that control everything in the room, and its delivery robots Cleo and Leo.
The UK-based Yotel group's global hotels also feature hi-tech everything, from self-service check-in counters at "mission control" (lobby) to luxurious "cabins" (rooms), and Yobot delivery "staff", featuring touch screens, storage compartments and cartoon-style smiley faces.
Nearer to home, Shenzhen-based Smart LYZ has opened the first fully automated hotels in Chengdu and Sichuan, with plans to build 50 more this year (guests don't have to interact with a single human if they don't want to), Hangzhou Marriott Hotel in Qianjiang and Sanya Marriott Hotel Dadonghai Bay have introduced face-recognition check-in, and the mainland's Alibaba AI Labs is developing a series of hotel-specific robots to deliver food and laundry to guests.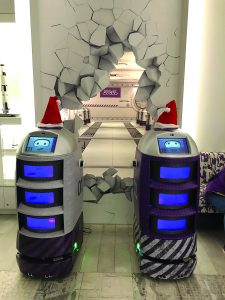 Last year the InterContinental Shenzhen, along with China Telecom's Shenzhen branch, and Huawei, showed off what a 5G smart hotel of the future might look like. There were robots guiding guests to their rooms while chatting with them in the elevator, with everything from check-in to virtual reality gaming connected to the cloud.
It's not all smiley faces on planet AI, however. Japan's Henn na Hotel, which first opened in Nagasaki in 2015 with a staff of robots, reduced its 243-bot workforce by half. The cutbacks had nothing to do with fears of Terminator-style domination, however. The robots were deemed to have failed to reduce costs or workload for hotel employees.
There is a world of difference between simple robots engineered to carry out mechanical tasks – such as those in the car industry – and AI, defined by the Encyclopedia Britannicaas, "systems endowed with the intellectual processes characteristic of humans, such as the ability to reason, discover meaning, generalise, or learn from past experience".
Koray Kavukcuoglu, vice president of research at Deepmind, one of the world leaders in AI, told the BBC in a recent interview that the next phase of development would see it developing into "one of the most powerful enabling technologies ever created, a single invention that could unlock solutions to thousands of problems".
And it is this enhanced form of AI that is predicted to play a key role in meetings and events of the future; a collection of technologies providing everything from informed customer interfaces to independent organisational skills, discovering patterns, searching data, translating languages, answering questions and making predictions.
DATA WILL BE 'KING' (again!)
WRITING on the SmartSource Rentals blog, Michelle Bruno predicts a number of areas where AI will help deliver, facilitating:
Personalised experiences,
Intelligent floor plans and programming,
Secure registration, check-in, and data storage,
Frictionless event navigation and customer service,
Smart attendee, exhibitor, and sponsor acquisition
and retention.
And EV =NT (now part of Skift) says on its Event Manager blog that specific AI applications – some already in use – will include:
Chatbots: computer programs designed to hold conversations by voice or text and emulate how a human would respond to specific queries,
Facial recognition: for check-in, payments, attendee identification, surveillance and event security and secure ticketing, and,
Machine deep learning: recognising patterns and making predictions based on data, personalising event content and experience, providing intelligent matchmaking, driving interactive entertainment, enhancing virtual reality, and developing sophisticated service robots.
Reggie Aggarwal, CEO and founder of Cvent, says "data will be king in 2020 and beyond". "Leveraging unique insights with the right technology will ultimately have the competitive advantage to act quickly, work efficiently and provide more customised experiences."
CWT Meeting and Events' 2020 Future Trends report says advanced chat bots, ultra-quick processing of data through machine learning, passive tracking using RFID technology on name badges, online booking tools, and personalised customer experience, will be major areas of development in the year ahead.