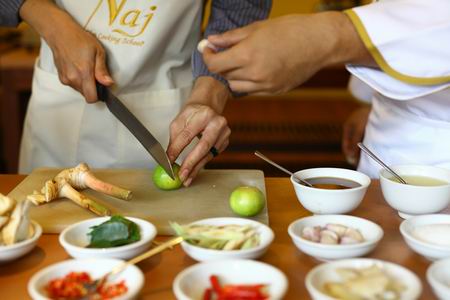 Shopping and temple visits scratch the surface of what Bangkok has to offer. For teambuilding options, food is an obvious theme. MIX looks at five Thai cooking schools in the capital that offer team building activities in the kitchen.
SILOM COOKING SCHOOL
COST 1,000 Baht per person
DISHES Tom Yum Soup, Pad Thai Noodle, Green Curry, Mango Sticky Rice
INFO The school offers team building designed to encourage group work and promote trust and interdependece. Instructions, ingredients and equipment are provided, and participants are taught to cook four to five dishes throughout the course.
THE BLUE ELEPHANT COOKING SCHOOL
COST 2,800 Baht per person for half day's class
DISHES Menu changes every day, with variations between morning and afternoon dishes
INFO Every class begins with a visit to the wet market where participants learn the significance of certain Thai ingredients and and tips for shopping like a local. After the shopping excursion, groups return to the school and prepare four classically Thai dishes.
BAIPAI THAI COOKING SCHOOL
COST 2,000 Baht per person (Group rate for 2-10 persons)
DISHES Menus change every day, with morning and afternoon class options available.
INFO The four-hour courses run from Monday to Saturday. Workshops for companies and organisations are also available. Rates include roundtrip transfer for hotels located in central Bangkok.
NAJ THAI COOKING SCHOOL
COST 2,500 Baht per person (same for group rates)
DISHES Thai Papaya Salad, Tom Yum Soup, Pad Thai, Green Curry, Stir-fried Chicken with Basil Leaves
INFO As with Silom Cooking School, Naj Thai also offers team building, and has hosted groups from Tourism Authority of Thailand (TAT) and McDonalds. Each class starts with a meet-and-greet with the chef in the school's herb garden, followed by an overview of Thai food and its ingredients. A recipe booklet is handed out, and the cooking begins.
CHEF LEEZ
COST 1,900 Baht per person for a group class
DISHES Tom Yum Soup, Pad Thai, Green Curry Chicken, Holy Basil Chicken, Ma-sa-ma Curry Chicken, Green Papaya Salad, Sticky Rice Mango
INFO Group classes are available daily from 10am to 2pm, and also include a trip to a local Thai market. Following a demonstration by the chef of the school's namesake, the group is divided into small teams to prepare their own concoctions.
For more stories on cooking schools, see here.