A common sight when producing business events within Greater China is the boutonniere. The what? It's French for a man's corsage… usually a single flower or bud worn in the lapel buttonhole of a suit. Note that the buttonhole is on the same side as the pocket handkerchief. The handkerchief? Think 'Mad Men'. Yes the white square.
The boutonniere makes for a strange fashion quirk within a business event setting. And in China there's an equally strange status ritual at play.
You usually only see these floral creatures in the "West" at weddings and perhaps school formals (proms) where they also tend to be white carnations, although red can also be considered.
I've been reliably advised that carnations are the first choice because of their super-hero capacity to last a good part of the day without water, although roses or calla lily can also be employed along with some green dressing.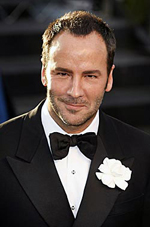 That's not to say you'll only see a boutonniere at a Chinese grand gala or a wedding in San Diego. You'll also commonly see a boutonniere being sported with great florish by designer Tom Ford. He's partial to a fresh scented gardenia in the lapel of his double breasted tuxedo.
Okay, they can be dashing, but why is it that they are so popular within Asia at award nights and formal gala dinners? From what we can determine, they signify status. For example, at a recent awards evening we produced in Hong Kong for a Beijing-based company, it was imperative that the size and visual footprint matched the presitgious stature of the dignitaries. Whereas an incentive event produced in Australia was very eglitatian in that everyone got the same boutonniere, but it had to be formed from Australia native flowers and plants. This made sense in terms of location, but it was a challenge as most Australian flowers verge on the dull look.
What we recommend these days is that although we allow for this formal floral expectation, if it is at all possible, we always try to encourage our clients to consider more modern and adventurous versions of the male corsage. An artful combination of floral and other complementry or contrasting minitaure elements. Replica quail eggs or Fender guitar picks anyone?
Darren Kerr is a founding partner at FACTOR168 Creative Event Company