A MACAU-SINGAPORE indoor skydiving duo is setting high-flying international standards for the latest in destination attractions by bringing a medal haul back to Asia after success in international competitions.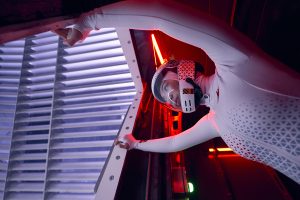 Singapore's Kyra Poh, who is brand ambassador for GoAirborne in Macau and fellow ambassador Toms Ivans, the facility's chief instructor, won gold and bronze respectively at the Indoor Skydiving – Solo Freestyle (Open Category) of the 4th FAI World Cup of Indoor Skydiving 2022 in Belgium.
Indoor skydiving is among the adrenalin-pumping attractions for incentive and business event groups visiting Macau and Singapore with the facilities also offering team-building ideas.
Red Bull made Poh its exclusive Red Bull Athlete in Singapore and she is a PASSION Ambassador for the Singapore Tourism Board and has used the iFly wind-tunnel attraction on Sentosa island to hone her skills and train other enthusiasts of the sport.
Ivans, from Latvia, is the Guinness World Record holder for the "Most body-flying stunts in a minute" and has won world championship titles.
When not coaching instructors at the GoAirborne attraction at Lisboeta Macau, Ivans works with the film industry to train such stars as Mark Wahlberg and Tom Cruise and has worked as a consultant on the fight scenes in Mission Impossible 6, Infinite and at the "Pirates of the Caribbean" show at Disneyland, Shanghai.
Backgrounder… Lisboeta Macau jumps into skydiving
Both skydivers topped out among 19 international competitors worldwide in Charleroi, Belgium, with Poh winning the event's Indoor Solo Freestyle Open with 73.6 points while Ivans gained third spot with 71.9 points. Following the success in WCIS, Ivans won silver in the Solo Freestyle Open at FAI European Indoor Skydiving Championships.
"I first embarked on my skydiving journey in outdoor wind tunnels which allows me to try out more styles of different flying stunts and be creative on designing my freestyle routines," said Ivans.
"Participating in these competitions and winning two more world-class titles were another fantastic experience for my indoor skydiving career. It is very exciting to see that the sport is getting more popular on the international stage with global athletes."
Poh said: "It feels super awesome, and I am glad to be called a World Cup Champion… I'm very happy that all my efforts paid off and delighted to have made my country proud!"