MACAU's newest attraction is designed to give visitors a lift with an indoor skydiving experience at the Lisboeta – the latest property to join Cotai's integrated resorts.
GoAirborne features a 15 metre high wind tunnel that gives thrillseekers a free-fall sensation of skydiving from 12,000 to 3,000 feet – and corporate packages are planned for a later date.
The skydiving attraction opens on Saturday, July 17, along with ZIPCITY – billed as the world's first audio-visual ziplining facility – and a night market before a full opening of the resort is expected in the third quarter of the year. Some retail outlets at the site are already open.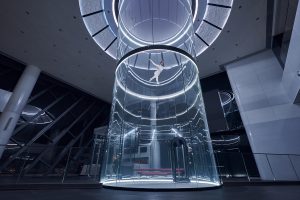 Lisboeta Macau plans 820 guestrooms across three themed properties and operate as a non-gaming resort. The former floating casino, a Macau landmark, where scenes for the James Bond's Man With the Golden Gun were filmed in the early seventies has been recreated as the centrepiece of an artificial lake.
The resort will also feature cinemas, electric go-karting, an outdoor event space and structures themed on Macau landmarks.
Developers Macau Theme Park and Resorts say the Lisboeta will be the first travel destination inspired by collective memories of the former Portuguese enclave and initially aimed at the Greater Bay Area market.
A GoAirborne spokesman said each lasts 90 to 120 minutes, and is supervised at every step by trained and internationally certified air-tunnel instructors
At a flying height of up to 15 metres and a diameter of 4.3 metres, GoAirborne's wind tunnel is made with a frameless three-layer laminated glass column giving panoramic views of the Lisboeta resort.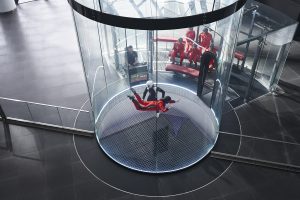 Two 850 horsepower turbine fans create a vertical airflow with wind speeds of up to 270km/hr, so flyers can enjoy the simulation of a true skydiving experience without having to jump off a plane.
First-timer deals such as The Teaser Package, The GoAirborne Package" and the Trial Training Package are available. The wind tunnel is outfitted with high-speed cameras to record photos and videos that are available for visitors to purchase.
Starting from MOP4,000 (about US$500), memberships are available for enthusiasts who want to try indoor skydiving as a sport, or professional flyers who are looking for coaching from GoAirborne world champion trainers. Members enjoy benefits such as discounts, education tours, private parties and corporate activities will also be available for booking soon.