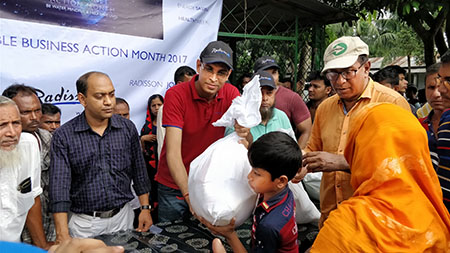 HELPING eradicate avoidable blindness and supporting children with autism in China, renovating special needs schools in Bali, raising funds for a maternity ward in Fiji, and painting orphanage dormitories in the Philippines.
These are just a few of the many outreach projects that hotel groups, DMCs and events organisers have managed or sponsored as part of programmes designed to assist the local communities they have been involved with.
For some companies, community outreach (CO) projects are identified ahead and planned as part of wider corporate social responsibility (CSR) programmes; for others, they are one-off projects, driven by identifying urgent local needs.
The International Institute for Sustainable Development defines the relationship between CSR and CO at the corporate level in its paper Corporate Social Responsibilty: An Implementation Guide for Business.
"CSR is the overall relationship between the corporation and its stakeholders," institute author Paul Hohnen writes.
"Elements of CSR include investment in community outreach, employee relations, creation and maintenance of employment, environmental stewardship and financial performance."
A more personal reading of CO, on the other hand – whether part of a wider CSR programme or not – is seen as an act of caring about and giving back to the local communities that groups are involved with. "As a key part of any neighbourhood, our hotels are committed to giving back to local charities and organisations that will have the most positive impact," says Cory Winter, CSR chairman with AccorHotels, Greater China.
Although an element of the hotel group's Planet 21 CSR programme, Winter describes CO as a genuinely caring approach to communities.
Wider vision
AccorHotels in China have either sponsored or assisted with CO projects, including Raffles Hainan helping organise aid for a Xinlong Retirement Home, and Sofitel Xining supporting Rainbow Tower (Cai Hong Ta) school for children with autism. The group also supported Orbis in running its "Stay for Brightness" campaign in China, helping raise more than RMB3.2 million (about US$482m) in donations for sight-saving projects for underprivileged children in Heilongjiang, Gansu, Shanxi and Guangdong provinces.
Further examples include helping Carlson Wagonlit visit a farm in Chiang Mai aimed at preserving threatened Thai species, and organising a bikeathon in support of a "Stop Violence Against Women" campaign run by India's Federation of Obstetric and Gynecological Societies.
The Carlson Rezidor Hotel Group devotes one month each year to community work, and last September's Responsible Business Action Month – the 14th – raised nearly US$1.4 million in donations from 1,200 projects involving around 107,000 volunteer hours.
Community outreach is also a part of Shangri-La's CSR programme, as Irene Tan, CSR manager with Shangri-La's Mactan Resort and Spa in the Philippines, explains. "Community Outreach is a key component of our overall CSR strategy," she says.
"Our efforts are mainly focused through our flagship project Embrace, Shangri-La's Care for People Project, which commits each hotel to a partnership with a chosen beneficiary working on children's health or education programmes."
Recent campaigns include helping people care for a marine sanctuary, assisting with the upkeep of and repairs to an elementary school in Olango Island, Cebu, and facilitating the painting of the dormitories at an orphanage. Tan says that getting to know the needs in a community takes time, though, and it is best to start with simple projects before embarking on major campaigns.
"Our community projects started with educational and health needs and moved on to facilities construction to impact lives and bring about change," Tan says.
"Event planners can start with getting to know the community and people first and try to do the activities themselves to gain first-hand experience."
Accor's Lynne Lee cautions that it is important to keep a sense of perspective when starting projects. "Be realistic in your expectations and participate in projects that are least disruptive to the local communities and sustainable on a longer-term basis," she says.
"Unless your project involves cleaning the beach or planting trees, one-off community outreach projects can be disruptive in nature and not sustainable for the host community in the long run."
Identify needs
Jack Bartholomew, general manager of Ground Asia, says identifying needs is essential, "The most effective CO groups we do are pop-up clinics for nursing groups from Australia, America and elsewhere. This means they are mobile to help people. The first thing to start with is the community, and identify what they need help with the most, then matching the group to that community."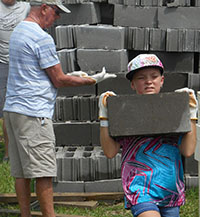 Rory Campbell, area director of sales and marketing for Outrigger in Thailand, agrees, and adds that cultural sensitivity is vital: "Research is critical as is cultural and ethnic sensitivities. A 'needy' community needs qualified support. It is important not to assume that just because areas lack certain 'Western' infrastructure, they actually need and want it."
Outrigger CO projects include long-term involvement with a school in Phuket. "It's one that we build upon and develop as time goes on, and as the needs of the school and community change," Campbell says.
Peter Hopgood, general manager with Outrigger Fiji Beach Resort adds that in the case of Fiji protocols and local culture have to be respected. "Therefore it's necessary to ascertain the needs of the community and the best way to add value well in advance of any visit."
Hopgood says Fiji projects include annual fundraising events for a maternity ward, helipad and ambulances for a local hospital, a community tourism project at Conua Primary School in the Sigatoka Valley, and a range of monthly community schemes undertaken in turn by different resort departments.
Community, not corporate
Underscoring the International Institute for Sustainable Development's definition of the distinction between CSR and CO, Ground Asia's Jack Bartholomew says the trend is towards undertaking more pressing community projects.
"There has been something of a shift away from big corporate CSR," he says, adding that an example could be paying for a school to be built then just turning up right at the end to get pictures for marketing material.
Instead, Bartholomew finds there are more CO projects that "directly involve the community and are more sustainable".
That's a view echoed by Suzanne Hart, senior MICE manager with Destination Asia, Indonesia. "Now there is more awareness around the impact of going into a local community. It's our responsibility to be sensitive to local communities, to provide options that will be sustainable for them into the future," she says.
"In the past there were many visits to orphanages, perceived as doing good, but in many instances, creating problems for the children, with expectations of receiving gifts. We know better now, and work together with the community to tailor the projects specifically to their needs."
Recent Destination Asia Indonesia CO projects have included special needs school renovations and a bike-building scheme for an orphanage, all in Bali.
Outrigger Thailand's Rory Campbell has no doubt that CO-related activities are increasing. "Companies, driven in many ways by their employees, are looking to have a more practical and 'real' experience when supporting community initiatives. Many also appreciate that simply throwing money at some problems won't change them. Sometimes a very hands-on approach is needed to effect long and sustained change."
ADVICE ON BEST PRACTICE IN COMMUNITY OUTREACH:
Irene Tan, CSR manager, Shangri-La Mactan Resort and Spa:
√ Do research and plan properly together with the parties involved;
√ Do inform the community leaders of intentions;
√ Do involve members of the community in the activities;
√ Do introduce the company; and,
√ Do have fun doing the activities; but,
X Don't encourage dole-out activities;
X Don't give money directly;
X Don't over-promise.
Suzanne Hart, Destination Asia, Indonesia:
√ Do provide services and items that are needed, useful and required to improve the quality of daily life (but not cash);
√ Do contract local experts who are based in or around the communities to determine how best to get involved.
Rory Campbell, Outrigger Thailand:
√ Do your due diligence. It's important that the full political landscape of any project is understood;
√ Do have patience and tolerance. CO projects are often built around emotive touch points within a community (education, health etc) so it's important to show empathy; but,
X Don't assume what the community needs. Ask questions for the long term. You don't want to risk offending anyone with your project.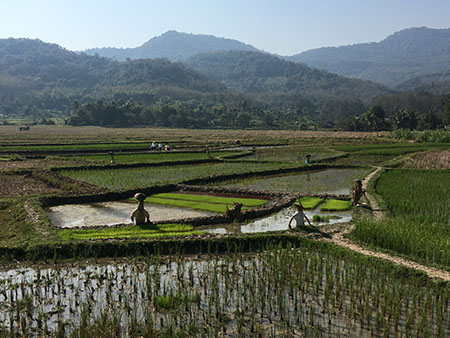 POSITIVE IMPACT IN MEKONG
A campaign has been launched to protect communities in the Greater Mekong Subregion.
The "Experience Mekong Collection" was launched at ITB Asia at Marina Bay Sands, Singapore, in October.
Mekong Tourism says the collection is aimed at minimising any negative impact and to generate benefits for the communities and enhance their wellbeing.
Experiences on offer include:
• Bike tours, run by Soksabike in Battambang, Cambodia, that allow visitors to spend time in local homes;
• Mountain biking, hiking, overnight village stays and other activities that positively impact the local economy, run by Myanmar Outfitters in Lashio, Myanmar;
• White Elephant Adventures in Luang Prabang, Laos, which involve trekking, kayaking, and mountain biking into the mountainous jungles to stay with Hmong, Khmu and Lao Loum hilltribes;
• A project at Lisu Lodge in Chiang Mai, Thailand, run by Lisu hilltribe villagers, who take care of guests during their stay and on various activities.
Mekong Tourism coordinating office executive director Jens Thraenhart says the importance of good practice by visiting groups "cannot be underestimated".