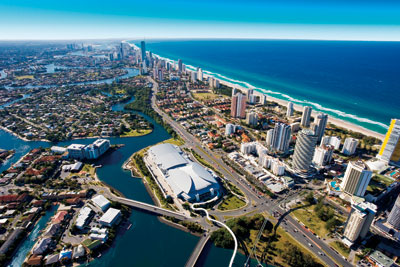 For many years the Gold Coast has lured tourists with its subtropical climate and endless beaches. Now the Gold Coast Tourism Corporation is touting what the city has to offer business events planners.
In June, the promoters held a four-day exposition for a select group of 40 corporate and association event planners from Australia, New Zealand, China, Hong Kong and Singapore. The aim of this business exchange was to connect attendees with local event specialists and provide a first-hand experience of the destination's business events offerings. Highlights of the programme included a welcome reception at the design-led QT Gold Coast hotel, a gala dinner at Skypoint Observation Deck atop Q1 tower, and a Harley Davidson ride along.
"The Gold Coast continues to rival Australia's capital cities as a more effective conference and incentive option," says Anna Case, Gold Coast Tourism director of business events. "Last year the number of business events held on the Gold Coast increased by 28 per cent and we aim to keep these numbers growing."
The Gold Coast Business Exchange provided association and corporate meeting planners with a cost-effective and efficient way to research future business events. It gave Gold Coast, which will host the 2018 Commonwealth Games, a chance to flaunt its infrastructure and range of professional services geared towards delivering world-class events.
What follows is a taster of four Gold Coast venues that provide meeting planners with all they'll need for their next big event down under.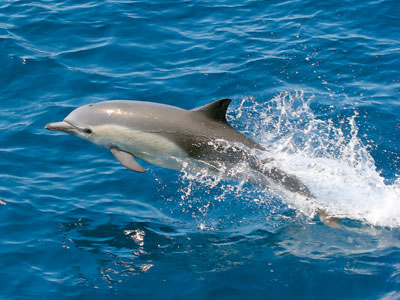 Breakfast with Dolphins and Dinner with Scooby-Doo
Sea World
Owned and managed by Australian-based Village Roadshow, Sea World at Main Beach is one of Gold Coast's premier tourist attractions. The park covers some 55 acres of land and includes rides, shows and marine exhibits. There are numerous sites within the venue that can be transformed for business events purposes, including the underground viewing platform at Shark Bay – an aquarium with tropical fish, stingrays and other bottom dwellers – as well as the popular polar bear exhibit, Polar Bear Shores. Both are great evening venues for cocktails and canapés. Alternatively, kick-start the day with a buffet-style breakfast at Dolphin Cove show pool arena in the company of playful offshore bottlenose dolphins, followed by an interactive photo session with the majestic mammals.
Movie World
Warner Bros. Movie World at Oxenford has welcomed more than 12 million visitors since it opened in 1991. The park features an extensive range of movie-themed rides, roller coasters, parades and attractions, including the A$13 million (US$12 million) Scooby-Doo Spooky Coaster, which was inspired by the Scooby-Doo film shot at Village Roadshow Studios next door. The darkened indoor ride venue, complete with ghouls and gargoyles, can be turned into a fun space for a themed cocktail function. For larger sit-down events, the park's covered Main Street area can be converted into a dinner and entertainment venue with actors dressed as Hollywood starlets and superheroes that mingle with guests.
Arts Centre
Situated on the banks of the Nerang River, the Arts Centre Gold Coast is Australia's largest regional arts and entertainment centre, with a variety of modern function and performance spaces. "We can offer your guests a unique experience with a wow factor," says general manager Destry Puia. Venues include the Paradise Showroom, which can comfortably accommodate 800 for cocktails. It opens onto a spacious terrace with views overlooking Evandale Lake and the Surfers Paradise skyline. The Arts Theatre below can seat 1,135 people over two floors. For an unusual twist, the theatre stage can be converted into an intimate business events space.
McLarens Landing
McLarens Landing is located on South Stradbroke Island, a largely uninhabited isle on the northern edge of the Gold Coast accessible by a 40-minute catamaran ride from Main Beach marina. Originally established as Tall Ship Cruises, Gold Coast Island Adventures is a family owned and operated company. Groups from ten to 2,500 guests can be accommodated for a multitude of events, from team-building activities on the beach to themed dinners featuring evening entertainment including fire dancers and live music performances.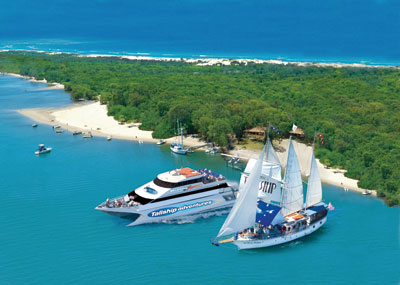 Five Reasons to Choose Gold Coast
• Sub-tropical climate, with more than 245 days of sunny weather each year. Summer months are warm and pleasant with an average temperature of 25°C to 28°C. Winter months are mild during the day, with cool, crisp evenings.
• More than 65,000 beds, ranging from small self-contained apartments to mid-sized beachfront resorts and large international hotel chains.
• The A$167 million (US$157 million) Gold Coast Convention and Exhibition Centre is located in the heart of the city, within walking distance of the beach and two major hotels: the 592-room Jupiters Hotel and Casino and the Sofitel Gold Coast Broadbeach hotel. It is Australia's largest regional convention centre, and can host up to 6,000 people.
• Plenty of entertainment options to choose from, including seven theme parks and more than 40 championship golf courses.
• Two major airports: Brisbane International Airport is an hour's drive north of the city, and Australia's first dedicated low cost airport, the Gold Coast Airport, is just 30 minutes from the city centre.
ORGANISER Gold Coast Tourism Corporation
TEL +61 7 5592 2699
EMAIL businessevents@gctourism.com
WEBSITE visitgoldcoast.com/business-events