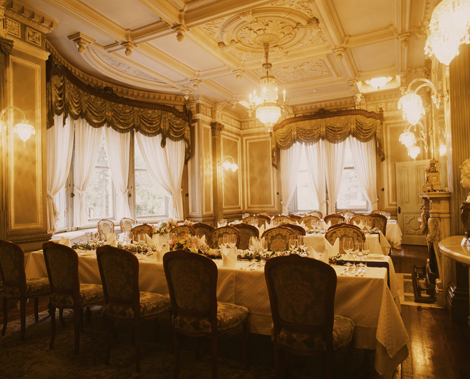 Chourakukan 
Chourakukan has few other Japanese attributes besides its name. It's a European neoclassical venue built in 1909 as a second estate for the tobacco baron Kichibe Murai. The American architect JM Gardiner designed numerous European structures around Kyoto, including Chourakukan, which retains much of its original furniture and has operated as a small inn since 2008.
What's it like? Located in Gion, Kyoto's geisha precinct, Chourakukan's rococo architecture and European furnishings set it apart from the traditional ryokan and teahouses nearby. Italian and French restaurants are housed within, along with a contemporary European café where small groups can enjoy casual drinks or afternoon tea.
Atmosphere Suitable for smaller groups with a larger budget, this venue offers delegates a themed experience of 20th century Western history and its influences in Kyoto.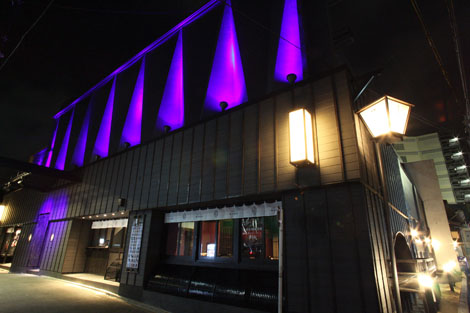 Ninja Kyoto
Groups seeking something quirky and kitsch need look no further than this themed restaurant, which offers fusion European/Japanese cuisine alongside a show by ninja waiters, who perform acrobatics and tricks practised by the legendary mercenaries of feudal Japan.
What's it like? Ninja Kyoto offers group packages that vary from all-you-can-eat buffets to hotpot and a special dessert buffet package for groups called Sweets of Ninja. Samurai swords decorate the restaurant's three private rooms, which can hold between 110-130 people in a seated arrangement.
Atmosphere Guests descend a flight of stairs into the dimly lit underground restaurant, where ninja materialise in the dark and beckon guests to their tables. Throughout the meal, the ninja waiters appear sporadically at each course, performing routines and samurai re-enactments.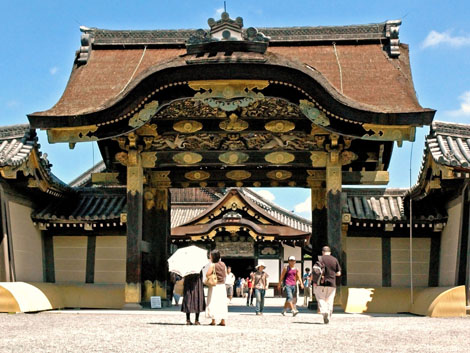 Nijo-jo Castle
This was built in 1603 by Tokugawa Ieyasu, the founding shogun of the Tokugawa shogunate, which ruled Japan from 1600 through to the Meiji Restoration in 1868. One of the best preserved castles in Japan and a Unesco World Heritage Site, its expansive grounds feature two main palaces and an assortment of gardens and groves that can be hired as private event spaces.
What's it like? Nijo-jo Castle is a cultural behemoth housing over 3,000 wall paintings of which more than 1,000 are designated national treasures. A wide moat surrounds the castle's outdoor spaces, which abound with cherry blossom in April and are considered to be among Japan's most outstanding gardens.
Atmosphere Events can be held both indoors at the Koun-tei teahouse and in the Ninomaru palace kitchen as well as outside in the Ninomaru palace courtyard and gardens. Suited to more formal gatherings, Nijo-jo is ideal for groups keen for a taste of Japanese imperial history. It offers a unique alfresco event space.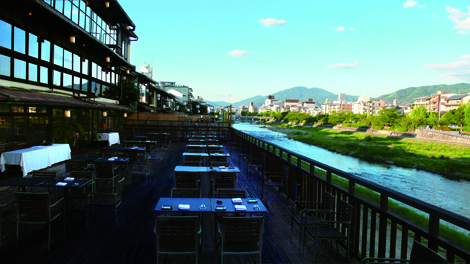 Funatsuru
Originally a small restaurant dating back to the late 19th century, Funatsuru grew into one of the Kansai region's largest inns. It boasts panoramic views of the Kamogawa river and Higashiyama mountain range. Today, the venue is protected by Japan's Agency for Cultural Affairs as an architectural treasure.
What's it like? Funatsuru has three quintessentially Japanese venues that can accommodate small groups to large-scale events. Against a lush natural backdrop, the restaurant serves classic French cuisine against the backdrop of commanding views from its outdoor terrace.
Atmosphere A famous ceiling painting drawn by 19th century artist Taiun Omura is a centrepiece of Funatsuru's Gallery Room, where Japanese room fittings, such as a toko-no-ma (alcove room) and kazari-dana (vintage display chest), create a traditional atmosphere. Japanese paper walls and minimalist design mean that any personalised branding or special event décor would take centre stage.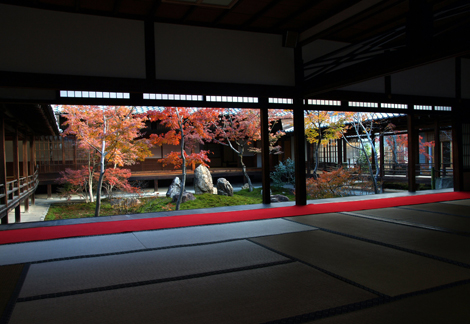 Kenninji Temple
Founded in 1202 and located in the heart of Gion, Kenninji Temple is the oldest Zen temple in Kyoto. Inside is a labyrinth of galleries where Japanese watercolours and scrolls of calligraphy can be admired alongside serene Zen gardens.
What's it like? Buddhist artwork is presented throughout Kenninji, but the temple's most stunning feature is the enormous Twin Dragons ink painting in the Dharma Hall. Events can be held in the temple's courtyards and galleries. Attendees can visit the Dharma Hall, which is a few steps from the temple's main complex.
Atmosphere Despite the small size of Kenninji's galleries, the temple is open plan with sliding doors that can be left open during large events for guests to mingle
at their leisure. Drinks and food can be arranged through outside providers, which can cater for groups of up to 400.