INTERNATIONAL business meetings will be able to take place in Singapore in a safely contained facility located in the city's premier exhibition venue near the city-state's airport.
The Connect@Changi programme is expected to be up and running in March within Singapore Expo.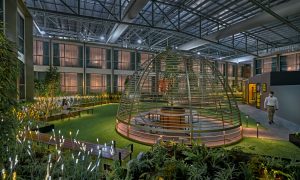 Visitors will undergo Covid testing on arriving at Changi and be exempt from a 14-day quarantine but must stay at the bubble facility for the duration of their stay.
Some 150 guest rooms and 40 meetings rooms have been built at Expo Hall 7 of the venue and there are plans to increase this to 660 and 170 respectively by May.
Visitors who want to use the facility would have to undergo five swab tests including one in the country of departure, another on arrival at Changi and three during a two-week period. It is expected, however, that visitors will plan to stay no longer than a few days.
Connect@Changi would be able to host around 1,300 people who want to conduct business meetings and sign contracts, said Alan Thompson, joint head of strategic development at Temasek International, Singapore's state investment company, which is leading a local consortium behind the initiative.
The bubble will feature separate air ducts for the business travellers and those visiting who will be separated by screens in meeting rooms and speak via intercom.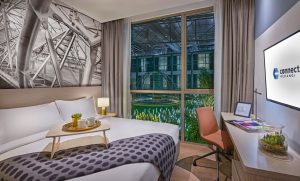 Temasek officials say Singapore had been successful in containing the pandemic and letting business events go ahead under safety precautions, but uncertainty remained globally regarding the recovery of meetings, conferences and exhibitions.
"The economy was hurting, the aviation industry was hurting, the food and beverage and hospitality industry was hurting – we needed something to kickstart the economy," Thompson was quoted by Bloomberg as saying.
The facility would "allow business meetings to happen that will then enable travel to happen and gradually we will be able to get business as close to normal", he added.
More… HK Covid spike bursts bubble with Singapore
A stay at Connect@Changi is set to cost at least US$290 per night. Temasek said the facility would be primarily aimed at multinational companies, private banking meetings with lawyers, but can also be used by parents from overseas who want to meet their children studying in Singapore.
Main picture: 22-seat boardroom with partition in the Changi business travel bubble at Singapore Expo