ORGANISERS of the tech conference RISE have made a U-turn by dropping plans to bring the event to Malaysia and instead returning to Hong Kong.
Hong Kong Tourism Board and Web Summit announced that RISE will be held in March 2022 in Hong Kong as an in-person event with the event to return to the city for four more years.
Web Summit, which launched RISE in Hong Kong in 2015, has told the tech media that holding the event in Malaysia was "no longer feasible" due to logistical issues.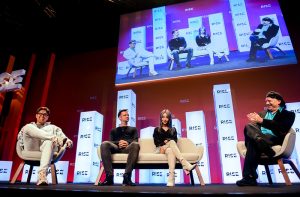 No further details have so far been given for Web Summit reversing its original decision to hold RISE in Kuala Lumpur for 10 years, but Malaysia has recently seen a major surge in Covid cases and a change in prime minister – a move that has been linked to a mishandling of the pandemic.
Web Summit's decision last December to select Malaysia for RISE came as Hong Kong recovered from street disturbances in 2019 and as the 2020 edition was cancelled due to Covid travel restrictions globally. Paddy Cosgrave, Web Summit's founder, said the Malaysia plan had nothing to do with unrest in Hong Kong.
Web Summit had announced at the time that the 2022 edition of RISE would not be held in Hong Kong but in Kuala Lumpur following talks with the Malaysia Digital Economy Corporation.
The return of RISE will be seen as offering a significant boost to Hong Kong's image and the negotiating work of the tourism board, InvestHK and AsiaWorld-Expo, where the events will be held.
More… Techies risk losing China audience
"This is a testimony of Hong Kong's success to containing the pandemic and keeping infection rate among the lowest in the world, thereby giving international event organisers confidence that they can stage their events here safely," said Edward Yau, the regional government's Secretary for Commerce and Economic Development.
"I am sure the staging of RISE will showcase Hong Kong's capacity to deliver amid the challenges posed by the epidemic, and connect our tech start-up ecosystem with that of the globe. I look forward to welcoming more world class business events to Hong Kong, injecting new vigour into our economy," Yau said.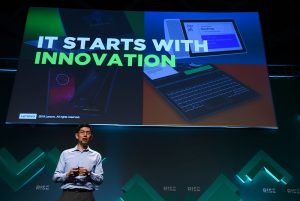 The announcement follows a decision by Hong Kong government officials to drop plans for an air-travel bubble with Singapore and imposing stricter quarantine measures while focusing on a reopening of the border with mainland China. There are still concerns in the city over the amount of time even vaccinated travellers have to quarantine, but officials are able to waive the measures when they deem necessary, particularly for business reasons.
HKTB chairman YK Pang said Hong Kong's strategic location in the upcoming Greater Bay Area would enable participants to seek opportunities in the region while the city maintained a role as "the world's meeting place".
Ng Chi-kee, chairman of AsiaWorld-Expo, said: "Hosting RISE in the coming five years bears an impactful significance to the recovery of Hong Kong's MICE sector, as it marks the return of top-class international events to Hong Kong.
"With stringent anti-epidemic measures in place and our quality service, we will continue to work closely with organisers to deliver world-class events to maintain Hong Kong as the Asia's premier meeting hub and attract more international events to the city."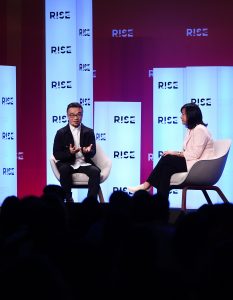 RISE co-founder and CEO, Paddy Cosgrave, added: "We are extremely grateful for the support the city of Hong Kong has given RISE over the last five years, and we couldn't be more excited to return in person in 2022. We've seen the region's tech and startup economy grow from strength to strength since we launched RISE in 2015.
"We always intended to come back to Hong Kong at some stage. RISE has grown to what it is today after five successful years in the city. The event has now become an important nexus that connects the East and the rest of the world. CEOs and investors from around the world want a window into the region, and vice versa."
RISE is planned for AsiaWorld-Expo, March 14-17, 2022.
Main picture: Paddy Cosgrave (right),  founder and CEO of Web Summit and RISE, in conversation with animator and film director Raman Hui at RISE 2019