MALAYSIA'S business events community is being urged to back the country's vaccination program in a bid to bring the reopening of the visitor economy closer.
Maceos, the Malaysian Association of Convention and Exhibition Organisers and Suppliers, said herd immunity was a cornerstone of economic recovery after the pandemic brought the industry to a standstill. For this reason the business events operators are supporting the National Covid-19 Immunisation Programme to "jumpstart" the industry.
"We encourage members to support the government's vaccination roll-out so that we can expedite the industry reopening. To date, a total of 20 venue operators have come forward to offer their facilities as vaccine delivery centres," said Maceos president Francis Teo.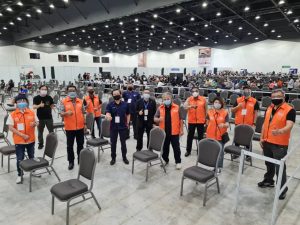 "The contributions of these convention centres are making a positive impact in meeting the immunisation goals of the government. With their capacity and existing facilities, stringent adherence to SOPs and daily deep disinfection procedures, these event venues are able to accelerate the immunisation rate in Malaysia while boosting public confidence in the whole vaccination process," Teo said.
Exhibition and convention centres that have been made into large vaccine delivery centres are able to dispense close to 125,000 vaccine doses daily, according to Maceos. This is about 30 per cent of the average of 400,000 vaccine doses daily.
More… Bite the bullet now, says Maceos
"Only with the participation of our venue industry players in the national immunisation programme that our country is able to recently achieve the second highest vaccination rate per capita in the world," Teo added.
He said that at the current rate Malaysia was on course to record 50 per cent of people completing their double dose vaccinations by mid October.
A total of 150 people working in business events have volunteered their time as stewards to ensure the smooth-running of the vaccination programmes at various centres. Under a joint Maceos and Malaysia Convention and Exhibition Bureau programme, volunteers took on non-clinical tasks crowd management, ensuring physical distancing, recording temperatures and monitoring registrations.
Maceos also launched its Safe Business Events (SafeBE) Certification Programme with certification independently audited by Bureau Veritas to recognise exhibition and convention centres that meet the stringent SOPs regulated by the National Security Council and recommendations by Malaysia's health authorities.
Backgrounder… 'SOCS' plea for Malaysia venues
"Business events [industry] is witnessing a rapid growth of new health safety ideas, measures, and frameworks from the very simple to the advanced," Teo said.  "The SafeBE Certification Programme aims to demonstrate that an international framework is in place to ensure that venue facilities are safe, clean, and certified at the highest standards of health and safety measures to maintain a safe environment, and not just limited to what local authorities may prescribe."
Maceos is also collaborating with the Malaysian Association of Tour and Travel Agents and the Malaysian Association of Hotels to establish Travel Safe Alliance Malaysia (TSAM), an industry-wide safety certification programme. Under the programme, appropriate health and safety procedures and processes in line with globally-recognised best practices are mandated to support a safe travel and business environment during and after the Covid-19 pandemic period.
"This is especially crucial with Langkawi recently being selected as the pilot project in the Ministry of Tourism, Arts and Culture's tourism recovery plan known as Covid-19 Free Destination Programme. With mass vaccinations there, Langkawi may be able to reopen in a matter of months. TSAM would be a key part of the tourism industry's preparedness and reopening success."
"We urge all industry players from the private sector to work together with the authorities and government to ensure a seamless and quick recovery for all."
Main picture: Business Events stewards ready to assist people arriving for vaccination jabs at Mitec in Kuala Lumpur