MALAYSIA'S business events operators have been gathering in virtual settings to press for the safe reopening of borders and to highlight a "Save Our Conventions Centres" campaign.
The initiative by Malaysian Association of Convention and Exhibition Organisers and Suppliers (MACEOS) gathered about 500 people working in business events who called on the government to work with industry representatives on post-Covid recovery measures.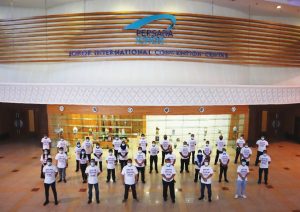 Industry leaders are warning of a collapse in Malaysia's business events industry if steps are not taken to revive domestic operations.
MACEOS says the closure of inter-state travel borders and various levels of the country's emergency orders to tackle the Covid crisis has caused more than 1,550 business event cancellations and postponements resulted in the loss of about US$556 million.
Wearing the hashtag #saveourconventioncentres on white T-shirts, participants will be uploading images of themselves on social media including Facebook, Instagram, and LinkedIn to reach out to relevant authorities and raise awareness.
"Save Our Convention Centres is our first initiative, a conversation starter that we would like to have with the Malaysian Government to allow to business event players to work with the authorities in designing safety guidelines for the reopening of the industry," said MACEOS president Francis Teo.
More… Malaysia urged to let biz events resume
MACEOS praised Malaysia's national security council and the tourism ministry agreeing In principle to the reopening of business events and looking into the lifting of travel restrictions between Johor-Singapore, and to Sabah, Sarawak and Langkawi by January 2021.
"It is one of the best [pieces of] news we have heard from the year's challenges in surviving," said Teo.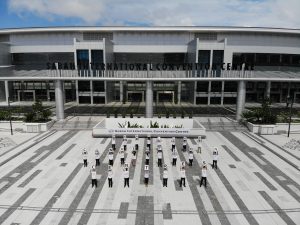 Events industry operators in Malaysia employ 33,000 full-time staff and engage nearly 60,000 part-time workers at the peak of business, according to MACEOS figures.
The campaign is backed by exhibition industry leaders in Malaysia concerned about the viability of venues as restrictions remain in place.
"The operations of many convention centres are being closed as we speak," said Irmohizam bin Ibrahim, executive director of World Trade Centre Kuala Lumpur.
"Therefore, this campaign is an initiative for the industry players to support and look out for each other as well as to venture into new practices to keep the industry going," Ibrahim said.
Vincent Lim, president of the Asian Federation of Exhibition and Convention Associations, said it was vital to restart domestic business events for Malaysia to be prepared to compete across Asia.
"We are at a very critical point as Malaysia cannot afford to close down another convention centre… these venues are one of the cores of the B.E industry. That is why this initiative is a united front of industry players coming together to act fast before we witness the collapse of an entire supply chain's ecosystem," Lim said.