HONG KONG's lifting of its mask mandate has given a sparkle to two trade shows that packed the city's premier convention centre and a host of upcoming events.
The Hong Kong International Jewellery Show and Hong Kong International Diamond, Gem & Pearl Show saw all exhibition halls at Hong Kong Convention and Exhibition Centre (HKCEC) used along with multi-purpose halls and some meeting rooms.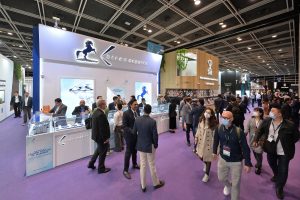 Venue and tourism chiefs in the city say that the success of the events gives them hope that Hong Kong will regain its title of "Trade Show Capital of Asia" following more than two years of travel restrictions hitting local exhibition companies hard despite government subsidies.
It was also the first time a "full house" sign went up at the venue since the pandemic. The regional government lifted the compulsory mask-wearing rule on March 1.
"There was no better time to be hosting the twin jewellery shows as the opening followed on the heels of the city's lifting of the mask mandate," Monica Lee-Müller, managing director of HML, said.
HML, the management company that operates HKCEC, said the twin five-day jewellery shows attracted over 2,500 exhibiting companies from March 1-5.
Participants came from 36 countries and regions – half of them from overseas. Organised by Hong Kong Trade Development Council, the government's trade promotion body, both events saw more than 60,000 buyers from 130 countries and regions.
OPEN-AIR MATTERS
The twin trade shows opened the day before the Live Matters Hong Kong returned to the city with an open-air conference along the city's waterfront featuring speakers on event marketing, MICE associations, corporate events and brand sponsorship.
The jewellery shows and Live Matters were followed by the Clockenflap music festival over the weekend with the rest of March symbolising a hopeful return for the industry in Hong Kong. More events are being held in the coming weeks with the Creamfields electronic dance music festival along with the Hong Kong Rugby Sevens opening at the end of the month.
"The full utilisation of exhibition spaces by the twin jewellery shows underscored a strong rebound of Hong Kong's exhibition and convention sector, Lee-Müller said.
"Since the reopening of borders with overseas destinations and the mainland, HML has seen a surge in booking enquiries from both overseas as well as local exhibition and convention organisers.
More… Masks off as HK's March events begin
"HML will continue to proactively promote to global exhibition organisers Hong Kong's advantages as a strategic city within the Greater Bay Area and its unique strengths in expanding smooth and convenient linkages between China and other international markets.
"HML has continued to press ahead with our investment plan, upgrading our facilities and strengthening staff competence. These efforts, coupled with our experience and expertise in supporting world-class events, has laid a solid foundation for us to gear up for the return of international events and welcome visitors back to Hong Kong and the HKCEC. We are confident that Hong Kong will reclaim its leadership status as the Trade Fair Capital of Asia."