2020 gave rise to the hybrid event in which digital technology was used to enable teams across international locations to continue meeting and holding inhouse events.
This was crucial for multinationals such as Hyatt, which had to contend with anti-Covid restrictions, cancellations while also maintaining links with corporate meetings and event organisers.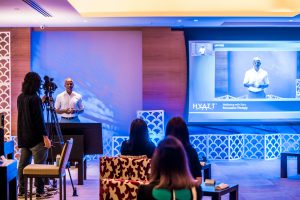 Hyatt Asia Pacific decided to use its Customer Advisory Panel event to showcase what its hotels were doing to enhance guests and leverage technology to create "HY-brid" meetings and events.
In-person events were held at Grand Hyatt Singapore, Hyatt Regency Sydney, Grand Hyatt Erawan Bangkok, Andaz Shanghai, and virtual attendees dialled in from Beijing, Hong Kong, Japan and Korea.
"From the Hyatt side, it was our first HY-brid client meeting and we wanted to showcase to our close customers how seamless and effective this option can be," said Frederick Wong, Hyatt's Asia Pacific vice president for revenue, sales and distribution.
"Hyatt recently launched its HY-brid meetings offering and we thought this would be a great opportunity to show these customers first-hand how this works."
The Brief
The Customer Advisory Panel event would be held over two days, but with the agenda arranged to ensure remote participants had a break from their screens.
The event would see more than 34 meeting planner and corporate clients along with 15 Hyatt associates participate across eight destinations.
Event goals included:
Showcasing Hyatt's Care and Cleanliness Commitment; for example, an F&B service and presentation to highlight new hygiene practices;
Demonstrating the AV and technology behind HY-brid events and the benefits of conducting a "seamless and highly engaging hybrid event", and
Showing how Hyatt and its largest clients could work together to support recovery into 2021 and beyond.
Encore, Hyatt's global AV and technology partner, was engaged to co-develop a "seamless approach" to holding a hybrid meeting that was as interactive as possible.
Wellbeing breaks featured Body Rap – a high-energy movement provided by Catalyst Team Building and Percussion Therapy led by Karu Nanthi, the head of spa operations at Grand Hyatt Singapore.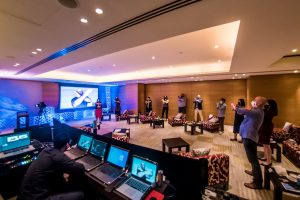 Challenges
Working with Encore, Hyatt paid extra attention to ensure virtual participants were as engaged as those in a meeting-room setting across the two days.
The planned in-person event at Grand Hyatt Hong had to be adapted within five days to a virtual one after a surge in the city's Covid cases was announced.
More… Hyatt execs: What we learned from Covid battle
"The beauty of our HY-brid offering is that this can be seamlessly done with short notice," said Hyatt's Frederick Wong.
 The same panel met in Bangkok in person last year, said Wong. "We wanted to continue using this platform to engage with our customers and talk through what recovery for the industry would look like."
Highlights
Interactive discussions were arranged to avoid presentations dominating the event.
"To show our virtual participants they were not being forgotten, we always went to the virtual rooms first for the Q&As and asked that all virtual participants had their cameras turned on. We also gave away prizes for the best virtual background," Wong said.
ENGAGING REMOTE TEAMS
It can be overwhelming trying to find activities that engage remotely working teams. Hyatt was looking for an icebreaker activity that could work in a hybrid working environment, which is not as easy task if you want to engage people who are all spread out across Asia. Team Building Asia understood Hyatt's struggle and came up with a solution that would give the participants the best interactive experience despite the time pressure.
Online meetings can often feel uncomfortable while participants become familiar with new communication systems and meeting protocol. Quick, quirky, and incredibly effective, Body Rap Remote – hosted by Ed Freitas in the UK –  instantly relaxed Hyatt's remote teams and helped them bond on an emotional level.
– Stuart Harris, Team Building Asia
One of the teambuilding activities featured adventurer Ian "Axe" Rawlinson's "Into the Unknown" – a 90 minute session based on how he rowed a boat from Singapore to New Zealand.
"This type of journey is filled with obstacles and our groups had to make team-based decisions and submit their answers. It was highly engaging and became quite competitive," Wong said.
Teambuilding was conducted with virtual attendees divided into two separate groups while Q&A segments for all activities enabled feedback in real time with people asking and answering able to see each other.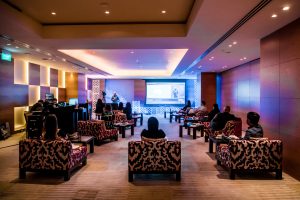 Upshot
Belinda Ramanauskas, general manager at staff engagement specialists 212F said the event was her first experience of a hybrid-event format.
"The entire production was seamless and to think we have the ability to connect with peers all over the world in this way is incredible.
Opinion… How hybrid is saving us
Stephen Turner, managing director, Face to Face Event Management and a medial meeting specialist, said: "I have been running advisory boards for clients for many decades and would rate this Hyatt interaction as one of the most fascinating I have been fortunate to attend.
"The degree of difficulty in hosting such and elaborate and technically ambitious event displayed much courage."
Leon Burman, managing director, Tribe Travel & Event, said: "It was a great meeting and really showed off how well a hybrid meeting can work. The content over the two days was very relevant and I particularly enjoyed the breakout session on the final day, there was some great conversation."