ONE Young World Summit 2019, a global forum for young leaders, returned to London with an appearance by Meghan Markle, the actress who became a member of the British royal family after she married an English prince called Harry.
The Tenth Anniversary Summit also welcomed more than 2,000 delegates from 190 countries to debate, formulate and share innovative solutions to tackle some of the world's greatest issues.
The annual One Young World Summit convenes some of the brightest young talent from every country and sector, working to accelerate social impact. Delegates are counselled by influential political, business and humanitarian leaders such as Justin Trudeau, Paul Polman and Meghan Markle, among many other global figures.
Kate Robertson, co-founder of One Young World said: "One Young World identifies, promotes and connects the world's most impactful young leaders to create a better world, with more responsible, more effective leadership.
More: Shanghai gets a right royal quiz
"At the end of the summit, delegates become One Young World Ambassadors. They return to their communities and organisations with the means and motivation to make a difference, accessing the global network of 10,000-plus young leaders to accelerate existing initiatives or establish new ventures," Robertson said.
HIGHLIGHTS
Record attendance, an interactive conference programme and a technology solution that ticked all the right boxes, combined to cement the biggest and best summit to date.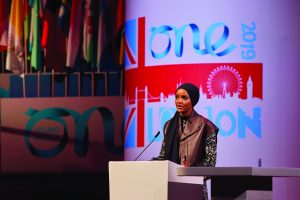 Delegates were treated to special performances from artists like Jay Sean and heard from an impressive line-up of speakers, including primate expert Dr Jane Goodall, singer-songwriter Ellie Goulding, rock star-turned campaigner Bob Geldof, entrepreneur Richard Branson and former United Nations secretary-general Ban Ki-moon.
Climate action and human rights were just a few of the issues that the summit tackled. Delegates were inspired by energising speeches, such as the one by Somali-American model Halima Aden, notable for being the first hijab-wearing model to be signed by a major agency and to appear on the cover of British Vogue. Born in Kakuma, a refugee camp in Kenya, she moved to the US.
"No matter where I go, community is what continues to give me hope. Do whatever you need to do to be heard, make a difference, leave a footprint. Never give up hope. Don't change yourself, change the game," Aden said.
UPSHOT
"No other youth-led movement outside of the Olympic Games represents as many nationalities. The new generation is the most informed, most educated, most connected generation in human history," said One Young World managing director Ella Robertson.
Read more: Crowdcomms opens Hong Kong office
"One Young World identifies, promotes and connects the world's most impactful young leaders to create a better world, with more responsible, more effective leadership.
"The summit itself accelerates social impact by spreading the word through ambassadors and projects such as climate action, clean water, gender equality, no poverty and economic growth, to name just a few."
ONE EVENT-TECH SOLUTION
The summit organising team wanted a way to easily communicate the four days of speeches, panels, networking functions and workshops.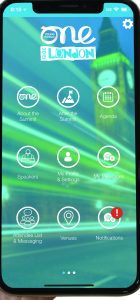 Ella Robertson, managing director at One Young World said: "There are substantial logistics to consider at an event of this scale and profile. Key technology requirements for us included:
"Communicating the extensive agenda, which included several venues, with the ability to make real-time updates;
"Providing networking opportunities for the 2,000 attendees from 190 countries and secure login for the app."
Event tech experts Crowdcomms utilised the Entegy Suite to deliver an engaging technology solution for the second year running.
Chloe Swann, account manager at CrowdComms said: "Direct messaging was very popular for the 2018 event and this year group messaging was requested by attendees wanting the ability to network and create groups for like-minded conversations and organising meet-ups."
Robertson said attendees used the app to network and access important event information. "The platform is intuitive and fits right into our event operations – it's a game-changer for us."