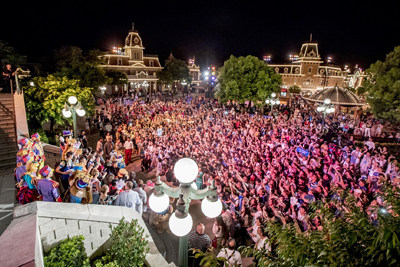 Hong Kong Disneyland has long been weaving magic for corporate groups in pursuit of a unique destination with extensive hosting capabilities. Most recently, the park showed that its even got a flair for birthday parties.
Some 6,000 delegates from Worldventures' Dreamtrips travel community descended on the resort for the club's 10th anniversary event, held June 21-24.
The four-day event featured a reception dinner, exclusive parades and stage shows.
Winning Pitch
Disney was selected to host the event for its diverse range of venues, extensive entertainment offerings – including Asia's first Star Wars experience – and ability to accommodate up to 1,000 delegates onsite.
Highlights
Kick starting the celebrations on June 21, a welcome dinner (bottom) was staged for 900-hosted guests in the Hong Kong Disneyland Hotel Convention Center's ballroom. To mark the anniversary, Disney prepared a Toy Story-themed cake.
The park buyout day on June 22 saw Disney devise a welcome parade and exclusive Lion King performance for 1,500 VIP members of the group.
During the parade, Disney's 'Fab 8' collection of characters led Worldventure executives into the park. A 15-minute corporate programme was put on as a prelude to the Festival of the Lion King show.
"The 'Festival of the Lion King' show was probably the best Disneyland show I have ever seen," said Jon Mckillop, president of global sales, Worldventures. "The energy was wonderful and the show was so impactful."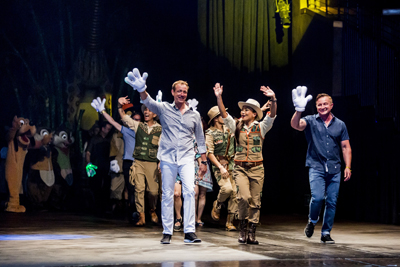 That evening, a buffet dinner was for the 1,500 VIPs across two themed lands – Grizzly Gulch and Mystic Point. The resort's award-winning culinary team crafted both Asian and Western dishes followed by signature desserts.
Other members of the group were treated to a park wide tasting, including flying saucer-themed snacks in Tomorrowland and frozen lollipops on Main Street, U.S.A.
Ending on a high, Disney arranged a farewell parade, during which top Worldventures representatives travelled in a bus alongside characters, followed by an entourage of senior executives.
WorldVentures' top executives made goodbye speeches and toasted to the success of the event on the platform of the Hong Kong Disneyland Railroad Station while performers danced.
Upshot
Both client and host offered positive event feedback.
"Today's event in Hong Kong Disneyland really brought back my childhood memories," said Erwin Ng, international marketing director, Worldventures.
"The overall arrangement and services were really well coordinated, especially the dining arrangement. The food and beverages served exceeded my expectations and I was in awe of all the food when I first came into the ballrooms.
Ng added: "What impressed me most were the people; they were extremely courteous and the service was fantastic!"
"It was easily one of the most amazing trips our company has done in our ten years of business," said Mckillop. "We are looking forward to coming back!"
Karen Kwan, business solutions and events (BSE) director for Hong Kong Disneyland Resort said: "Our BSE team unleashed their creativity and tailor-made an unparalleled celebratory event, which left the participants with memories to last a lifetime."